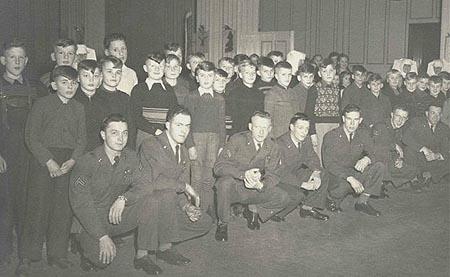 Here we are, Christmas of 1951 or 52 in the main Catholic Church in BK. The nuns have the orphan children and the troopers in good order. I am second from the far right. I guess this was after the mass and before the party.
--Ed Keaney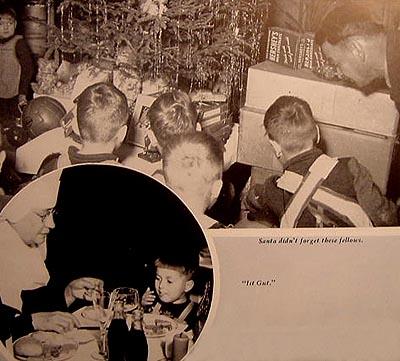 A page from the 14th ACR 1952 unit yearbook captures the same party.
--Stefanowicz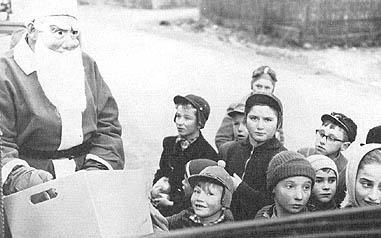 An image from the 1960 14th ACR yearbook captioned as "Operation Santa Claus". Clearly they have moved into the border villages.
--Stefanowicz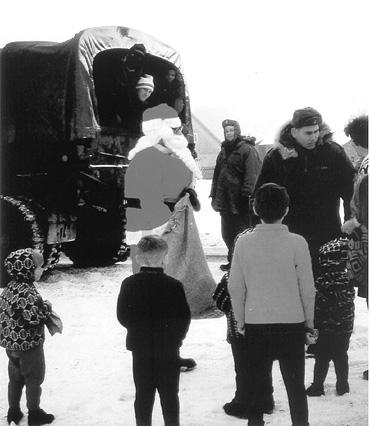 In the mid 1960s, a local photographer captures a foto sequence as the Santa Cav moves through the border town of Filke.
--Ritter / Schatzlein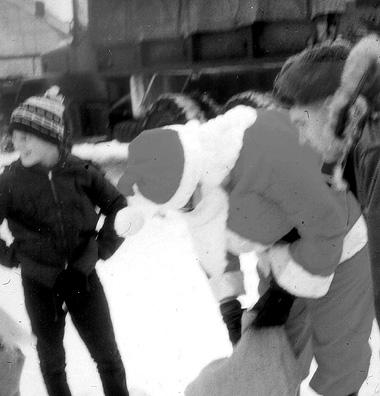 The older Germans of the area smile as they recall the "Ami- Nicklaus".
--Ritter / Schatzlein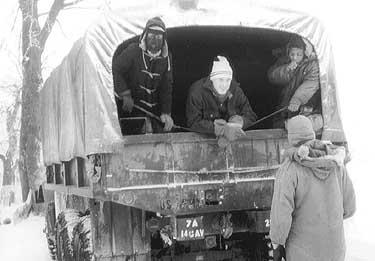 ... and we imagine that these troopers also recall that day.
--Ritter / Schatzlein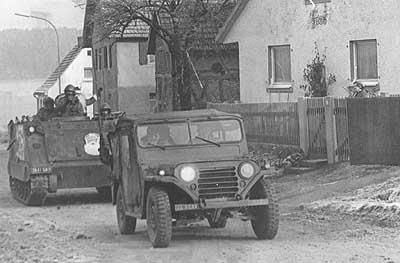 A few years later, the show has grown. Bill Richardson sent this sequence dating from 1967-68.
--Richard Harrington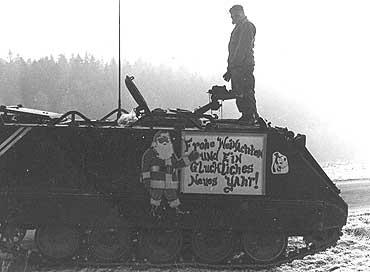 Santa arrives in military style.
--Richard Harrington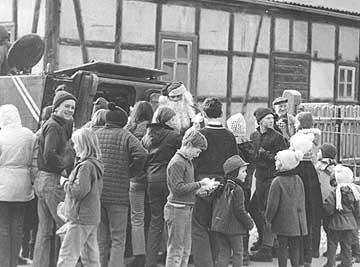 The reaction of the kids is always the same.
--Richard Harrington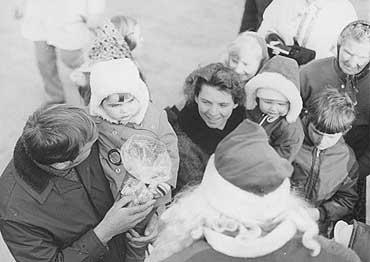 This little girl may have kids of her own by now.
--Richard Harrington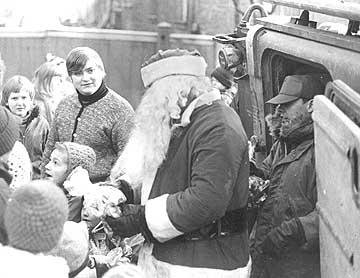 The troopers may now be considering gifts for grand kids.
--Richard Harrington
December: der Ami Nicklaus / the Santa Cav
Germany in December can be brutal, six hours of sunlight filtered through a slate gray sky. A cold fog, maybe snow and the training schedule continued at the normal pace. Troopers and tanks slipped on the cobblestone roads. Christmas, of a sort, came every weekday at about 1500 when the repair parts delivery truck arrived at Squadron Maintenance from Fulda. With eager anticipation, Motor Sergeants and XOs waited with DX shoe tag stubs to see if their track vehicle heaters had been repaired and were ready for pick up. The warmth of the season indeed was felt by all it you got six of six heaters back, the mechanics worked extra hours to re install them and if they all functioned ... the miracle of the Christmas season! At the border, everything done in July was done in December.
As Christmas approached, holiday leave for soldiers was encouraged, take a few days off in Germany; guys who had put in for leave early had a chance to fly back to the United States. At least in my period, the plan was to try and work two waves, those who departed early were to return just after Christmas, a new group of guys could get home for a few days around New Years. The vast majority of troopers remained in Germany and at least, during Christmas week, could enjoy the "half day schedule". (insert your favorite joke about 12 hour duty day here) There was one Christmas tradition for the cavalry in Bad Kissingen that many troopers will also recall
Christmas day at the cavalry mess hall and the border camp mess, this was the opportunity for the mess personnel to shine and the NCOs running the teams took enormous pride in what they laid out for the holidays. Hours were extended on Christmas day to accommodate the meal; there was a very good chance that the SCO, Sergeant Major or SXO would show up at Op 10 / Sierra / Tennessee to share a holiday meal served from Mermite can inserts with the US Patrol and OP personnel.
Lost Children Found
There is great photo evidence of involvement of the 2/14 and 2/11 ACR with local German children during the holiday season. In 1978, my NCOs told me that once, the squadron had a long standing partnership with a German orphanage. It seemed to be part of " busy soldier = happy soldier " as well as good public relations but there is more to the story. By the late 1970s, the tradition had withered but earlier troopers recall it vividly.
Ed Keaney:
"I was there in the very first years 1951-52 and recall the Catholic mass in the main church in Bad Kissingen followed by a party for the orphan children of which there were quite a few. I think the Germans invited the soldiers from the Kaserne and also those kids who had lost their parents to the services, maybe they thought we were all "lost children". I do not remember that we brought much to the party beyond the willingness to try and help out. There was no PX to purchase presents and we did not have much money. The foto tells the story, everyone looks happy, the nuns are looking after us, what more could you ask for?"
Col (Ret) Paul Palmer:
"In the mid 1960s, I know we were doing something, I just can't recall how it started. The unit at the border camp would do something with local German kids. For US soldiers far from home at Christmas, it was a nice change from the normal duty requirements. I knew there was a tradition but I just can't fill in the details."
MSG (Ret) Jack Stoltz:
"I can tell you something about that Christmas party and a lot more too. I was there in the late 1960s up to early 73 as a Platoon Sergeant and Border NCO. The squadron had a long time relationship supporting the German orphanage in the near border town of Willmars. We had a Christmas party for the kids but we also supported it during the regular year. By the door to the Commissary, we had a collection box for canned foods and candy that could be dropped in. I ran that stuff up once a month, more often if there was a lot. It was a treat for those kids."
"I don't know how the tradition started but the Army was different then, at least in Bad Kissingen, there were strong ties to the local community. As an NCO, if you wanted to extend in Germany, you usually could, so long tours were not uncommon. If you were going to rotate out but wanted to return to the same duty station, that was not unheard of. There was a big demand for tankers and scouts and if you wanted to go back to Germany and had done a good job, between the Sergeant Major and the SCO, there usually was a way. Many NCOs and even some of the officers had married German girls and that drew you closer to the community."
"CPT Plummer, the S2 in my later years in BK had a German wife and she was a big organizer with that orphanage in Willmars. In some of those photos from BG (Ret) O'Connell, I recognize Mrs. Plummer. I think we did a few things beyond Christmas, maybe some of the guys would go up in the Summer for a Saturday afternoon or something."
BG (Ret) Mike O'Connell:
"I used that camp up in Wollbach to host a few ' get togethers ' with the local German mayors and officials from the border area. It was informal, we would have a cook-out or feed them in the mess hall, maybe serve a beer or two. I wanted them to know who I was, that we would listen to their concerns and that we were all on the same side. The first time I did this, they all wanted to know if the 'Fest at Willmars ' would continue. I said I certainly hoped so ... and then asked what it was! So ... they told me about it and it seemed like a great idea. My wife and many of the other wives in the squadron were very active with this. She took some great photos and a newspaper article was written about the Christmas party in the Main Post in 71."
Col (Ret) Frank Koleszar:
"I spent over five years at Daley as a Troop Commander and the S3 and I can pick up the story where Stoltz leaves off. My wife is from BK and she was involved with the children's Christmas party that the squadron supported. She would work with the staff at the school in Willmars to make a list by age and gender for appropriate presents and then we purchased them at Kaufhaus Rhoen in Bad Kissingen. I believe the department store wrapped the presents as well. The money to support this was collected as ' nickels and dimes ' by the NCO chain of command and then the officers also contributed particularly if we were in danger of falling short. I am sure we were doing this through LTC Zeltman's command and LTC Allen's command also. That takes the story up to the mid 1970s."
Col (Ret) Jack Tartella and MSG (Ret) Helmut Grossinger:
"In the late 1970s, this thing was done and I don't know why. All I recall was that at Camp Lee, maybe the unit at the border would get the Santa Claus suit and drive around in a M113 for an hour or two in some of the towns and throw candy at kids."
Maybe the lost children had grown up, or the staff at the orphanage no longer felt American contributions were appropriate. Something makes me think that in 1978, one Troop still was involved but I can't find a source that also recalls this detail. Ted Prescott adds an interesting postscript to the story from 1985:
"The only other thing I recall were Germans bringing food and booze to Camp Lee and OP Tennessee Christmas Day.".
There always were lost children in that border area and someone looking to find them and make Christmas Day just a little bit better. Funny how much had changed and how much remained the same.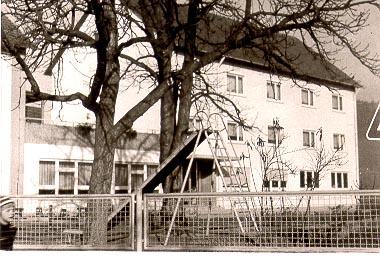 The orphanage in Willmars is still in operation and here is a photo. It is known as Nicholheim and is operated by a social agency based in Schweinfurt.
--Schatzlein - Ritter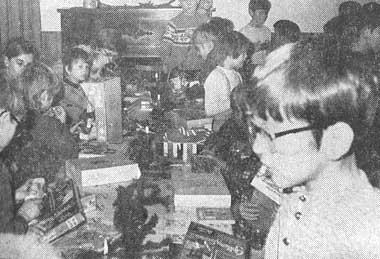 The Main Post did a nice article one year, here is one of their photos. Lilo Plummer, SFC Jack Stoltz and the vast majority of the troopers, one way or the other, made this happen. Every Christmas, my wife and I recall those days.
--M.G. O'Connell
I don't think I ever actually went but my wife kept me fully informed every step of the way.
--M.G. O'Connell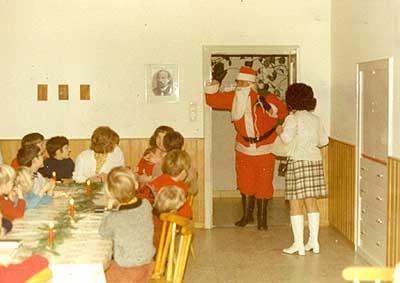 The next year or so, we are back and the kids are ready.
--M.G. O'Connell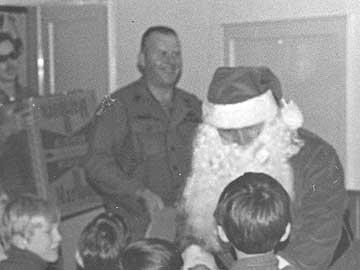 Clearly everyone is enjoying this party.
--M.G. O'Connell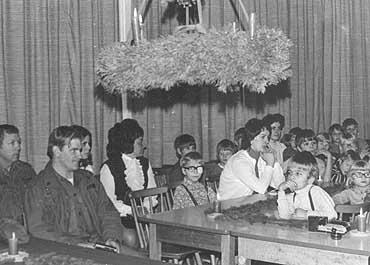 It is a memorable day for all involved. The kids glance over at the troopers filled with anticipation.
--M.G. O'Connell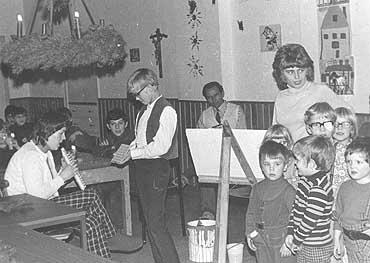 Probably 1971 or 72, the focus is now at the orphanage at Willmars. I believe the lady at right is Mrs. Jerry Plummer, wife of the S2.
--M.G. O'Connell