These Feathers in my War Bonnet
Colonel (Retired) James R. Spurrier was the first commander of the 2nd Battalion of the 14th Armored Reconnaissance Battalion as it reconfigured from the U.S. Army constabulary mission in post World War II Germany to a combat force tasked with the border observation mission north of Bad Kissingen. In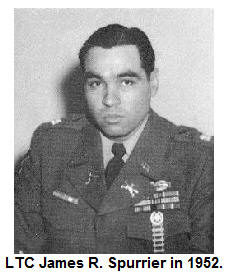 1951, if Soviet forces attacked from Meiningen south along Highway 19, the first line of defense they would have encountered would have been the troopers of LTC Spurrier's command stationed at Daley Barracks. His men trained hard for just this eventuality.
Some forty years after the fact, Colonel Spurrier wrote a limited publication memoir recalling his life and times, Come Walk in My Moccasins. The adult children of James R. Spurrier have graciously allowed us to place on line the chapter of his book devoted to his assignment in Germany and the heady times of 1949 - 1953 in Fulda, Schweinfurt and Bad Kissingen. The chapter begins as Major Spurrier, his wife Lucile and three daughters sail across the Atlantic for his first European assignment. During World War II, Spurrier had served with distinction with the First Cavalry Division in the Pacific and had trained as one of the Army's last true horse soldiers. Earlier assignments had been at Fort Bliss; he was an expert rider, a national level polo player and an officer with a reputation for getting the job done. He was the grandson of an Oklahoma Osage Indian Chief.
Due to length, this chapter is divided into two sections, the first portion recalls the Atlantic trip, initial assignment in Fulda, transfer to Schweinfurt, duty with the 2nd Recon Battalion of the 14th Armored Cavalry as the operations officer, acting battalion commander and unit executive officer. Far from a narrow military memoir, however, Colonel Spurrier also tells us much about his off duty life, his family, hobbies and pets.
The second section begins with Major ( P ) then LTC Spurrier in command of the battalion as it moves from Conn Barracks in Schweinfurt to Bad Kissingen. He recalls the first days on the border, the political climate in the Kurstadt as a new mayor and the new commander try and work through a variety of civil - military challenges in the post occupation Germany and the major maneuvers and inspections that were the key events in the annual training calendar. This section ends with the departure of LTC Spurrier from the command to a staff assignment at Fort Knox.
We have scanned the images that were published in this chapter of Colonel Spurrier's autobiography and merged them to the one line text. Because we were furnished small size photo copies, many of the scans are themselves quite small.
Colonel James R. Spurrier spent twenty - five years on active duty. In retirement beyond private business endeavors, he founded the U. S. Cavalry Association at Fort Riley Kansas as a way to focus the support of those who would cherish the memories and traditions of the horse cavalry in the American Army. In later years, beyond writing his memoirs, he remained active with his passions of riding, polo, golf and his family. Colonel Spurrier was aware of the Eaglehorse web site and encouraged former members of his command from those distant days in Germany to assist the site in any way possible. Colonel Spurrier moved his red and white - swallow tail guidon to Fiddler's Green on 27 December, 2004 at the age of 86 years.
All commercial rights of the Spurrier memoir are reserved by the estate of James R. Spurrier.
Chapter 13 of Spurrier memoir Part 1
Chapter 13 of Spurrier memoir Part 2
Colonel James R. Sprurrier Obituary
The day we were to sail, we arose early, eagerly gathered our luggage and were ready to go. The Shirley's took us to the Brooklyn Port of Embarkation where we boarded the USAT C. C. Ballou. There was a ceremony at the port with a band playing and people waving and saying goodbye to friends who had come to wish them bon voyage. As the tugs pulled us away from the dock, we waved goodbye to the Shirleys, and then staying topside, observed our course as we passed Staten island on the starboard side and out to the Atlantic Ocean. The Spurriers were off on a new adventure.
A word about our ship; it had just retuned from Germany with a boat load of displaced persons. The ship had the distinct smell of disinfectant that was not all together pleasant. The General C. C. Ballou was not a large ship as Army transports go. We were told that it was a notorious roller, that is it had a tendency to rock from side to side, In fact, it rocked so much that the ship was used to test Dramamine, a pill for seasickness.


We had a stateroom for the five of us, which was not too bad, even though it had bunk beds. Prior to departing we had purchased harnesses for Cindy and Sallie, which looked like dog harnesses. They worked wonderfully in that we could keep them under control and keep them from falling when the sea got heavy, which it did about half the time. They did, however, look like a couple of puppies.
Ocean travel was new to the girls, so we spent the first day getting acquainted with the ship. We were below the promenade deck with only a port hole to look out. As Lucile settled us in the cabin, Tricia and I explored the ship. We found the mess hall ( ward room ), kitchen ( galley ) and recreation room, made a tour or two around the promenade deck and in general gave the ship a thorough once over.
Our first meal aboard was lunch. If I remember correctly, we were on the first sitting. The meals were adequate by Army standards but after more than fifty years, I really can't recall how good or bad the meals were.
The first afternoon we had a lifeboat drill, everyone put on a life preserver and reported to their boat stations. This was a thrill for the girls. We put their life preservers on over their harnesses. After instruction as to lifeboat procedures we were released to return to our cabins. There were several drills held during our trip. The only problem we encountered was during movement to our station which required us to climb several small stairs. I led with Sallie, followed by Lucile and Cindy, with Tricia walking on her own, bring up the rear.
We quickly developed a routine. We awoke, dressed and waited for the mess gong which told us to report to the dining facilities. In the Army we call it the mess hall, in the Navy they call it the ward room. After a pleasant meal we returned to our cabin for a little rest before we had to leave again so the cabin boys could clean it.
We went top side and found deck chairs where Lucile, Cindy and Sallie took sun baths, weather permitting. We enjoyed the salt air and watching the ocean waves. Tricia and I took our daily walk around the promenade deck to stay in shape. We often stopped at the bow of the ship to view the ocean. Then it was back to the cabin to await lunch call. Following lunch it was siesta time. After siesta it was back top side to a recreation room where the children could play. Lucile, as avid reader, spent a good part of her time reading.
We were able to make some friends on the ship. One in particular, which we were to run into several more times in our service, was Lester R. Patrick, an armor officer, and his family. The ship's passengers were mainly officers, with most being company grade. There were also three warrant officers and three sergeants and their families.
There was not much excitement so one day when someone said they had sighted dolphins or some other type of marine animal, we all rushed to the railings to see. We did run into some bad weather about halfway across which confined most of the passengers to their cabins due to seasickness. The Spurrier family, I am proud to say, did not miss a meal, even though at several of them, they had to put side bars on the tables to keep the plates from sliding off.
The old hell of a Ballou lived up to its reputation as a roller as it sure did in rough weather. At times it was difficult to walk in the aisles and on deck because of the rocking, but our first experience at sea was almost over as they told us we would be docking soon. I think it took eight days to make the crossing.
Germany
Sailing to Germany gave me time to think about my assignment in relation to the world situation. Germany was divided into four major zones of occupation; the British, French, Russian and American. Foreigners could move easily between the zones with the exception of the Russian one.
Shortly after the defeat of Germany and its occupation by the Allies, it became apparent that the Russians did not trust anyone, and in reality we became their enemy. There was no free exchange between the Russians and the other Allies. If you crossed into their zone of occupation you were arrested. In fact, at the time of our sailing, the Russians had cut off all ground resupplying of Berlin which was in Russian occupied East Germany.
East Germany
To correct the situation, the Allies established what was known as the Berlin Airlift, which supplied the non Russian portion of the city by air. This was quite a feat and the Russians backed down. Following World War II the major mission of the occupying forces was the demilitarization and reconstruction of Germany. The U. S. Constabulary was organized to assist in these post war efforts. The Constabulary was the only law and order the Germans had. It assisted them in reestablishing their own government and by trying to weed out the undesirable elements ( the Mafia so to speak ) that always take advantage of lawless situations. At the time I arrived, most of the demilitarization had been completed and the Germans were able to handle the law and order. So American troops were assigned the mission of patrolling the Russian controlled East German border.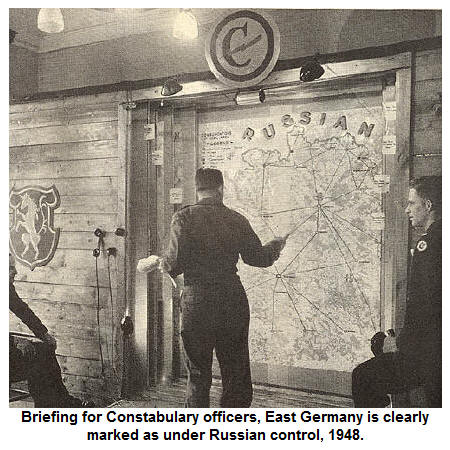 The Constabulary was organized in a similar manner as the Cavalry Groups of World War II. It consisted of a Constabulary Headquarters, two Constabulary Brigades and three Constabulary Regiments: the Second, Sixth and Fourteenth, each having two or more Squadrons, that were assigned zones of operation. The Constabulary troops were equipped with M 8 Armored Cars and ½ ton trucks or jeeps. I addition, each Constabulary Regiment had a horse platoon to assist in patrolling some of the more inaccessible areas.
Because of the international situation and the escalation of the Cold War, it was decided to reorganize the troops stationed in Germany along conventional military lines in order to meet the threat of the Russians. Since the reconstruction of Germany had progressed to where the Germans now could control and operate their own government, there was little need for the Constabulary, as organized. The major effort of the American forces was patrol of the Russian border. Thus, in late 1948 the Constabulary Squadrons were retained - one for each regiment.
Each regiment was moved to the border area and given the mission of patrolling it. The attached Constabulary Squadron had the actual mission of patrolling the border with the armored cavalry units as back - up. The situation required that we have detailed emergency plans in the event that the Russians decided to attack across the border.
In addition to the Constabulary, there was the First Infantry Division and separate artillery units and Air Force units. When I arrived the highest command was USAREUR, or U. S. Army Europe, and they still had the Constabulary Headquarters which soon was to be redesignated the Seventh Army. The two Constabulary Brigades remained.
Armored Cavalry Assignment
We arrived on the morning of August 4, 1949 at the Bremerhaven Port of Embarkation after an eight day crossing. We were assembled, given our assignments and told how to disembark. I was assigned to the Headquarters of the 14th Armored Cavalry regiment at Fulda , Germany. We were to immediately board a train to a town named Fritzlar where the Army had a hotel. We arrived the next day and were put up in the hotel. It was very nice with adequate service.
The next day I reported for duty to Colonel Jack Ryan, the Regimental commander. He informed me that I would be the Regimental S2, which is the intelligence officer. This was an active office, mainly just keeping abreast of the various intelligence agencies in the European Command ( EUCOM ). Everyone had a finger in the pie with no one talking to the other at the grass roots level. It became apparent to me why our intelligence was often distorted and incomplete. To me it was rather disgusting..
New Assignment: 2nd Bn, 14th ACR
I contacted the Regiment Adjutant regarding quarters and I was told that there would be quite a wait. After a week in the hotel with the girls getting restless, I knew they couldn't stand much of this type of living. I requested to speak to the Regimental Commander and informed him that I was willing to take any assignment where I could get quarters. I must have hit him on a good day as he called the 2nd Battalion which was located in Schweinfurt, Germany and found that I could get immediate quarters. So, I was transferred to the Second Battalion on the 12th of August, an assignment that turned out to be a boost to my military career. The next morning we departed via Army sedan
Conn Kaserne
Our destination was Conn Kaserne in Schweinfurt. In Germany camps and forts were called Kasernes and this one had served as a German Air Corps ( Luftwaffe ) base during the war. The hangers made adequate facilities for our tanks and vehicles and the barracks were more than adequate for each company as was the headquarters building. We also had a dispensary complete with a German doctor.
The officers and noncommissioned officers had satisfactory quarters about five miles away in the city of Schweinfurt, we had a good BOQ and a really snazzy Officer's Club. We also had an NCO Club and a Service Center for all other grades plus a PX and a commissary.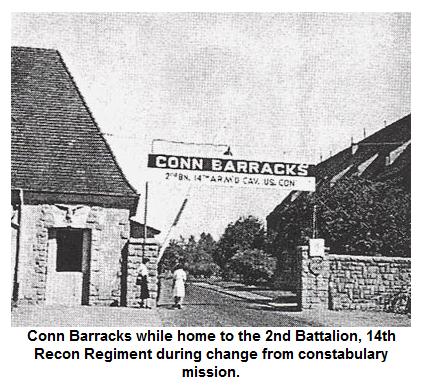 Our Officers Club was unique in that it had the only circular bar in Germany. We had a lot of visitors that came just to see the bar. There was a big sign over the front door that read, " EVERY NIGHT IS SATURDAY NIGHT IN THE CLUB ". We had an orchestra on Saturday night and most of the officers attended the dance. This made for good morale and the development of loyalty to the organization.
Schweinfurt was located a little over two hours south of Fulda. I reported to the acting commander who was a major by the name of Bud Simmons. The Battalion was to get a new commander, Ralph Dickie, in October. He was currently assigned to the 1st Constabulary Brigade and would take command after the impending large maneuver. I was assigned as the battalion operations officer.
After arriving we were shown to our quarters. I left Lucile and the girls to take over and get the house in shape. We were assigned a set of completely furnished quarters at 2 Am Sand, on the 14th of August. A maid came with the quarters, and we hired Marta Smyth as a nursemaid for the children. Since security was important, we purchased a Schaferhund ( German police dog ) and we named her Crystal. At least the girls could get settled and start enjoying their new adventure.
Tangerine Returns Home
We had a few days before the maneuvers started and I had the opportunity to fly down to Stuttgart in one of the battalion's L - 5 light aircraft to pick up Tangerine, the long missing cat. The Dix had had her since we departed from New York and I figured they were getting tired of her by now. She was glad to see me and I was right, the Dix were glad to see her go. She had traveled a lot better than we had, as she had flown all the way from New York to Schweinfurt.
Exercise Harvest
I arrived at a critical time for the battalion because it was scheduled to participate in the first large maneuvers in Germany since World War II.. Also, it would be the first time the battalion would operate as an armored cavalry unit. The maneuver was called Exercise Harvest, and as the operations officer I was deeply involved in getting the battalion ready to participate. After being on the job for about four days Bud Simmons came into my office and said the we had a new Battalion Commander. I asked if Colonel Dickie had arrived, he said no, so I asked who the new commander was, and he said you, meaning me. I said that can't be true as the dates of rank were checked before being ordered to the Battalion. He informed me that there was a mistake in his date of rank as some of his reserve time was credited as active duty time. Reserve time was not accountable in computing dates of ranks. I often wondered why he suddenly came forward at that particular time.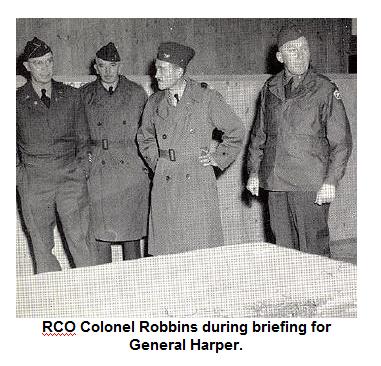 This was a very awkward situation for me. Taking the battalion on maneuvers with so little experience with them and being there only a few days was going to be tough. I did not know the personnel. To further compound the problem it was the fist time that I had been assigned to an armored cavalry unit.
Here I was as a new commander taking the battalion on one of the most important post war maneuvers in Europe. The situation was such that it could make or break me. The only good thing was that I had a general idea as to what the maneuver would be. There comes a time in one's life where luck takes the upper hand. Such was my case.
Being my first assignment with an armor unit, I had a lot to learn. Though I generally knew the organization of Armor Cavalry units, I was not sure of their equipment. I did know how to lead and had a good head for tactical situations so I learned as I went. I found out quickly that the battalion was not disciplined and was lax in responding to orders. I let them know that when an order was given they were to respond immediately. I ruffled some feathers right at the start but it paid off.
I think I think I performed quite well on the maneuver. The first day, the Regiment attacked in two columns, I was on the left flank and had the mission of securing a bridge over the Main River at Aschaffenberg. We didn't waste any time getting there. However, upon arriving we found that the bridge had been destroyed so I immediately changed the route of march to the bridge at Hanau that the other battalion was to secure. I arrived before that battalion secured the bridge and set up a defensive position at the bridge. The Regimental Commander was surprised to see me. I guess he wondered how I got there so fast.
My Major Maneuver Feat
At that time, the 1st Constabulary Brigade had only one regiment under its control the 14th. The brigade was commanded by Brigadier General Arthur G. Trudeau, who saw an opportunity to command a unit directly and ordered my battalion to be detached from the regiment to operate independently. We were called Task Force Sugar and performed several missions that pleased him.
The major accomplishment that set a feather in my war bonnet occurred toward the end of the maneuvers. I was ordered to go into Brigade Reserve and was given the general location of my assemble area. This was near Grafenwohr, one of the major training areas which had a dominant terrain feature called Hopfenohe Ridge. According to the scenario of the maneuver, the Constabulary had been fighting a delaying action against the 1st Infantry Division. The forward troops retreated through my reserve position and no one ordered me to move so I stood pat. From my position, I saw the 1st Infantry Division in a typical infantry division text book attack formation with two regiments abreast and one in reserve followed by their tank battalion. As they neared my position they turned right and moved across my front toward Hopfenohe Ridge. The 1st Infantry Division's Tank Battalion was commanded by Creighton W. Abrams, Armor's most respected tank commander from World War II and later to be Chief of Staff of the Army. I could not have been in a better position to cause the 1st Infantry Division some embarrassment by attacking their tank battalion which was completely out in the open.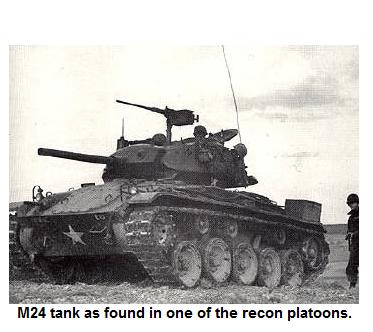 Since I was under control of the 1st Cavalry Brigade, I immediately contacted General Trudeau and apprized him of the situation and told him that I could cross the " T " if I could get more tanks. He immediately ordered that I was to receive the tank companies of the other two battalions. I was in the process of deploying my troops when General Handy, USAREUR Commander, chose that time to visit my CP.
He was directed to my location where he could observe the actions of the 1st Division and the positioning of my tanks for the attack. He was briefed on the situation and told me to continue what I was doing. He could see by the situation that we could embarrass the Big Red One, and being its former commander and an infantryman, he apparently did not want this to happen because as I was about to give the order to attack I received a frantic call from General Trudeau. I mean frantic as he kept yelling several times into his mike, " Do not attack, I repeat do not attack". This terminated my one moment of glory. However it was noted, recorded and reviewed by my contemporaries as well as higher commander. Shortly thereafter, the maneuver was terminated ahead of schedule. I was proud of my performance and that of the Battalion. Our actions during these war games was another feather in my war bonnet.
Back to Garrison Duty
Upon returning from maneuvers I became acquainted with my unit. It was a modified armored cavalry reconnaissance unit with three reconnaissance troops, a tank company and a headquarters company. Each reconnaissance company had three platoons with a scout section of four jeeps, a tank section of two M 24 light tanks and infantry squad mounted on a ¾ ton truck and mortar section also mounted in a ¾ ton truck. The tank company had three tank platoons with five M 26 medium tanks each. The headquarters company was a normal one except it had an air section of two L - 5 light aircraft.
It was a reasonably new organization and needed a lot of direct instruction. After a period of rehabilitation where we fixed our equipment and cleaned our gear from the wear and tear of the maneuvers, we entered into serious training.
German American Relations
Our status with the Germans was that we were still the conquerors though we had little official business with them. This was handled by the HICOG, which meant High Commissioner of Germany, an organization operated under the State Department. They had an office and representative in Schweinfurt. We also had an MIT or Military Intelligence Team, also located in the town. The logistics of the area were handled by what was called a base command. It handled all billeting, ran the PX and Commissary and all other administrative issues connected with every day living. There was a lot of black marketing going on by Americans stationed in Germany. One would be surprised what one could get for a pound of coffee or a carton of cigarettes. There was a silversmith located in Stuttgart that serviced the U.S. Military and most troops came home with valuable silver. We were no exception.
Schweinfurt was considered a large town according to Germans standards. Located on the Main River, it's claim to fame during World War II was that it was the town where Willie Sacks had his ball bearing plants. Schweinfurt was a favorite target for our bombers. The Air Force tried hard to knock out the ball bearing factories but the report I received from the local citizens was the manufacturing of ball bearings was decentralized to basements throughout the town. I was told that production never fell below 80%. Flying from the west to the east you could see where the bombs landed, starting about 50 kilometers out, as the fly boys did not like the flak over the city. All the time I was there, we had no problem with city government or townspeople.
Meeting the French
Shortly after the maneuvers, I was appointed by General Trudeau to represent him in a French maneuver held in their zone of occupation. I packed my field gear, departed and arrived at the French headquarters on 27 September 1949. This was probably a pay back for the work that I did for him during Exercise Harvest. I departed for Kaiseresch in the French Zone, found the French Army Headquarters in charge of the maneuvers and reported in. I was given a room in a local Gasthaus where the headquarters personnel were staying.

We could take a lesson from the French when it comes to comfort during a maneuver. The first night was my introduction to the French way of life. We assembled prior to dinner for cocktails and socializing. At dinner we were served one course at a time. Soup, salad, entrees and desert. That meant we ate one dish at a time and upon the completion of that dish we were served another. At each course, we were served a different wine, we must have run the gauntlet from port to sherry to stronger table wine. This was the arrangement that we repeated each night as we moved from Gasthaus to Gasthaus. It was hard for me to follow the plan of their maneuver, It seemed to be more like our CPX where command personnel are used because they had a minimum of troops. It was a good experience for me to see how another nation's military operated and it was another feather in my war bonnet.
New Commander Arrives
I remained in command of the battalion until late in October when Ralph Dickie took charge. He had been a staff officer for General Trudeau and was being rewarded for his work. I became the executive officer and was a help to him, as he had not been around troops for quite some time. He was easy to work with so I had no complaints. There was also a change in Regimental Commanders, as James B. Quill assumed command.
Intelligence School
It was during this time I was selected to attend, what I considered to be the most outstanding training available on Communism. It was conducted at the theater's intelligence school that was staffed with instructors who were former members of the Communist Party in Germany and Russia. It was an eye opener. This was where I first head the term " Dialectical Materialism". I am not sure that I thoroughly understood it, other than it was the doctrine of Karl Marx. It was the combining of materialism with logical dialectic between two forces, which developed a thesis and antitheses.
One of the communist instructors said that if you had been taught that two time two was four, and the government said that it was wrong, that two times two is now six, that is what you accepted. I seem to see some of this theory in our present day government. What used to be a privilege is now a right.
Social Activities
A town near Schweinfurt named Bad Kissingen had a nine hole golf course that I managed to play a few times. The Constabulary had a golf tournament at a resort area named Garmish - Partenkirchen, which the U. S. Army had appropriated for morale and welfare purposes. Garmish was located near the Swiss and Austrian borders in the Alps, the major mountain range in Europe. While I didn't play very good golf during the tournament, the 14th Armored Cavalry Regiment won third or fourth overall in the team standings. We had a hole in one contest, where I won the money for the closest to the pin. Lucile and I had a delightful time, and decided we would like to return.
In October, we went to visit the Dix family in Stuttgart on Lucile's 30th birthday. There was a big party with all of the former Fort Riley friends attending. General I. D. White, former commander at Fort Riley, was now the Commanding General of the U. S. Constabulary. This is the reason so many former Fort Riley people were assigned to the Constabulary.
Horse Show
Late in the fall, I decided we should have a horse show. The opportunity presented itself when the horse platoons of the Constabulary were deactivated and the horses stabled in Schweinfurt. Bob Borg, 1948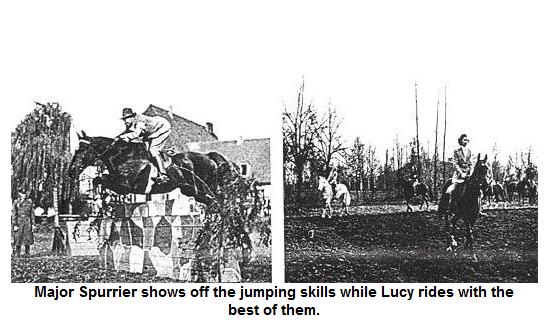 Olympics Equestrian Team member, was put in charge of the arrangements for the show. I had known Bob at Fort Riley during the train up for the Olympics and he was more than qualified for the job.
Lucile and I invited several of our Fort Riley friends namely the Scherrers, the Henrys, the Burtons, the Dix , the Gammons and the Hopkins to participate. We had several classes, Lucile won the ladies equitation class and I won the open jumping in a jump off with Ralph Dickie. It was a close competition because, being the Battalion Commander, Borg gave him the best jumper. Following the show we had a rip roaring party at the Officer's Club. We played musical chairs around the bar, where you had to take a sip of the drink left by the person who originally sat on that stool.
Garrison Life
We spent our first Christmas in Germany thinking of our loved ones at home. The Christmas Holidays were celebrated by the Battalion in the traditional manner, with gatherings and good cheer. It was truly a white Christmas, as the snow was very deep. The commander's reception and party was held on New Years Day.
Shortly after the first of the year, Lucile said that she would like a larger house. I talked to the Sub Post Commander to see if anything was coming up. The only thing he saw was a large house the Military Intelligence Team was vacating, but, he said he did not have the money to paint it. I asked him how much would it take to paint I?. He said three hundred dollars, so I said that I would pay for the paint. I think he was putting it to me, as I did not have a lot of respect for him. Anyway it was done and we moved into 7 Loehlein.
Tank Training at Belsen
The first part of 1950 found the Battalion performing garrison duties with inspections by higher headquarters, followed closely by tank gunnery. Our training area was limited, so we were ordered to take our tanks to Belsen in the British zone. I was designated to be in command of this operation. It was the only tank range in Germany that permitted tactical firing. Tactical firing meant to move and shoot under simulated tactical situations. This range was developed by noted British Army tank expert, Colonel Witherage, their leading authority on armor operations, It provided realistic conditions for an excellent training opportunity. The troops really liked the course and did well.
This was also my first experience with what is called a " Dining In ". It is a British Army tradition which our Army later adopted. The Dining In was called at the discretion of the President of the Officer's Mess and he called one just before we departed. If you haven't been to a Dining In, let me tell you it is quite an experience. The first part is very formal, with all officers in their dress uniforms. At this one, there was a lengthy pre dinner cocktail hour, so everyone was in high spirits when the dinner began. I was seated next to the Colonel and after dessert, he called for attention and offered a toast to the Queen, following his toast I gave a toast to the President of the United States. After my toast I was surprised to see all the Brits suddenly duck under the table, and rear up on command rising to pelt me with biscuits, and it was downhill from there.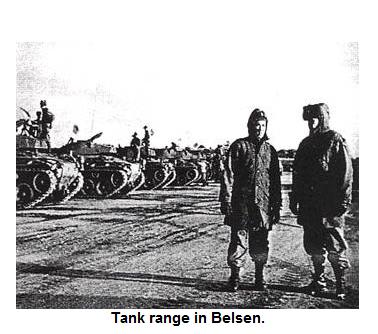 We played a lot of games like riding to the hounds by sitting backward on our chairs and hopping them around the long table, and " Are you there Moriarty?" where two individuals were blindfolded and lain on the floor with rolled up newspapers and grasping their opponents left hand in a hand shake. The object of the game was when one would say, " Are you there Moriarty"", the other would try and hit him. The British played rough and partied hard. They had a band and I saw one British officer pour beer down the saxophone. The party continued until the wee hours of the morning. You would never believe how rough we looked the next morning.
Close to the camp was Belsen, one of the infamous Nazi concentration camps. I took the opportunity to visit it and, like the rest of the world, was shocked at the atrocities performed there. The British made a memorial out of it and I heard they forced the Germans to go visit it.
Near Belsen was the Rolliflex Camera Company. I owned one of their cameras of pre World War vintage, so I was interested in seeing their operation. I visited the factory while we were there and found out that they could update my camera, so I had them do it.
Affects of the Korean War
In June 1950, the military and political complexion was changed by the attack of the North Korean across the 38th parallel, A war between North and South Korea began. Shortly thereafter the United States entered the fray calling it a " Police Action". You can call it what you want but when someone is shooting at you, it's war.
Because of the Cold War, the United States was worried about what the Russians would do. We started building up U. S. forces in Germany. In the fall of 1950, renovation of German facilities was begun for the deployment of greater numbers of U. S. forces. In Schweinfurt there was a large German Army Kaserne that was empty. Could easily house a regiment and it was marked for renovation.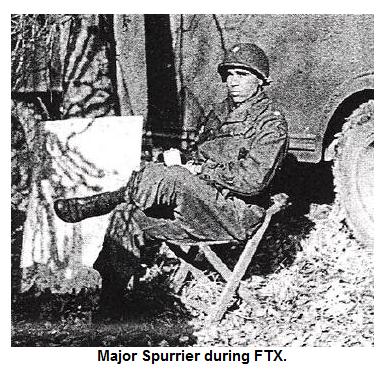 In the late fall we were informed that a regiment of infantry would be moving into that Kaserne in the spring. We were told that upon completion of the renovation, we would move to Bad Kissingen about 30 kilometers up the road. We were happy as Bad Kissingen was a Kur town, or a health resort. It was untouched by WW II. It had a Kaserne called Manteuffel which would house a battalion, just right for us.
In late 1950, Ralph Dickie's tour was up and he and his family headed home. By this time my old friend from Fort Ringgold, Chandler P. Robbins had arrived and assumed command of the Regiment, He made the decision to give me command of the Battalion even though I was still a Major. This was another feather in my war bonnet.
By early 1951, the Korean War had escalated, so temporary promotions were opening up and it also was the year for the big build up of troops in Germany. One infantry division, the 24th, one armor division, the 2nd, arrived in Germany along with other independent armor and artillery units, plus supporting troops, The U. S. Constabulary became the 7th Army and the Constabulary Brigades were deactivated and V Corps activated. We became V Corps troops. Annie and Laine Lee came over with the 2nd Armor Division along with many of my old friends to include one of my lieutenants from World War II, Johnny Nichols, and one of my old OMA friends. Bill Long. My battalion received new tanks, the M 47 medium and the M 41 light tanks along with the M 13 personnel carrier.
The year 1951 was also a difficult year to be a commander. In the fall we started integration of troops. I received ten percent black troops. It was easy for one to take a philosophical point of view on integration but at the grass roots level it was not so easy. Both sides were skeptical, thus we experienced a decrease in our efficiency. It took quite a while before the troops accepted one another and started working as a team.
We faced another problem, that of German independence, Up to now we had been the conqueror, thus making our own rules. Now, they said love thy brother and abide by his rules. This produced a lot of serious incidents between the Germans and the American forces it took time to reorient the thinking of our troops to this situation.
My battalion made the move to Bad Kissingen into the newly renovated Manteuffel Kaserne, on or about the 1st of May. It had everything we needed, excellent barracks, good motor pools, a large consolidated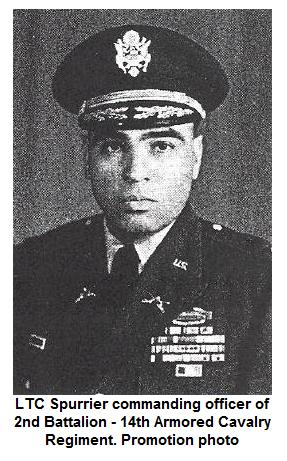 mess, a PX, small commissary, a Service Club an NCO Club as well as an Officer's Club located in a hotel downtown. This was ideal for me, being located some sixty kilometers from the regimental headquarters in Fulda. This meant that I was not under the gun, so to speak.
My position as commander of the 2nd Battalion was assured on the 7th of July when I was promoted to Lieutenant Colonel. So, while 1951 was pretty tough in many respects, it was a banner year for me, as I had an outstanding command, a good house to live in and servants to help Lucile.
Bad Kissingen
Bad Kissingen's health resort provided hot mineral baths, mud baths, and other medical treatments. It had an inhaleatorium, which is a tall structure that emits a water mist which the patients inhaled. The town was sufficiently strong during the Nazi years to keep German combat troops out of it. The Kaserne had been used to rehabilitate wounded soldiers. It was a very quiet place by nature and the city wanted to keep it that way. So, they were not happy at all with the noise our tanks made as we rolled through town.
The town was not touched by the war, so all of the building were intact. It had old, sedate hotels, excellent restaurants and Gasthauses. It had one of the most outstanding kitchens in Germany, called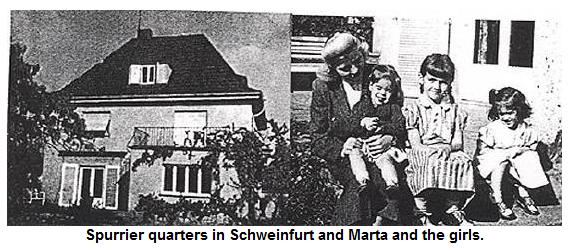 Aumsteads. This is where I first learned to eat Schnecken or snails. The restaurant served them as an entrée, I ordered then as an appetizer which upset the waiters to no end. This also is where I developed a taste for good wine, namely a wine called Neiderstiner, a Mosel wine. I couldn't remember the name so I kept a copy of the bottle label in my wallet.
We were told that the Tsar of Russia and his entourage had come there each year for six weeks to take the cure It was said the town earned enough money during that period of time to last them the rest of the year.
Border Duty
Life on the border for the American soldier underwent several changes because of the Korean and Cold Wars. We were a very busy bunch. Because of our close proximity to the East German border, if the Russians decided to attack, we would be the first ones to engage them. To prepare for this, each unit built defensive positions and war plans were developed at the highest levels, called the GAO or General Alert Orders. Alerts were held at all times of the day and night. Once the alert was sounded, units were to load their vehicles, clear the Kaserne and go directly to their defensive positions. As we became more efficient, the first battalion vehicle out of the motor pool could clear the Kaserne in fifteen minutes.
There was also a GAO for dependents. They were required to keep supplies on hand and a map of the route of withdrawal which was to be in a convoy. The immediate priority was to get them across the Rhine River and then to either France of Switzerland. Thank goodness nothing ever happened because I think it would have been a disaster.
Prior to this time, the 24th Constabulary Squadron patrolled the border in front of the 14th Armored Cavalry Regiment. This squadron was deactivated and the 14th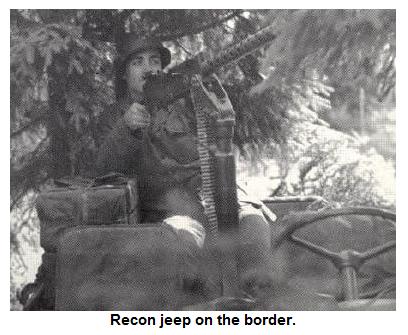 Armored Regiment was ordered to assume the responsibility of patrolling the border. My battalion had the responsibility for the area between the 1st Squadron to the north and the 2nd Armor Cavalry Regiment to the south. A company was moved into tents closer to the border for this purpose. At the grass roots level, all we did was observe the movements of the Russians on the other side and they did likewise.
There was always something happening, such as when one of our scout section commanders wandered across the border and was captured by the Russians. As I recall, he was not one of the smartest scout section commanders and after being interrogated they released him to cross back to our side. This caused a flap all along the chain of command, we had several intelligence personnel wanting to talk to him. They soon found out all he could tell them was that he was captured and taken to a building about five kilometers from the border where they asked him questions about his unit. When the Russians apparently had all the information they could obtain, they released him.
The battalion continued its normal training cycle and spent a lot of time preparing for three main inspections; the Command Maintenance Inspection, the Inspector General Inspection and the Tactical Training Test. In 1951, all of the companies except Headquarters received a rating of superior. I vowed the next year every company to include the HQ would receive a superior rating.
Family Life
On June 13th, we moved into our new quarters at 4 Ruckerstrasse in Bad Kissingen. It was a former Nazi bigwig's house. It was three stories tall, with six bedrooms and three baths. There was a normal living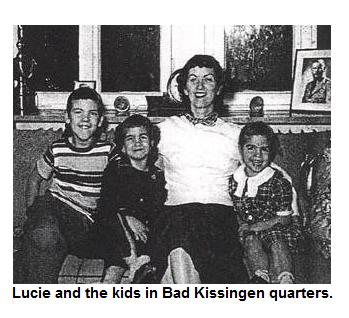 room, dining room and kitchen in addition to a den. It had a Rathskellar - or basement. It sat on a hill where we could see the city. It was more than adequate and very comfortable. We brought our maid Marta who had been with us in Schweinfurt to continue looking out for the girls. We also picked up another maid that did the cooking. It was also an excellent house for entertaining.
The children appeared to enjoy their life in Bad K. The post established a school which was more than satisfactory as it functioned like a stateside school. In the winter time they enjoyed sledding in the front yard. Marta was excellent as she kept them entertained and happy. We also received a visit from the Lee family, soon after they arrived in Germany. This permitted them to renew their friendship with their cousins.
Outdoor Recreation
Bad Kissingen had a nine hole gold course which the Army had taken over as a special service activity. Only Americans were allowed to play on the course. Needless to say, I really improved my golf game. Germany is farther north than most people think, so the days in the summer were long, We quit work at five so after work you could get in eighteen holes before it became too dark which was between nine and nine - thirty. I was able to improve my golf game to the point where I was shooting in the mid seventies. I introduced Lucile to the game and she had a natural flare for it. She is left handed but I talked her into trying to play right handed and she did not have any problems as she is somewhat ambidextrous.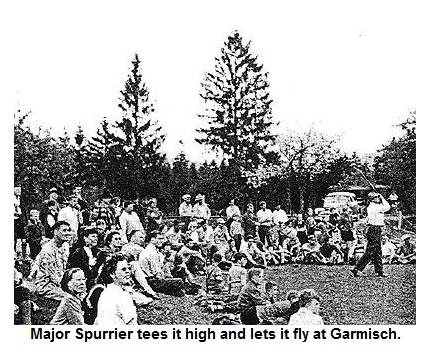 The Bad Kissingen area was also a good hunting spot. Our good friend, Art Allen, who served with us in the 12th Cavalry at Bliss, commanded our 3rd Battalion. He picked up a valuable sixteen gauge " over and under " shotgun that he had failed to register when he came to Europe. I was still under the legal time to register a gun so he gave it to Lucile. I took Lucile on several bird hunts. We hunted reapune, or wachtel, a partridge that lived in the cabbage patches and ran on the ground. They would run dogs wild trying to keep up with them.
In the winter it was good duck hunting on the Saale River that ran through Bad Kissingen. It was a small river that twisted a lot. We hunted ducks by what we called jump shooting. We would walk a distance away from the river until we heard quacking, then sneak up to it and cause the ducks to take flight while we banged away. One day, I heard ducks in a U bend in the river that had a cliff on the opposite side from me. When I jumped the ducks they had to fly almost directly over me to get away. It was a good day as I went five for five. In Germany we were authorized to carry five shells in our shot guns.
In addition to fowl, there was good deer and boar hunting as well. All wild animals belonged to the state, thus hunting was scrupulously controlled. You had to have a Jagermeister, who was like a game ranger.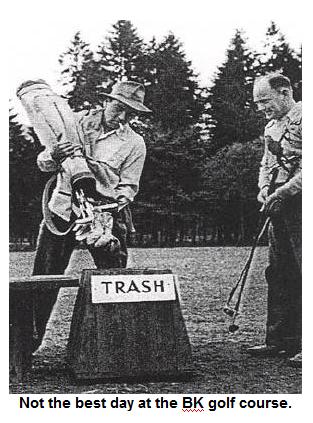 I remember taking Lucile on a boar hunt, The Jagermeister took a bunch of beaters through the underbrush to drive the boars toward us. In thick brush they would use the Dachshund to flush the boar. We sat in a hunt seat the Jagermeister had erected. It was built about ten feet above the ground and normally sat four. I called it the hope seat, as you hoped you would get something. Deer hunting was the same, except the seats were located where the deer grazed. The best hunting time was just at dusk in the evening when the deer came out to feed.
An Outing With the Air Force
Shortly after moving to Bad Kissingen, I found out that an old Oklahoma Military Academy friend, Otto B. McIver, who was a lieutenant colonel in the Air Force was stationed below in Wurzburg. I made contact with him and he invited us down for the weekend. Otto threw a party that Saturday night at the Officer's Club and we had a big time, somehow making it back to his house at the end of the evening, The next morning we were awakened by our hostess with a drink called Moose Blood. Moose Blood is maple syrup and bourbon, but she didn't tell us that until after we drank it. It wasn't bad though.
Wedding Bells
Our social life usually centered on Saturday nights at the Officer's Club. But, sometimes it deviated as when two of my officers got married. The first was Lieutenant Johnny Jones and Elaine. She came over from the States to marry him and it was quite an affair as the whole battalion took part in the festivities. The second wedding saw Lieutenant Jack Noll marrying Nadine, a local Red Cross worker. Prior to the wedding Jack was thrown a rip - roaring bachelor party. There was much alcohol flowing and everyone made sure the prospective groom had a snoot full. He barely made it to his own nuptials. After the ceremony the newlyweds took a spin around the Kaserne in one of our tanks. A good time was definitely had by all.
The second year of my command was also very busy, from a military pint of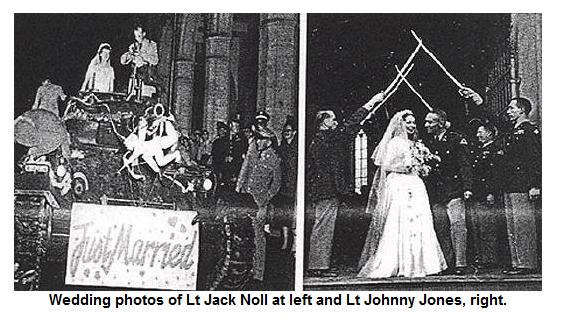 view. We continued to patrol the border however, by summer time we were authorized to bring the company who had been living in tents near the border, back to the barracks. Various inspections continued as well as intensified patrolling. Every month I had to go to Headquarters in Fulda for a battalion commanders' meeting. To me it was a waste of time and nothing really came out of the meetings as it was more of a briefing for the regimental commander.
Sometimes because of the weather, I had to say over night. On one of these occasions, I stayed with Stella and John Hopkins. His battalion was stationed in Fulda with the regiment headquarters, so he was under the gun where the Regimental Commander could see everything he did. I recall a remark he made while watching his battalion fall out for retreat. He said, " There are over seven hundred solders out there, and any one of them could ruin my military career ". This was true as the tables had been turned, we were no longer the conqueror, we now had to love thy brother ( Germans ) . Serious altercations between the locals and soldiers were now looked upon by higher headquarters as serious incidents, which the commander had to investigate and fully explain.
A Parade for Ike
I believe it was in the summer of 1952 that General Dwight D. Eisenhower, the SACEUR ( Supreme Allied Commander, Europe ), retired to run for President of the Untied States. For his farewell, USAREUR had a parade in Frankfurt, Germany. Each of the Armored Cavalry Regiments, the 2nd, 6th and 14th were ordered to make up a composite battalion, each furnishing a company. I won another feather for my War Bonnet by being selected to command this composite battalion, which was to lead the parade. I suspect tat General I. D. White had a say in the matter. I selected two of my staff officers to accompany me, George Hoge and Jack Gallivan, two rather mischievous individuals. In order for the troops to look sharp, we always painted the steel cover of our helmets for major parades. We waited 'till the last minute before we put them our liners. We were in formation for the parade when my two staff officers asked for my liner and put the steel shell on it. They were careful in handing me my helmet, almost putting it on for me. The reason being that it had stenciled on the back " I like Ike". They chickened out at the last minute and changed my helmet. I understand that General Eisenhower heard about it and had a chuckle.
The normal overseas tour was three years, which meant that my tour would be up in June of 1952. Colonel Chan Robbins, my regimental commander and good friend, asked if I would extend my tour through June of 1953. He had a lot of confidence in me, and since I was doing so well, he wanted me stay, so he wouldn't have to worry about the unit. I thought about it, asked Lucile what she thought and then told him I would stay. It wasn't a hard decision. Commanding the battalion was the best job I ever had and I was thoroughly enjoying it, and we liked living in Germany too.
A Check Up on the Lee Family
In the spring we visited the Lee family who at that time were stationed at Laupheim, a Sub Post near Ulm. In return, they visited us in Bad Kissingen. We entertained them with a cocktail party. The children had a great time visiting their cousins. Lucile had become a breeder of Shaferhunds or German Police dogs. Our dog Crystal had two litters of pups. Breeding these dogs was strictly controlled as you had to have each litter checked for number and condition of each puppy. I think you were allowed seven in a litter. It there were too many puppies or any did not measure up to their standards for the breed, they were eliminated. We retained a male pup from the first litter, and called him Apache. He turned out to be an outstanding dog. We gave the Lees a pup from the second litter. Also in the spring, we had a visitor from the States, Julie Semms, who was a friend of Lucile's parents from Santa Fe, New Mexico. We enjoyed seeing her. Later, with her husband Doug, she revisited us and we made a trip to the famous walled city of Rothenberg. It was quite a city but I never knew why it was walled, The reason must have stemmed from the medieval times.
In the summer we had a change of regimental commanders. Chan Robbins was transferred to V Corps and Raymond Curtis became the commander. Thank goodness he was having trouble with his two other battalions so he left me alone. When he visited, he said he just wanted to get away from Headquarters and did not require me to roll out the red carpet.
Electing a Burgermeister
In the spring of 1952, the citizens of Bad Kissingen had a big election. I was amazed that when a political position came open for election, anyone could run for the office without having to be a resident of the area. At this time, the mayor was running for reelection and he was causing me a lot of trouble as he would not communicate with me. I suspected he was a former Nazi and when one of my soldiers created a serious incident, he reported straight to Bonn, the German capital. This caused it to be sent through channels all the way down the chain of command. Of course, this made my unhappy and caused a lot of paperwork.
A young lawyer from Munich, Dr. Hans Weise, who was my age, announced his intentions to run for mayor, He was different than most of the politicians in Germany who were older retired local individuals with the time to dedicate to the affairs of the community. It did not take Dr. Weise long to understand the German - American problem and he came to me and said if elected that he would give me his full cooperation in helping to smooth the situation.
After a long and serious talk, I believed that he would be true to his word. We then worked out an agreement on how this cooperation would be implemented if he was elected. This was the fist time I had become involved in local politics. One of the main complaints of the civilians was that our tanks made too much noise going through town, which the Germans said upset the character of their community. This was a critical item in our discussion, and I told Dr. Weise that if he could build a new road out of our Kaserne that bypassed the town, the noise would be greatly reduced. He thought that was a great idea and agreed it would make a great campaign issue.
Every night the week before the election, I had individual company alerts and told them to take several routes to their defensive position and to make as much noise as they could. There was a confessed Nazi that had a cigar store in town, that was visited by one of my medium tanks. It conveniently broke down on the sidewalk in front of his store with the tank's main gun pointing right at his front door. We left it there for several days.
Dr. Weise told the newspapers that if elected he would cooperate with the military and reduce the noise and that he had been in contact with me to that effect. I was happy when he won the election and we became good friends. We were true to our words and had a great personal and professional relationship.
One of the firs things he did for me was to discover an old obscure German law which said that a Gasthaus owner was responsible for damages caused by an individual that became drunk from drinks served in his establishment. We discussed this and agreed that we would publish this law in German and English. I was having trouble with the Gasthaus owners as they not only would continue to serve drinks to inebriated soldiers, but would also give credit, so the soldier did not know how many drinks he was being charged. We agreed that we would announce this law together, he would notify the Gasthaus owners and I would inform the Battalion.
I called the Battalion together and informed them of this law and told them that if a soldier went into a Gasthaus and created a disturbance and destroyed property he would be required to pay for the damage. I also told them if they did this and didn't do at least five hundred dollars worth of damage, they would not only pay the fine, but I would have them transferred out of the battalion.
Our agreement worked. The first serious incident involving a soldier out of line in a Gasthaus after the election was investigated and found to the Gashaus owners responsibility. The Mayor was true to his word and found the Gasthaus owner responsible. The second one was on me, a drunk soldier went into a Gasthaus and demanded a drink, when he was refused, he tore up the place. He only did three hundred dollars worth of damage, which he paid and I transferred him the first chance I got.
Community Project
To repay the Mayor for his kindness as my serious incidents went to zero, I helped him build a city swimming pool. He wanted to build it on the side of a mountain as this was the only land that the city owned. He could not find a German company that had the equipment to excavate the pool. I was able to get one of our Engineer Companies to take on the project as a training exercise. The Mayor was much impressed and was very thankful. The project became an event for the town people as many came to observe the excavation, in fact the bulldozer operator became quite a ham.
The pool was completed just before I departed and there was a grand opening ceremony where we all signed a document regarding the construction of the pool and it was encased in a corner of the new bath house and is to be opened in one hundred years, what would be 2053.
Autumn Maneuvers
In the fall I went on my last big maneuver as a commander. It involved the 1st Infantry Division and the 2nd Armored division as the Blue Forces. Because the maneuver box was in our area, I was attached to the 1st Infantry Division, who in turn made me Task Force Commander of my battalion and the 373rd Armored Infantry Battalion plus an artillery battalion. My Task Force was almost the size of the Regiment. Just prior to the maneuvers we were assigned umpires whom we wined and dined at the Officer's Club. I also had a briefing for them on how the battalion operated and asked for their support during the maneuvers.
Traditionally, when two forces met on the battlefield there was a way of assessing firepower that allowed so much for tank fire, so much of machine gun, so much for mortar and so forth. Normally the umpires watching each side would meet and tell each other how much fire power they had and the one with the most power forced the other to withdraw. This was not according to the Umpire's Manual, that called for the unit to be placed before the fire power assessed.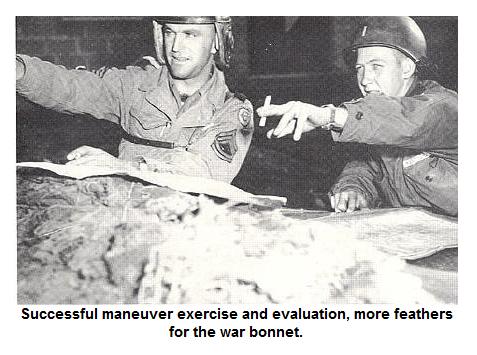 My mission was to fight a delaying action until the 1st Infantry Division could get into position. Fortunately my area of operation was a valley between two hills which made it difficult for the enemy to maneuver and bring much fire power on my small reconnaissance platoons. The umpires helped as they forced the enemy to deploy and bring the necessary fire power into position before they made my unit withdraw. This took time. I delayed the enemy for over two days and I was upsetting the maneuver time table, so they changed the scenario to get me out of the action. For example, they declared a bridge that I had destroyed was now usable which permitted the enemy to side slip out of my area. Anyway, after the maneuvers my Battalion and I received accolades from the 1st Infantry Division and Maneuver Headquarters for an outstanding job. This placed another feather in my war bonnet.
A Section Recalling a Skiing Vacation to Switzerland and Liechtenstein is Omitted
External Inspections
By the spring of 1953, the battalion had developed into a first class fighting organization. The Army has ways to evaluate a unit's capabilities and when we were externally tested by USAREUR inspectors, we passed the three major tests used to determine combat effectiveness with flying colors.
The Command Maintenance Inspection which determined the mechanical readiness of our vehicles and equipment and one in which an armored unit usually struggles to pass, was a resounding success. Each company in the battalion received a superior rating, the best you can get, and you really have done something when you receive one, but to have the Headquarters Company receive a superior rating as well, was truly remarkable.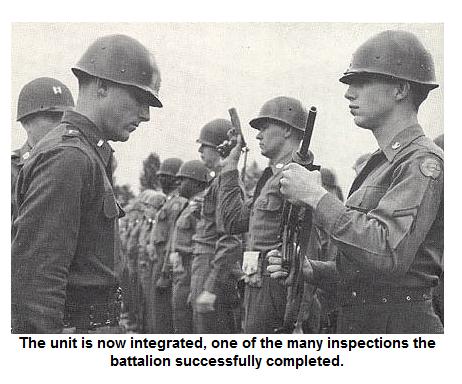 The Inspector General's inspection was designed to determine the overall condition of the unit including personnel. This is a very difficult inspection to get a high rating on, as you didn't know what the inspectors were going to do. In your training, you have a lot of secondary subjects that you have to cover, such as the T-I & E Program. I can't recall exactly what the acronym means, but as I remember it was the Troop Education and Information Program, which I considered a waste of time. It covered a variety of subjects such as current events. One of the questions asked of our privates was which way does the Panama Canal flow. If he knew, I am sure it would make him a better private. Others questions asked were about chemical warfare and like. Again we did well with straight superior ratings for all companies and the headquarters.
The last test was the Tactical Training Test used to check your overall combat capability. This was done under simulated tactical conditions. I was proud of the Battalion as it performed in an outstanding manner. Out of a possible one thousand points, our score was nine hundred and thirty seven, a score unheard of before that time. This was definitely a superior performance and the testing officers had high praise for us and considered us an outstanding combat organization of professional personnel.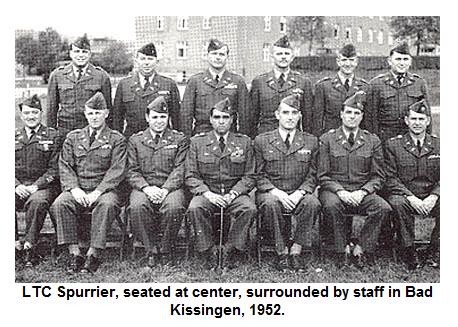 One of the reasons for our success was the selection of personnel in command positions. Over the years, I received officers from the Regiment with questionable capabilities and some that were difficult to handle. Unfortunately, most were senior in rank. I tried them in command positions, but that didn't work. I actually " B " Boarded an officer for inefficiency, which was a method of relieving an inefficient officer from active duty. In the companies, I placed young officers, mostly from West Point and other military schools in command. I called them my " young tigers "; these hard chargers were Johnny Jones, Joe Schmalzel, George Hoge and Hill Dickerson.
The Regimental Commander, Colonel Curtis was extremely pleased with our performance in the three inspections and I received one of the best efficiency reports I ever had. One, that I am sure, was looked at very closely when I came up for promotion. It was another feather in my war bonnet.
Stateside Assignment
Like all good things, this too came to an end. It was the summer of 1953 and I was due to rotate back to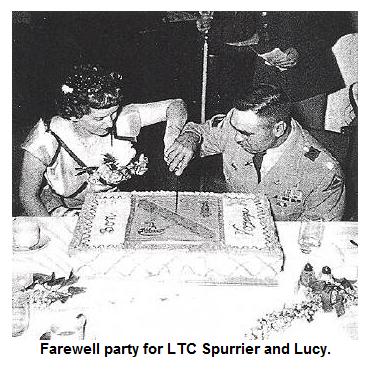 the States. Earlier in the year, I had written General Pee Wee Collier, Commanding General of the U. S. Armor School, offering my services as a Reconnaissance Unit specialist, as I had just completed four years with this type of unit. He wrote back and said he would try to flag me for assignment to Knox, which he did. So, in late spring, I received orders assigning me to the Armor School at Fort Knox.
As our time for leaving grew near, the battalion gave us many departing courtesies and parties. The final party was given just before we left and the officers had a grand time roasting me and performing a very humorous skit recalling my time as their commander. It was with many fond memories, wet eyes and sad heats that we departed Bad Kissingen for Bremenhaven and shipment back to the United States.
Col. James Ray Spurrier, USA (Ret), 86, passed away on December 27, 2004 in El Paso, TX. He is survived by his beloved wife of 63 years, Lucile Lafferty Spurrier, their three daughters, Patricia S. Bright,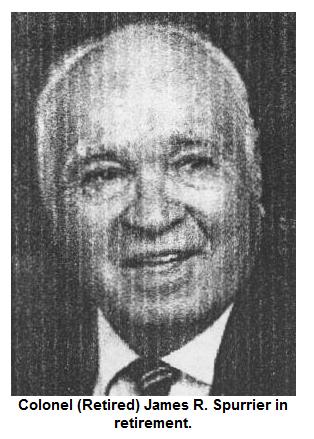 Lucile (Cindy) S. Christie, and Sarah (Sallie) S. Stewart, two sons-in-laws, Theodore Christie and Thomas Stewart, four grandchildren, Dawn W. Tillett, James R. Bright, Wendy W. Hall, and C. Spens Woodroof, ten great grandchildren and ten nieces and nephews. He was a regular Army officer for 25 years and served in the Pacific Theater during WWII. He was awarded the Silver Star, Bronze Star with Oak Leaf Cluster, the Purple Heart, the Distinguished Unit Citation and the Combat Infantry Badge. He received the Army Commendation Medal, the U.S. Cavalry Medal, and the Gold Medallion of the Order of St. George. He was appointed Honorary Colonel of the 12th Cavalry and named Distinguished Graduate of the Oklahoma Military Academy. After moving to El Paso in 1973 he founded the U.S. Horse Cavalry Association for preserving the history, literature and artifacts of the horse cavalry. He was the first Chairman of the Board and was President for over 20 years. He was an accomplished polo player and participated in the game until age 60 when he traded his polo mallets for golf clubs. He continued to be active on the golf course for another 20 years. Jimmie's gregarious personality will be deeply missed by family and friends. Visitation at Kaster-Maxon & Futrell Funeral Home, 8817 Dyer, Jan. 6, 2005, 4 P.M. to 8 P.M. Services at the German Chapel, Fort Bliss, TX, January 7, 2005, 1 P.M., graveside at Ft. Bliss Cemetery, 2 P.M. No flowers; donations can be made to the U.S. Cavalry Association, P.O. Box 2325, Fort Riley, Kansas 66441.