XII Tactical Air Command
Missing in Kissingen
In researching the story of the American military in Bad Kissingen every now and then you run into an absolute stone wall. Few if any records, virtually no written recollections or unit histories, basically a start date and an end date and nothing further. Such is the case for the Headquarters of the XII Tactical Air Command, an Army Air Force unit of probably 200 or more personnel, assigned to Kissingen for over 14 months during the later portion of the occupation period. They simply left behind almost no records of what they did.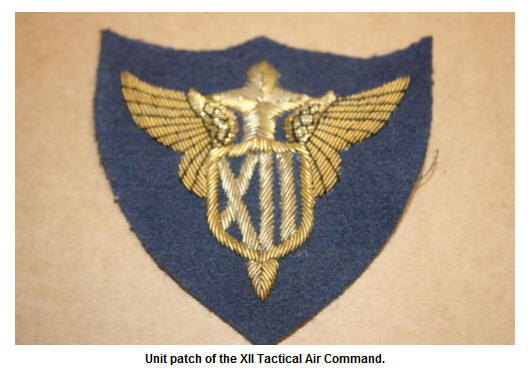 The War Years and then Germany
The XII Tac Air was a subordinate command to the 12th US Army Air Force, active during the war years on first, the North African Front and then across the Mediterranean Sea flying fighters and medium bombers in support of the invasion of Italy and combat actions along the southern coast of France. In mid August 1944, the command left Italy and relocated to France to continue operations. As with any major combat command, various fighter and bomber wings were assigned and then detached as missions changed. The 64th Fighter Wing had the longest tenure with the XII Tac, March 1943 - June 1947.
In July 1945, the Hq XII Tac moved to Erlangen Germany along with the HQ of the 64th Fighter Wing. From the sketchy unit histories at hand, it appears as though by this time, almost all of the other fighter and bomber wings that once were part of the command had begun to rapidly stand down for return to the United States. With a brief sentence, their actions at Erlangen were tersely reported as " normal occupational duties in the area. "
And in an odd twist, there are more images and written reports related to the Bob Hope Show at Erlangen in front of the XII Tac than accounts of the day to day missions of the unit.
On 1 November 1945, XII Tac moved to Bad Kissingen along with the Hq 64th Fighter and it appears as though the latter unit had some small number of aircraft in Schweinfurt. On 2 December, 1945, The 9th Army Air Force Headquarters deactivated at Bad Kissingen leaving the XII Tac as the only identified mayor command occupying the hotel district and now the facts really become sparse.
In an on line account of his military career, James A. Warthrall remembered both Erlangen and Kissingen and his duties as the XII Tac HQ Squadron commander, a non flight assignment and his subsequent efforts to escape and return to flying. He was successful and his brief account of those days ended.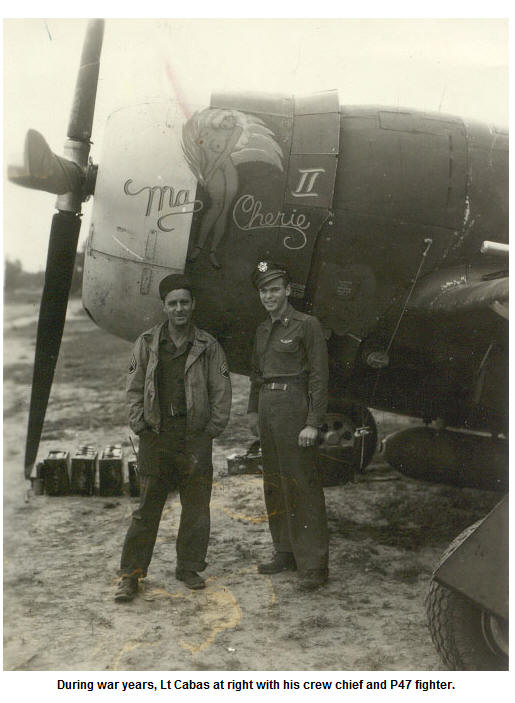 So in front of us lie several curious questions. The HQ 9th Army Air Force had spent their time in Kissingen dismantling a major command while occupying the town and immediate area plus conducting a number of other tasks such as writing after action reports, the hunt for Nazi technology, support of the local Military Government teams and a myriad or other duties associated with the immediate post war period.
By the time that the HQ XII Tac arrives, much of the local " heavy lifting " had been done and the unit is mentioned in no articles or reports from the post war occupation. Were they a unit committed to a mission that was pretty much already completed … there is just no evidence beyond a scant connection to the local Kissingen airfield and perhaps flying courier service for officers in that part of Bavaria. We know the officers and men of the XII Tac were at Kissingen for over sixteen months - we simply do not know what they did.
What does remain are brief notes indicating that a series of commanders arrived as colonels and quickly departing with stars on their shoulders earned during the war and little more. And then there is a single fighter pilot with movie star good looks, linked to the command, who surfaces in the newspapers.
Major Victor N. Cabas, was mentioned at about this time in his hometown newspaper in Pennsylvania as reporting to duty with the XII Tac at Kissingen with his new wife in tow, as a training officer. Looking deeper into the archives, he had been an athlete and high school high achiever and did I mention - a fighter pilot ace?
Victor N. Cabas - Fighter Pilot + Combat Ace
1283 is the generally accepted number of American fighter pilots who were credited with five of more air combat kills and thus receiving the accolade of an " ace ". It may seem like a high number of personnel but when you consider the tens of thousands of pilots who were trained and deployed to every front, from combat over Alaska to North Africa, the Pacific and all across Europe, it really is an elite club with entry gained by great flying skill and just a bit of luck and in that group of over 1000, only one flyer had any link to Bad Kissingen.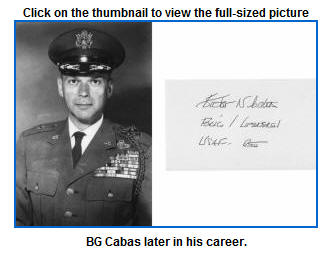 Victor N. Cabas was credited with 5 ½ aerial kills during the war and is particularly noteworthy in that he volunteered for service initially with the Canadian Air Force and achieved his first victory while flying with them over France in 1942. When the United States entered the war, along with fellow expatriate flyers, he was integrated into the Army Air Corps and steadily flew missions until Germany was defeated. His career then spanned combat actions in both Korea and Vietnam before his retirement at the grade of Brigadier General in 1972.
Beyond his victories, he is one of the few Americans who flew in three wars and logged over 600 flight hours in combat missions alone.
This link takes you to a site that recalls all of the American WWII aces and the Cabas page.
August 2014