The Man Who Invented Friendship

Research into the story of Merle A. Potter started with one photograph and a very brief citation stating that he was the first American military governor in Bad Kissingen in the post war period. There appeared to be very little information beyond this and I only worked on the story off and on. Then, with a little bit of luck and the assistance of a number of people in Germany, Minnesota and New York, suddenly the story of this fascinating man began to come together. Six thousand words later, a tribute to one American soldier who came to the Kurstadt, Merle Addison Potter. He was a citizen, a soldier, a showman and a man with vision. If you ever participated in any of the social activates run by the German - American Club - Kontact in either Bad Kissingen or the dozens of other cities across Germany where club events invited servicemen and Germans to join together in friendship, it all began with Potter, a Prince and the ability to shake hands.

The early civilian career of a Minneapolis newspaper man turned soldier starts at Part 1.

For Potter's Army career in Bad Kissingen and Berlin, please start at Part 2.

NOTE: All photos are thumbnails, click to bring up the full-sized picture.

Merle A. Potter is the most famous American you have never heard of. He was a newspaper man and a showman, a historical researcher and a soldier, a radio talk show host, a humanitarian, a diplomat and an impossible ham. His newspaper columns were read throughout the upper Midwest, his good works spanned two continents and have lasted seventy years. Army generals slapped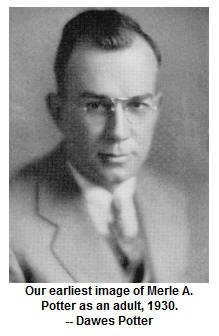 him on the back, fired him, and then rehired him. He came to know German nobility, stared into the face of absolute evil and found goodness in the vanquished enemy. He sponsored dozens of newspaper contests, tried to give away a monkey and relentlessly organized charity drives. In return, all he asked was that in the first paragraph of any article recalling his many activities, the name - Merle A. Potter - should be prominently featured.

He knew movie stars and everyone knew Merle. He was a most improbable choice to be the first U.S. Army military governor of Bad Kissingen and he accompanied combat units in vicious assaults. In the rear areas, Merle Potter put on soldier talent shows in bombed out theaters. He started a German - American friendship society that evolved into the Association of German - American Cubs, an organization that exists to this day. Yet for the hundreds of thousands of words that he wrote, and the millions of people who were entertained, for the countless lives that he touched, for all the good works and all the people who would remark, " ohh that Merle … what will he do next? ", Merle A. Potter is an American hero unsung.

Few things are certain in life, we shall be taxed, at some point we shall slip the bounds of this surly earth … and that in every library in the state of Minnesota, there is a copy of Merle A. Potter's book. From the newspaper morgue clip files, the used bookshops and the internal records of the German - American Clubs, let's give Merle his do. Could we do less for the man who invented friendship? Merle Addison Potter was bright, a man of convictions and strong opinions and in the end, a man who would realize he might be wrong and should change his mind. Merle, we know you 're playing cards with Gable, Bogart and Lorre but turn an ear as we finally sing your praises!

Merle A. Potter in the Pre War Years

Merle Addison Potter was born in Corwith Iowa in 1894. His middle class family had the resources to send Potter to the Shattuck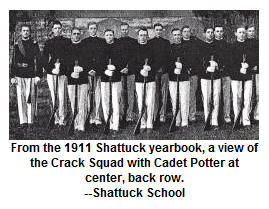 School, a private military high school in Faribault, Minnesota. He made friends here who would influence his career many decadeslater. Following graduation, he enrolled at the University of Minnesota in Minneapolis and was a member of their first journalism class. During his junior and senior years, he was the Managing Editor of the university newspaper. Here, he met the woman who would become his first wife, Lucy Howe, a classmate and they were married in 1917, a year after graduation.

Merle initially tried his hand in retail back in Iowa. Neither selling tires or lumber seemed his true calling and with four years of journalism training, Potter soon found an entry level position with the Mason City Globe Gazette. Running copy from reporter's desks, fetching coffee and the dozens of other jobs associated with the position of " office boy ", may have been a great ground level starting point but Potter had bigger ideas and for two years, he published his own newspaper apparently as a very limited edition, The Waukon Standard.

In 1925 Potter's father in law died and he and his wife returned to Minneapolis. Probably with the help of friends from journalism school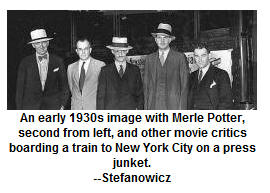 days he landed a job with the Minneapolis Journal newspaper.

The newspaper business was a crowded field in the upper Midwest in the 1920s. Between Minneapolis and Saint Paul, no fewer than six separate newspapers were published. The dailies hit the street at all hours. There were morning editions, newspapers that printed only afternoon runs, some covered the Twin Cities and immediate suburbs exclusively, some offered state and regional coverage. Long before television, newspapers and radio were the primary sources for daily news and entertainment.

Merle Potter had that unique skill in writing of a breezy style, solid research and a keen ability to, on occasion, never let some of the facts get in the way of a good story. He was that type of guy who would say, " I'll buy you a beer, then you buy me a beer … and then we'll get the bartender to pick up the tab." and then he could pull it off. The blood beat, dreary statehouse coverage or farm news were not his calling. Potter would ultimately find his printed voice as a movie and theater critic, a position for which he would readily admit, he had no formal training. His first notoriety with the Journal, however, came as a teller of stories recalling anecdotes of Minnesota history.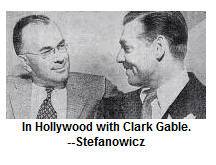 101 Best Stories of Minnesota

If ever there was a man born for the task, it was Merle Potter as he plunged into the strange, odd, funny and sometimes just plain weird history of the land of 10,000 lakes, one million Swedes and the occasional Ukrainian. It is not apparent whether Potter or his editors came up with the original idea, but the readers loved it. Potter's history column was prominently featured in the Sunday edition of the Minneapolis Journal .

Scoundrels were celebrated, the thieves, heroes, gun runners, Indian affairs agents, shady ladies and pious souls all were recalled with varying levels of accuracy and very little political correctness. Once the story went to print, if some of the facts were off, readers never hesitated to write in with the " true " version and Merle saved all the letters.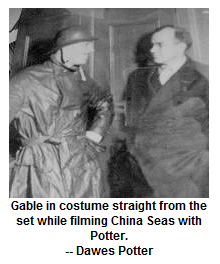 At least a part of the research related to the stories was original, Merle Potter appears to have spent much of the late 1920s crisscrossing the state gathering the facts at hand, historical societies - libraries - fishing supply stores, anyone with a good story to tell found a willing listener in Potter. An affable public speaker, as the stories gained a popular following so to did his public speaking career and for a small fee, the Blue Earth Ladies Luncheon Society or the Finnish Farmers Fraternal Front could get Merle, in his trademark suit and wire rim glasses, recalling Anoka's Rum Rebellion. Long before Garrison Keillor, Merle A. Potter was blazing the trail.

In 1931, Potter went to print with the book 101 Best Stories of Minnesota based on the best of his Sunday columns, fact corrected and buffed up for the hard cover market. With a populist touch and pre publishing marketing savvy, Potter hit upon the idea to get people talking about the book even before it was on the shelves. In what would become a trademark Potter ploy, he announced a contest to find a young artist to assist in the artwork that would help tell the stories. The much heralded winner was a local student at the University of Minnesota and the book was a success throughout the upper Midwest. Within six months, a second edition was ordered. Sometime thereafter, a local Saint Paul artist created a beautiful illuminated map of Minnesota illustrated with cartoon vignettes borrowed from The 101 Best Stories. It is believed that the poster became a limited edition print, Merle and a friend came upon the idea of selling the map as a jig saw puzzle. It was not a huge success but this was the height of the economic depression and every few dollars counted.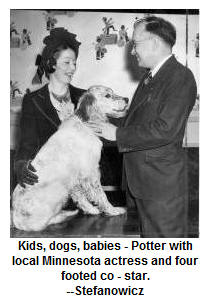 In 1958, the book was republished as part of the Minnesota Centennial Celebration. If you are interested in a sample story, check out the Park Rapids Saloon Raid.

The broadsheet newspapers in the Twin Cities were engaged in fierce competition to get the big story fast in the 1930s. This was not limited to just " hard " news, celebrity journalism and widespread popular interest in the affairs of Hollywood and the stars was a fast growing phenomenon and there were a lot of theaters and movie houses in the Minneapolis and Saint Paul and an audience wanting to know what the critics thought. A newspaper man who could generate " buzz " before the word was coined, was a precious find.

Merle A. Potter flatly admitted that he had no specific background in live theater criticism or movie reviews, but he knew what he liked and was generally plain spoken about it. This was a perfect match for his reading audience but many writers could do this. With the notoriety provided by the Journal history stories and book success, Potter realized that a story about the movies was good, a story that featured his name prominently was better and if it all could be linked to a contest, instant success!

Interestingly, in Merle Potter clip files and article morgues throughout Minnesota, not too many of his reviews were saved. Now and then, a surviving opinion piece on a movie or a rather long winded review of a play. What was saved by librarians were dozens of newspaper clippings of Potter sponsored contests, promotional events and charity shows. There may have been Ed Sullivan in New York City, but the upper Midwest and the Twin Cities had Merle Addison Potter.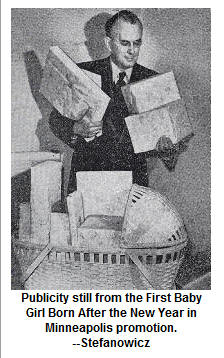 The Birth of the Buzz

Potter continued his work with the Journal through the late 1930s until the paper was purchased and shuttered by the rival Minneapolis Times -Tribune. A brief period without the spotlight and then Merle burst upon the local stage. The " Trib " hired Potter and offered him a wide ranging Hollywood - Minneapolis gossip and review column. Apparently, the marching orders were, " if there is no news - invent some news - just get that Potter name in big print on the page ". Soon there were contests everywhere:

What are the Years Best Movies: 100 winners based on their selections coming closest to Potters selections.

How Shall We Rate the Movies: the winning system was an 'A ' based system - one A was bad - AAAAA was great.

First Baby Girl Born In Minneapolis Contest: Potter surrounded by prizes waits for the New Year and the first little girl born in the Twin Cities.

Then there was the famous Name My Column contest: the actual ground rules for the contest are lost but Potter wanted something short and pithy. He certainly was not short of ideas but really wanted to draw the public in and well over 125,000 entries were received. Potter was the sole and absolute judge with prizes provided by local merchants in exchange for an in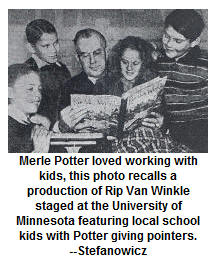 print plug. Here, a very partial list of what was at stake: a $50 dollar sack of Occidental flour, Emerson radio, Dinty Moore ham, a new men's or lady's hat, a men's or lady's wallet, lady's beauty treatment and … far down the list but there nevertheless, a free goat, a free live hog and, in a cage, a gift from the comedy team of Laurel and Hardy, who had passed through the Twin Cities, a monkey purchased from the local zoo.

Potter realized, the monkey in many ways, was the star of this show and as the contest progressed, the animal was prominently featured. Then a crisis, it escaped and was running free in the huge Orpheum Theater. This propelled a few more columns, should a new contest be started for the person who captures the beast? It all ended well in the end. The winner of the column naming contest was a very photogenic local young woman prominently displayed with a delivery truck full of prizes, across a full page in the Tribune. There were photos featuring the girl, the goat, hog and the delivery truck, and even the girl and the monkey. The winning column name: Your Times.

There were newspaper junkets to Hollywood with the critics from the surviving Twin Cities papers boarding a railcar together for a few days of cards and gossip before arriving at the Mecca of media buzz. There was a much publicized feud with a local stage actor; Potter wrote he could do just as good a job in the role. After many columns celebrating the made of print spat, Potter got his chance. He would play the role of Jeter Lester in Tobacco Road and everyone would let the audience decide. Newspaper were sold, the crowds loved it and there were handshakes when it was all done.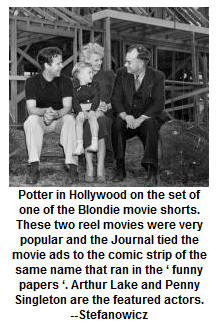 There were short articles featuring photos of Potter and various stars as they visited the Midwest to publicize new releases. There were Potter sponsored and hosted talent shows and a very memorable series of Christmas movie cartoon shows for local children hosted by the owners of a Minneapolis movie theater chain. As expected, Potter was the Master of Ceremonies, all widely publicized in the Tribune. Potter even organized a local talent pageant that visited the Minnesota State Prison during the holidays to bring some cheer to the otherwise gray lives of the inmates. Dawes Potter, one of Merle's sons, recalled many years after these events, the Christmas shows for both the children and the inmates were among his father's favorite memories of the time.

In this immediate pre World War II period, Potter became involved with a grass roots charity drive in the upper Midwest that aimed to bring relief to the people of Finland who had suffered greatly during their war with the Soviet Union in 1939. It was an activity that offered limited publicity but affected Potter greatly.

Merle A. Potter was in print, on the local radio and feted by the National Association of Motion Picture Critics. He was even appointed as the upper Midwest Regional President of the organization This was very much the high point of his career. And then it suddenly ended. Newspaper consolidation in the Twin Cites occurred again with the rival Minneapolis Star purchasing the Tribune and surprisingly killing Potter's column. Although the depression was ending, Potter was without a job and prospects with the surviving Twin Cites papers did not appear good. He accepted a job in 1940 with The Minnesota Amusement Company, a theater and movie house holding company run by a prominent businessman Benjamin Berger.

Berger was a wildly successful businessman in the Twin Cities. Beyond the theaters, film distribution business and local restaurant, he owned in later years both the Minneapolis Lakers, forbearer of the Los Angeles Lakers and the Minneapolis Millers, a semi pro hockey team. He was a leader in the local Variety Clubs that had often featured Potter as a speaker so when he heard Merle had lost the newspaper column, he offered the job of managing a pair of Berger theaters. Merle accepted but it was not a good match. Success was measured by box office receipts against theater costs and Potter, as good as he was with publicity, was not a ledger sheet kind of guy. As America entered the second full year of World War II, Potter was looking for an exit and in Berger's biography, Merle A. Potter is not mentioned
Click on the thumbnail to bring up the full-sized picture

The Jeeter Lester stunt with actor John Barton as Jeeter at left, then Potter and the director Rick Lee. Potter challenged Barton to let him play the role one night and Barton accepted.
--Stefanowicz

Barton and Potter, both in costume in the play Tobacco Road.
--Stefanowicz

Potter with Hollywood actors as they passed through the Twin Cities. From left, Buck Herzog, Potter, Dorothy Lamour and Keith Wilson.
--Stefanowicz

This photo was not in the best of condition, Bob Hope at left tugs on Potter's ear, then Merle and unknown actress in Hollywood.
--Dawes Potter

The things a newspaper man had to do to land the story! Potter with Alan Dinehart and Glenda Farrell enjoy breakfast while waiting for the morning papers and breaking reviews of the new play ' Thanks for My Wife'.
--Stefanowicz

Another successful promotion as Potter escorts the two first place winners of his Talent Hunt radio contest to Hollywood and on to the set to meet Spencer Tracy.
--Stefanowicz

Merle with a group of satisfied customers at one of his annual Children's Christmas Movie Parties in Minneapolis.
.--Stefanowicz

Potter feted by the National Movie and Theater Critics Organization at an awards ceremony.
.--Stefanowicz

Another successful promotion as Potter escorts the two first place winners of his Talent Hunt radio contest to Hollywood and on to the set to meet Spencer Tracy.
--Stefanowicz
In mid 1943, Merle Potter resigned from the Berger Amusement Company. He was not happy in the position and was forty - nine years old. By the accepted standards, he was too old for active duty service yet he somehow wanted to contribute with the country at war.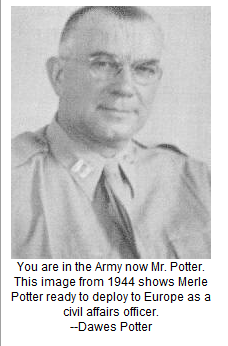 When Potter had attended the Shattuck school, it was a strict, all male military prep school. Doubtless, many of the instructors had seen service in the Civil War and on the Great Plains fighting Indians and this had left an impression. The 101 Best Stories had been dedicated to the Minnesota Auxiliary of the American Legion and Potter had run promotional events at downtown movie theaters aimed at WW I veterans. With two sons already of active duty as ensigns in the Navy, Potter must have considered himself very lucky when he applied and was accepted to a position with the American Red Cross that could potentially lead to an assignment on one of the distant fronts of the war. With no medical experience and marginal executive ability, Potter departed for six weeks of training. Perhaps they needed a publicist.

At just about this time, the Army was actively combing the rosters of the Red Cross and similar organizations for potential officers willing to be trained in civil affairs administration. Many of these candidates were similar in age and background to Potter, in their forties, university trained and well established in civilian careers with a willingness to pull on Army boots. Merle A. Potter was absolutely in the right place at the right time and was transferred from the Red Cross into a highly modified Officer Candidate School run in Pennsylvania. Upon graduation, he was commissioned as a Captain and sent to England where the civil affairs teams were being assembled and would receive further training. The next time we find a specific Potter citation in the newspapers, the invasion of Europe has already occurred, Potter is deep in France and as expected, is putting on a show.

The Virginia Safford column in the 13 December 1944 Star reported that Potter had written to Berger recalling his duties as a Special Services officer. He was in France, not far from the German border and had a host of duties running a soldier center at a bombed out Luftwaffe base. He oversaw a Post Exchange, Army Post Office, barber shop and mobile Recreation Center for the troops. In the off time, he scoured local villages for under employed chefs who were not adverse to cooking a special meal for the Captain. He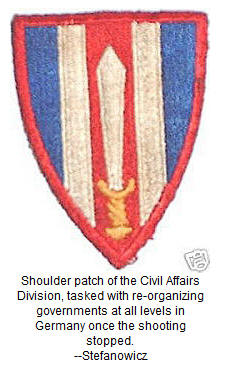 concluded that he was the impresario for a " Warehouse Follies Show " put on by the troops. Safford concluded her column, " High Living! "

A few months later, there was a burst of Potter activities in the Minnesota papers. In a special report to the Minneapolis Sunday Times dated 25 March 1945, Potter wrote a first hand account of observing troops during the first rubber boat assault over the Rhine. In part,

" Suddenly the night's stillness was pieced by the ratatatat of small arms fire on the other side of the Rhine, and the show entered a more sobering phase. Quickly came our retaliating fire, tracer fire arched over the river seeking vulnerable targets. The enemy came in with sprays of missiles from machine guns and then from hills in back of us came thundering blows of our artillery blasting and shredding the air. Now and again the din would subside for a few minutes and then it would resume with renewed vigor. From that window overlooking the river during one quiet interlude, I heard doughboys voices shouting, ' come out of that house you dirty ……' Another time I heard a German soldier scream from pain and then become suddenly quite. "

The Potter article flood continued over the next few weeks. He had been made Public Relations Officer of the XII Corps, part of Patton's Third Army, and was a member of Lieutenant General Manton S. Eddy's staff, with easy access to wire services to get the story out. This was another stroke of extraordinary good luck. Potter and Eddy had known each other as cadets at the Shattuck School thirty years earlier.

Not affiliated with a home town paper, Potter sent his reports to old friends back in Minneapolis who readily took them to print. He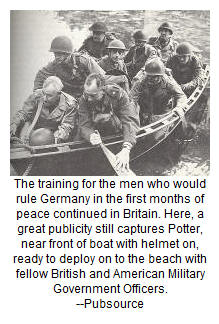 wrote that he had escorted VIPs through the Corps area, run a refugee camp for a few days, been harassed by German buzz bombs and had come to admire the British troops he had met. Then this sobering statement,

" I find the German adults docile - not a spark of fight left in them. But the young boys are vicious little demons, glare at you from doorways, eyes filled with hated. The Germans have done as effective job with the Hitler Jugend ( youth ) where training starts when they are six. The world will be better off when they are dead. "

An article printed on 23 May finds Potter reporting in from the German - Czech border in the very last days of the war. He had come across a steady steam of German atrocities, mass killings and the results of forced marches of concentration camp victims denied food or water. He summed up his brief dispatch,

" following the burial service (of scores of Polish Jews found roadside) I ordered every German present to march by the dead bodies. I did not talk to any German who did not disclaim all responsibility for the atrocities that took place in their midst. "

Two days later, a single paragraph ran in the papers noting that Merle Potter, former movie critic and now Army public relations officer can be seen in two news reels currently playing at various Twin Cities theaters. On film, Potter is the officer grimly directing the mass burials of victims at the Buchenwald concentration camp.

Governor Potter, the Prince and the Cosmopolitan Club

With Europe finally at peace, Captain Potter and Lieutenant General Eddy parted ways. Potter was posted to the job he had trained for in England. The man who found little joy in running Max Burger's theaters found himself and his H level detachment, running a Kurstadt with over fifteen thousand war wear Germans in the town or immediate vicinity. Among his many concerns, the creation and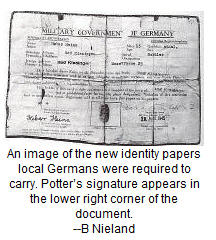 administration of an American zone in the town, refugee control, issuing registration papers to all Germans over the age of eight, enforcement of various Army of Occupation laws passed down from his superiors, coordination with U.S. units that had occupied the old German barracks and hotels throughout the Kur zone, reestablishing a local German government and city services and last but not least, insuring that the local Military Police unit was enforcing anti - fraternization laws. To accomplish this, Potter was assisted by three other officers and six enlisted men. Everyone had received intensive training in the German language, nobody really spoke it.

The Military Government detachments varied in size and composition depending on the amount of German territory they would take responsibility for. An H level unit, second from the smallest in size, was designed for a town or small city about the size of Bad Kissingen. Sadly, Merle Potter left no first hand record of what must have been tumultuous times but portions of the story can be pieced together through various sources. Some detail is very sketchy while other parts of the story are well detailed.

Considering the town was undamaged from the war, Bad Kissingen would have been considered a plum assignment, there were roofs on all the buildings and the water pipes did work. Whether General Eddy had some influence with the assignment is unknown.

Supposedly, the Military Government Officer teams were to have known their specific town - city or region assignment while training in England. This part of the post war plan proved unworkable and in all probability, Potter received his specific assignment as the war ended. It is also unknown if Potter's H team had accompanied him while Potter was an acting PAO of XII Corps.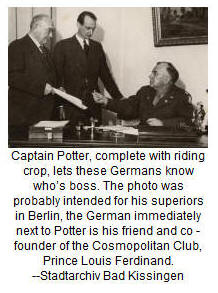 Whatever the specific circumstances, in the late Spring of 1945, Captain Merle Potter and his team were assigned to take over the administration of Bad Kissingen. All across Germany, dozens of teams fanned out to similar assignments. Potter had received the specific training for the assignment in England as the European Civil Affairs Regiments were being built at the same time as the invasion forces were assembled. Later to be known as Military Government Officers, the detachments received some very basic military training and then intensive language training and civil affairs instruction. The teams were faced with re - establishing some level of civil services in Germany, a nation by and large, bombed back to the 17th century. Merle Potter took his position at center stage and was about to play the greatest role of his life.

Frank McInerny's Around the Town column from mid Summer 1945 reported that Potter was now the Military Governor in Bad Kissingen and then,

"Captain Merle Potter writes … that the krauts, particularly those in the entertainment business, never miss an opportunity to belittle the U.S. denazification program. He cites a bit of dialogue between two stage comics. A well dressed man is sweeping the streets and passerby shouts - Hey professor, how come you are sweeping the streets? The reply - Ohh, I got fired as a professor because I was a Nazi, now I am a street sweeper. The first man then answered - Well I lost my job as a street sweeper because I too was a Nazi … what shall I do now? "

Later that year, AP reported that Captain Potter, disgusted over the constant anti American rumors that were being reported to his office at the Rathaus ( city hall ), had ordered an investigation and determined that one Fraulein Magdalene Schoel was the source of many of these lies and had her proclaimed - The Official Gossip Monger of Bad Kissingen. The German town fathers were called in to make this official and the announcement was posted on bulletin boards across town.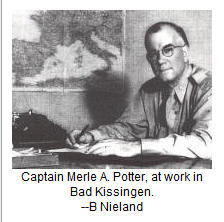 All was not fun and games for Potter and his peers across Germany. The Army realized that it did not want a long term commitment in direct oversight of German civil affairs. As fast as possible, local control was to be handed off to qualified Germans as long as they were not previously high ranking Nazis. In the summer, Potter had worked to assemble a local board to oversee the day to day German civil affairs of the town. The last German Burgermeister ( mayor ) from the Nazi period had killed himself at the end of the war. Potter found a man he felt he could work with, a local dentist named Alfons Foster but Foster had no desire for the job and apparently the other prominent Germans in the pool that Potter found acceptable, had similar feelings. Not at all happy with the situation, another local Doctor, Franz Meinow, was found and he agreed to take the job. A great image from the time finds Potter, center stage, glaring down at the local German dignitaries who were willing to run Bad Kissingen as the first meeting came to order.

The German book Vom Kohlenklau zur Chesterfield - From Coal Buckets ( slang for the German Wehrmacht helmet ) to Chesterfields ( the American occupation Army cigarette of choice ) which provided much of the source material for Potter in immediate post war Bad Kissingen, noted that one of the other noteworthy early accomplishments of the Americans was to get the theaters and movie houses up and running. Movies were carefully pre screened to insure that there were no pro Nazi or communist messages in the content. Comedies were acceptable. Max Berger would finally have been proud.


Fraternization was a big issue from mid 1945 well into 1946. The official policy was to limit the Army from contacts with local Germans except as strictly required by day to day activities. At this same time, the Army was organizing off duty tours, recreation programs and cultural excursions for troopers throughout the American zone. Americans soldiers were talking to German kids, talking to German women and talking to German shopkeepers everywhere. There seemed to be no sane, understandable standard and for both senior officers and newly arrived post war occupation troops, there were prosecutions and punishments if they were caught in the muddle of German - American relations. GIs chasing German woman was a particular problem and much of the anti - American resentment that manifested itself in fights, muggings and vandalism of Army equipment was traced back to German men who resented American men.

This was an issue that Potter faced everyday as he looked out from his corner office on the second floor of the Rathaus. His immediate view was of the American zone, well ordered, secured by MPs, a few Germans with work passes scuttling about. A few blocks away, just out of sight, and in clear violation of the regulations, Germans and Americans were interacting in every conceivable fashion.

How Merle Potter met Prince Louis Ferdinand of Prussia , the grandson of the Kaiser is a mystery. Prince Louis had once been third in line to the old German throne. When Germany lost World War I and the monarchy was abolished as a form of political leadership, the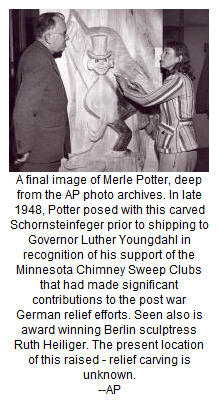 Prince and his older brother enjoyed the life of affluent curiosities. Prince Louis did not pursue a career in the military as had his older brother, but rather traveled extensively to include a prolong stay in America in the 1920s. He came to know both Henry Ford and at least briefly, Franklin Delano Roosevelt. Louis returned to Germany in 1933, when his older brother renounced any claim to the 'throne' by marrying a commoner. During the war, Louis was neither a Nazi or soldier. Apparently Louis was barred from the military after his older brother was killed in France and he spent the war years in the aviation industry.

Maybe Captain Potter was bored and needed someone to help pass the time. Perhaps Louis, in 1946, was the most polished German to knock on his door holding a bottle of champaign, two glasses and speaking near perfect English. With the fraternization issue still an Army concern, Potter and the Prince became fast friends. Clearly, Potter's opinion of Germans was beginning to change.

Merle A. Potter had been a few years earlier, the Commodore of a local Minneapolis yacht club. In Bad Kissingen, with the Prince at his side, he declared the opening of the Cosmopolitan Club, a place for social interaction where Germans could learn democratic ideals from their new American friends. The Prince suggested that his driver also be included on the founders rooster and Potter, unfamiliar with democracy taken to that extreme, initially said no. In due course he relented, the driver was given a membership card and the club opened.

The Office of Military Government - Bavaria - Potter's immediate superior headquarters and the Office of Military Government - Berlin - the supreme headquarters, were very unhappy with Captain Merle A. Potter. The fraternization issue was only just being unsorted and the idea of a totally unauthorized social club involving former members of the German aristocracy and American Army officers seemed totally counter productive to their way of thinking. What was going on in Bad Kissingen?!

Potter was called in on the carpet to explain his actions and his superiors must have been dumbfounded when Potter claimed that a social club to teach Germans democracy did not fly in the face of fraternization regulations. Was this not just a classroom of another form? Maybe it was the idea of the Prince and the liquor that bothered everyone. Captain Potter was fired from the job in Bad Kissingen, threatened with court martial and sent to a desk at the larger command in Ansbach where he could be more closely supervised.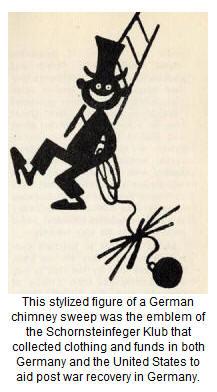 Potter would have none of this, and with an old sixth sense of how publicity can be put to work, demanded that a military trial be convened. He stated that he would readily admit to having given local Germans used coffee grounds from the American mess back in Bad Kissingen. The giving of any food, fresh or table scraps, to the Germans had been strictly prohibited and Potter knew it. He figured that the trial could be used to introduce the Cosmopolitan Club ideals to the American people and that the innate sense of fairness in America would never tolerate the Army regulation of burning any excess military left - overs rather than giving them to Germans who were subsisting on a 1400 calorie per day diet. Potter also called in old friends from Minnesota to include Senator Albert Ball to intervene on his behalf.

Office of Military Government - Berlin - sensed a scandal on the verge of getting out of control and neither granted Potter his trial or pursued further proceedings against him. At least for a few months, Potter sat in Ansbach and continued to strongly advocate for the Cosmopolitan Club and all that it represented.

One year later, things had changed; Captain Potter had simply been a man well ahead of his time. By 1947, the U.S. Government was advocating across a broad front for educational and social programs throughout their zone of occupation designed to stress positive German - American interaction including educational programs encouraging western political and social ideals. The Amerika Haus program was fully funded and staffed by the State Department to include an outpost in Bad Kissingen. Fraternization regulations were all but eliminated and programs to insure that German youth was in school, at work and then receiving positive messages about American democracy became one of the standing orders for occupation forces then evolving into the U.S. Constabulary.

American units were encouraged to assist local orphanages, have Christmas parties for younger children and run Summer camps for older children and teens. It was a full court press and Captain Merle A. Potter was summonsed from distant Ansbach to Berlin to join the staff of General Lucius Clay. Potter's mission - build German - American social clubs across the country and do it fast!

Welcome to Berlin, Major Potter!

It must have been with an enormous sense of gratification, that Merle Potter joined the special staff for German - American relations in Berlin. While there, he met the woman who would become his second wife, was promoted and set about building the framework for social clubs wherever there was a significant American military force present in a German city or town. What he started, soon evolved into the Association of German - American Clubs. Potter also became involved with fund raising based in the United States to support local German recovery. Reminiscent of the 1939 Finnish Relief campaign he had participated in back in Minneapolis, Potter asked for assistance from all the old newspaper and radio hands in the Twin Cities who remembered his name. Needless to say, Merle was back in business.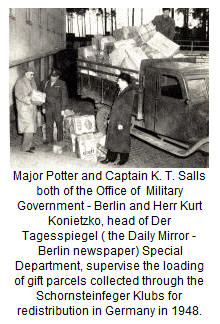 Potter's fund raising campaign coined the name Schornsteinfeger Klub - Chimney Sweep Club - borrowing from the German tradition recognizing good luck comes when one meets a chimney sweep. His appeals were echoed through the upper Midwest as he asked that used children's clothing that still had value be sent to his office in Berlin for redistribution. Anyone who contributed became a life member in the Chimney Sweep Club. Donations poured in from across the United States and particularly from the Wisconsin thru the Dakotas region, an amazing transformation considering that only three years earlier, Potter saw little value in anything German.

In Berlin, Major Potter coordinated German theater reviews and shows with the proceeds going to the club account to purchase additional clothing and raw materials for German club members to locally manufacture toys for redistribution at Christmas. As destitute former German POWs were released from the East, Schornsteinfeger Klubs provided fresh clothing and other necessities. Coining the secondary name " International Organization of Persons of Good Will " at the height of the membership, the roster listed 16, 000 names from over ten countries. To thank the American and British pilots and aircrews spearheading the Berlin Airlift in 1948, the club raised funds, purchased and presented 750 engraved cigarette lighters.

By 1949, Merle Addison Potter was out of the Army and ill. In 1948, Potter's health had started to decline and it is a testimony to his spirit that he remained as active as he was in Berlin with the German - American social clubs and Chimney Sweep Club. There should have been a second book and a victory lap allowing Merle to celebrate his successes in Germany but this was not to be the case. He left the Army, briefly stayed with a sister in Iowa and then settled in a Los Angles suburb. His new wife, Edith, a German national he had met in Berlin, had a career to pursue as an instructor in the California university system. Merle suffered a series of strokes that steadily diminished his abilities. In the 1950s he wrote an occasional column for the now defunct Valley Times of North Hollywood. After a period of very poor health, Merle A. Potter died in October, 1960 at the age of 66 years. He was buried in a Los Angeles veteran's cemetery and choose a government issue marker.

* * *
Prism Images of Merle A. Potter's Legacy

Considering the hundreds of thousands of newspapers he helped sell and the millions of readers he entertained with his columns, book, promotions, and stunts, the Minnesota papers offered spare obituaries. A few scant paragraphs and a thumbnail photograph to bid Merle adieu.

The Federation of German - American Clubs directly evolved from the Cosmopolitan Club, remains a part of the positive interaction between U.S. forces and German civilians. Over thirty clubs still exist even after the significant reductions of American military forces. The Bad Kissingen club was merged with the Schweinfurt club after the final American presence in the Kurstadt ended with the closing of Daley Village. Still giving tours and cookies to G.I.s the federation has greatly expanded its charter and now is extremely proud of the many student exchanges and scholarship programs it offers to both German and American teens.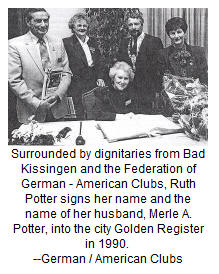 In Germany, Potter is recalled on line and in print media by the Association of German - American Clubs but to keep things current, the distant past is collapsed to an image and a few lines. At a Bad Kissingen history web site, Merle is on line, an image and caption noting he was the first American Army Governor of the town and a small reference to the Cosmopolitan Club.

Edith Potter remained very active in the German - American Clubs and was teaching courses in German language and culture at Scripps College in Los Angeles through the early 1990s.

In 1990, the Clubs held their annual reunion at Bad Kissingen to celebrate over forty years of promoting German - American friendship as focused through the U.S. Army in Germany. Edith Potter was one of the significant guests and she spoke at length on how much the organization had meant to her and her husband over the years. With Merle Potter long gone, she was afforded the highest honor the Kurstadt could afford a visitor. To honor the role that Merle A. Potter had played in the post war period in Germany, his founding of the Cosmopolitan Club, his willingness to fight for his ideals and then hard work in Berlin and worldwide on behalf of the German people, Edith Potter was invited to sign her name and greeting into Bad Kissingen's Golden Register, an honor dating back over two hundred years. To a roster that includes, kings, queens, royalty and significant statesmen from Bismark to Brandt to Adenaur, Edith Potter added her name and that of Merle Addison Potter.