You may recall Mellrichstadt, that last small town on the B19 before either taking the left on to 285 towards Ostheim and Fladungen or the right to the farm roads and then east into the fields for the OPs near Muhlfeld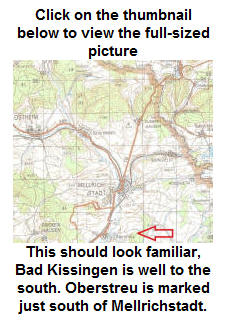 and Rossreith. Keep going straight, first Eussenhausen and then the trail to OP Sierra / Tennessee; drive for only a few more Kilometers, road signs for Meiningen and if that was the case, you had clearly gone too far. For thousands of troopers en route to the border, Mellrichstadt was really a drive - through town but in 1949, it was the main destination for a group of American humanitarians from central Minnesota.
Anton Volkmuth - An Interested Party
Anton " Tony " Volkmuth had immigrated from the village of Oberstreu, just south of Mellrichstadt, to the United States in 1921 and listed his occupation as a brick layer. Once in Minnesota, and after a winter of cutting ice, he took a job first as a " printer's devil " and then as a printer at the German language newspaper, Der Nordstern and later with the Saint Cloud Times. By 1938, he started his own weekly publication, The Saint Cloud News, later renamed, the Thrift News. Through the war years, the paper gradually increased circulation and became a central Minnesota success. In 1948, desperately interested in the plight of his former home, he returned as a tourist to Germany and was deeply disturbed by what he saw.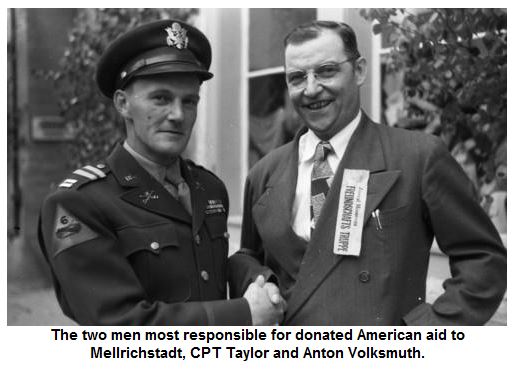 Starvation had been averted but the best intentions of rebuilding the German economy in rural Northern Bavaria had met with only marginal success. Seemingly every other town had an orphanage that could barely cope with abandoned children, basic consumer goods were hardly available or priced on the black market well above the means of the local farmers, shop keepers and villagers. American occupation and then Constabulary troops were sensitive to what they saw but had few assets beyond sympathy with which to act.
Upon return to Saint Cloud, and when not running the newspaper, Volkmuth devoted his energies to local public speaking on the plight of post war Germany and in particular, the privations found in the region of his former home town. This found a sympathetic ear among the thousands of Minnesotans of German heritage and an ad hoc relief effort began which culminated with Christmas 1948. This was particularly good timing, Congress had only just authorized US private aid to Germany.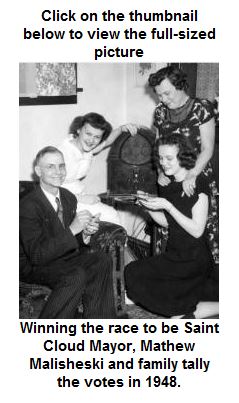 Although there are no records of a meeting, clearly Volkmuth, during his recent visit, would have met Army Lieutenant Clayton Miles Taylor and his wife, the only two Americans stationed in Mellrichstadt and later, they would have corresponded regularly as to local conditions. Taylor was a highly decorated combat veteran who fought in the 6th Armor Division tank destroyer battalion during the war. Fluent in German and placed in the high visibility position of American Military Governor in the Rhoen region, he was charged with guiding this part of post war Germany towards democracy, including monitoring day to day life and politics in the town and surrounding villages.
Lt " Bud " Taylor was appalled by conditions he found, and in particular, how aid often seemed to miss the Protestant minority in Bavaria. Under his administration, he was determined to see a fair and equable distribution of the private gifts pouring in from America.
An article in Stars and Stripes, late December 1948, recounting American Christmas charitable activities mentioned that Lt. Taylor had organized local parties and events for over 2500 children with gifts and donations originating from Saint Cloud, Minnesota. Volkmuth was certainly very active in the 1948 charity drive however, those efforts were largely unheralded. What is clear is that by early 1949, he now publicly had become very much the point man for central Minnesota charitable contributions destined for Mellrichstadt.
A pious Catholic who knew the local church powers, Volkmuth also knew the recently elected Saint Cloud Mayor, Mathew Malisheski, and it did not take long to organize a renewed post Christmas aid drive. Tony used his weekly paper to billboard the activities.
Between the newspaper, the pulpit and city hall, soon donations of clothing, basic necessities and even money came pouring into the now officially named Operation Democracy. A local woman, Madeline Savig, who was also a regional Girl Scout executive, found space to store the donations at the local Red Cross center and plenty of labor, her Scouts, to sort and box what arrived, an estimated seven tons of clothing with a total value of all the collections in excess of $100,000. By February 1949, the packages began to flow to Germany. Mayor Malisheski proclaimed Mellrichstadt and Saint Cloud to be sister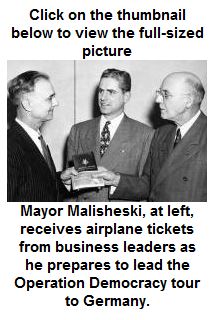 cities.
How the distribution worked in Germany is somewhat unclear although the Office of Military Government was certainly involved. Mellrichstadt served as the hub with aid going throughout the surrounding region ultimately reaching some 35,000 people. The newly promoted Captain Taylor had left his position, replaced by an American civilian, Ellis H. McKay and his government team probably provided supervision and some support to grateful local Germany authorities. The role of the teams was never designed to be truly hands on, but rather, to oversee the process as local Germans worked to find solutions to problems and at the same time, remained free of Communist influence.
In a letter to the Saint Cloud Times on March 3 1949, McKay, stated , " inhabitants of the local area regard the average citizens of Saint Cloud to be a cross between Santa Claus and General George C. Marshall. " Along with McKay's letter came a number of thank - you letters from local Germans who had already received aid parcels.
Mathew Malisheski - A Traveling Man
Mathew Malisheski was elected Mayor of Saint Cloud in 1948 in an election that saw a little over six thousand ballets cast. The forty - nine year old was a long time labor activist with the Brotherhood of Railway Carmen of America and employee of the Great Northern Railroad. He was a man of some ambition and, once in office, had a vision that reached well beyond the prairies.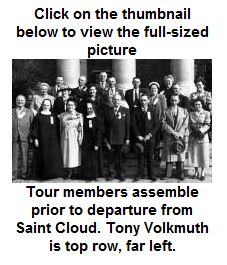 Amid the background of Tony Volkmuth's fund raising, in mid February 1949, Saint Cloud newspapers reported that Mayor Malisheski would lead a group of local interested citizens to Europe on a fact finding and good will tour. The tour would feature the Mayor visiting Saint Cloud , France, Mellrichstadt and then on to Rome and an audience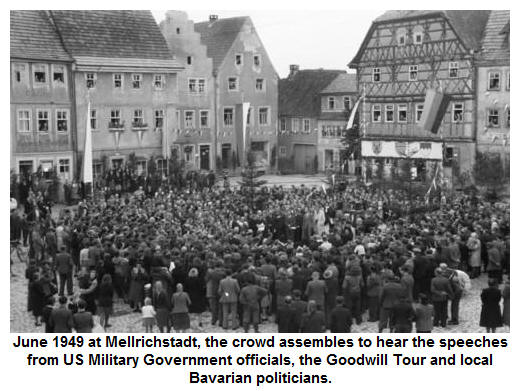 with the Pope. The excursion to France was in response to a visit one year earlier by the Mayor of their sister - city and namesake found just outside of Paris.
The opportunity to get Germans and Americans together for a grand photo opportunity in the spirit of post war charity was too much for any man to resist and Mayor Malisheski certainly saw the possibilities. Interestingly, Volkmuth recedes in the local newspaper coverage at this point perhaps due to the surviving microfilm rolls from that period were those of competing Saint Cloud newspapers. Malisheski, on the other hand, is consistently mentioned in the lead paragraphs.
Over in Germany, Stars and Strips reported that Volkmuth was instrumental in designing the itinerary for the " Minnesota Goodwill Tour ", a caravan that not only would visit central Germany but also Switzerland and Rome. The plan was to arrive in Frankfurt and then make the journey to Mellrichstadt for a few days to see first hand the plight of the recipients of the American charity. Then, side trips through southern Germany and elsewhere in Europe for those who could afford the journey with certain members of the party reuniting at Mellrichstadt prior to final departure.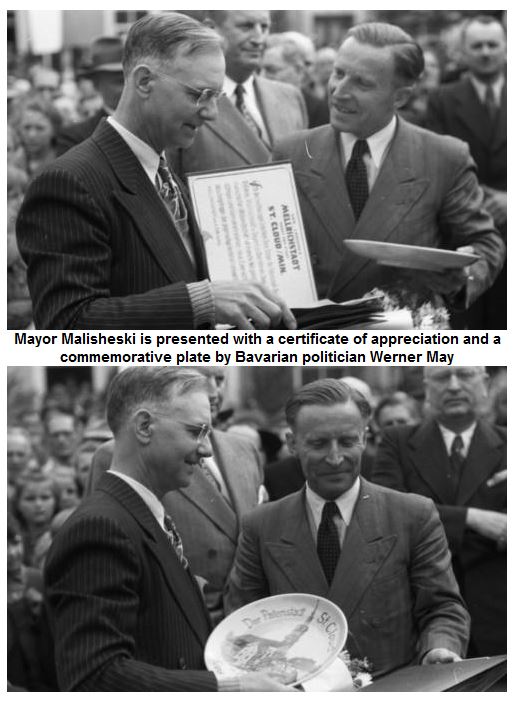 When the aircraft took off from Minneapolis on 30 May 1949, the tour had 23 people including Volkmuth, Mayor Malisheski and a host of personal friends, acquaintances and contributors. Most had paid their own way and had family scattered across Bavaria. The Mayor's tickets were funded by local businessmen. It was reported that the group was the largest such mission to leave Minnesota in the post war period. Of note, almost every member of the group could speak German and had earlier shipped food to Mellrichstadt to insure that their visit would place no undo burdens on the local civilians. The papers reported that due to customs regulations, the five married couples in the group had to carefully account for the candy, cigars and clothing brought as gifts which could not exceed $50.00 in total value.
On Tour, 1949
1 June 1949, Stars and Stripes reported the arrival of the tour and their impressions of visits to Displaced Persons camps and sites where aid was distributed to Germans. Apparently they were shocked at what they found; Mrs. Savig summed it up, " We need to keep the supplies coming!"
On the same day, local Minnesota papers reported more extensively on the caravan as it reached Mellrichstadt. Military Government dignitaries, McKay and his boss, Sidney C. White, US Director of Military Government for Northern Bavaria spoke as did regional German officials including Werner May, the local German government representative. The blurry photographs on the microfilm rolls witness the town square filled with people, Mayor Malisheski and Werner May front and center.
Following the remarks, Mayor Malisheski was presented with an official certificate of appreciation and a hand painted commemorative bowl. The archives of the German Main Post contained several photographs from that day showing the tour thru the town, dignitaries, as well as visits to families that received American charity.
A German - American friendship banquet was held that night followed by a dance. Malisheski was quoted, " he hoped the visit would impress the German people with the need for democratic principles in government. "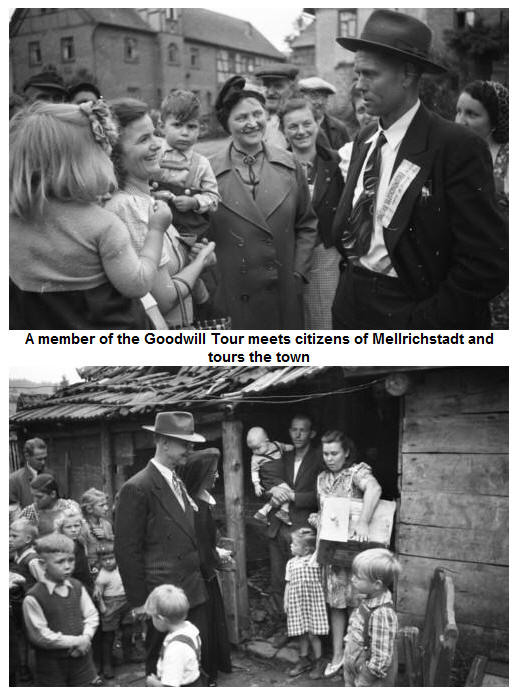 Stars and Stripes on June 8 feature a brief article on the tour group recalling the background of the trip and stating that despite some improvements in living conditions for local Germans, the conditions found at one orphanage in particular were appalling and the charity drive should certainly continue.
In mid June, a flurry of reports detailed the visit of the Mayor and a few other caravan members to Paris and Saint Cloud. They were honored as participants in a ceremony dedicated to French General LeClerc and the following day, the party was in Rome for an audience with the Pope. With this, the official good will caravan ended and the participants went their separate ways, some returning to the United States and others traveling individually in Europe.
Ellis McKay wrote a lengthy letter in early September to the Saint Cloud Daily Times expressing his thanks for not only the material goods provided by the charity drive and the visit that Summer but, more importantly, the bonds of friendship between Germany and America that had been so strongly reinforced. He noted that his job was now somewhat easier in that Germans no longer saw the Americans as occupiers but rather as friends. He particularly pointed out the efforts of Tony Volkmuth, the man who got the ball rolling and an indispensable party in bringing Germans and Americans together.
The collections of Operation Democracy continued on through 1949. Even as the caravan members were returning from Europe, local Boy Scouts canvassed Saint Cloud and surrounding towns for donations of canned goods and clothing to be sent to Mellrichstadt. In November, the Saint Cloud Times reported that the local school systems were participating in the charity with students providing gifts valued at 10 cents each to be sent on to German children. Malisheski remarked, " a fine example of our Democratic way of life. "
Finally, in late December, one last article. Hans Ulrich May, the son of Bavarian politician Werner May, had received a one year scholarship to Princeton University to study chemistry. He had previously completed three years of college in Germany and over semester break was invited to stay in Saint Cloud. The article recalled the Goodwill Tour and how Werner May had opened his home to the Americans and now Hans would be their guest at least for a few days. He remarked at length on the positive benefits of the previous Summer's activities and how, " it made the people feel that there was someone concerned about them and the gifts were appreciated by all."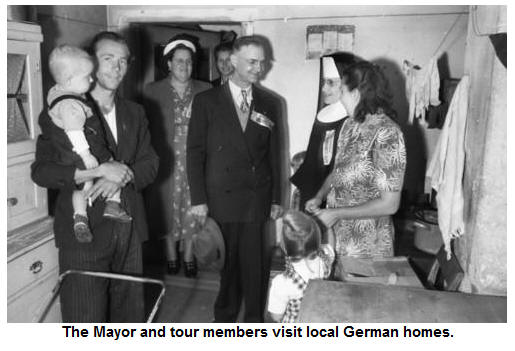 Then, the story goes cold. Perhaps fellow Minnesotan Merle Potter and his charity efforts consolidated the collections in the upper Mid West, maybe with the anticipated departure of the Military Government teams, a key part of the distribution plan became undone and maybe - Tony Volkmuth's German friends simply reported that widespread aid was no longer necessary.
December 8, 1951 Stars and Stripes reported that twenty - five citizens from the tiny village of Ostheim, about three miles northwest from Mellrichstadt, had opened their homes to local American soldiers to enjoy a Christmas away from the barracks. This message was relayed from the local Military Government representative in Mellrichsadt, Mr. F. Bartz, to the Bad Kissingen sub - post.
And finally, December 16, 1951, Stars and Stripes - The 2nd Battalion of the14th Armored Reconnaissance Battalion stationed at Bad Kissingen announced that they would support Christmas activities at the German orphanage at Hausen, just south of Fladungen, well within the Mellrichstadt zone of the Military Government.
So what became of these people and their good will that enjoyed such brief a period in the spotlight?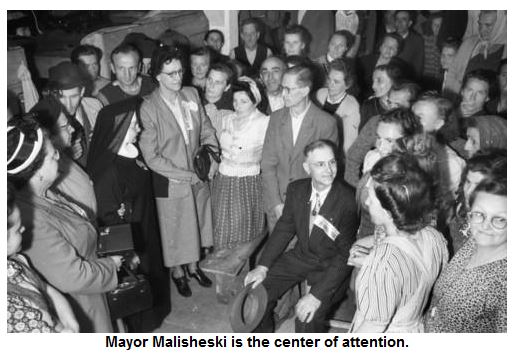 In Germany, Lieutenant then Captain Clayton Miles Taylor had moved on from Mellrichstadt to an assignment with the 14th Cavalry in Coburg by mid 1949 but he did return for visit when the Project Democracy delegation passed thru in May. Later in his career, he served in Korea as an Ordnance officer, first as the 7th Infantry Division Materials officer and later as an acting commander of an ordnance battalion. Stateside assignments included work with Reserve components in Mississippi and as a member of the Armor Board at Fort Knox. He retired as a Major in 1960 and had a second career as an engineer with General Dynamics at Fort Worth. " Bud " Taylor died in 2009 at the age of 93.
Ellis H. McKay left Europe and federal service in the early 1950s and returned stateside for post graduate education. He graduated with honors from the University of Pennsylvania Law school and went on to clerk for Supreme Court Judge Tom C. Clark. He spent the balance of his career as a noted attorney in private practice.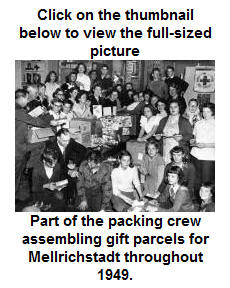 Mayor Mathew Malisheski served only a single term as Mayor of Saint Cloud. Brief accounts recalled his activities, he helped start a local marching band and was instrumental in getting a railway overpass built in the town. By 1952, he was out of office and returned to private life and employment with the Great Northern. He died in 1978 with the obituary in the Saint Cloud Daily Times mentioning nothing of Project Democracy or the Goodwill tour. In Saint Cloud today, no one has any idea where the certificate of appreciation and the commemorative bowl are located.
Anton " Tony " Volkmuth died in 1964 and as late as 2006, was still being recalled in the Saint Cloud press as a man of significant deeds. The Saint Cloud Times Sesquicentennial Spotlight series recalled him as one of the 150 significant area pioneers. The article reviewed his humble origins and how he guided his newspaper through many different incarnations until the Photo News was the largest weekly newspaper in Minnesota. Eventually, he sold his newspaper, went into the printing business and passed this on to his sons. When not working at the print trade, Tony ran a successful tour business featuring visits to central Germany and in 1950 - he led a tour to Rome to visit the Pope. The final paragraph in the modern recollection of his life recalled his efforts in behalf of the post World War II German relief programs.
The towns of Saint Cloud Minnesota and Mellrichstadt are no longer sister - cities.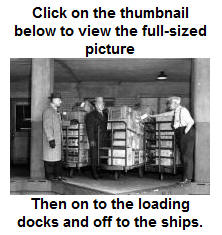 November 2012