Special Stories / Photos
These pages are for special stories, pictures and trivia submitted by site visitors and related to the units at Daley Barracks, the border mission, and the Bad Kissingen area.
---
From: Sam Carlson, CPT, USA (Ret).... again - June 2012

I thought I'd send a little update since the last time I contributed to the site...
First a little catch-up reminder. I was assigned to HHT (S2), 2/11 in about April 1977 where I worked as the Asst Intel NCO, then later as the Intel NCO and eventually as the Border NCO. In June 1978, the then CPT Jack Taretella swore me in when I received a direct commission as a 2LT/MP/USAR. At about the same time I was promoted to SFC, USA and moved to the 3d Armored Davison since there was no billet in the 11th ACR for the MOS in which I was promoted. I eventually retired in 1987 as 1SG (USA) / CPT (USAR)
There were some interesting twists and turn in my life after 9/11. In 2005 (at age 58) I was recalled out of retirement and put back on active duty to command a counterintelligence unit at Fort Meade directly supporting GWOT. I retired again two years later but after only three months being retired I received the call to go back on active duty for deployment to Afghanistan where I served with the 82d Airborne for six months, then with the 101st Airborne for the last six months of that deployment. I returned to CONUS to retire for the third time in September 2008.
In December 2008 I was processed again for another retiree recall and a return trip to Afghanistan. This time I was to report to Fort Drum to deploy with the 3d Infantry Brigade Combat Team, 10th Mountain Division (Light Infantry). I deployed to Afghanistan with a contingent of the 10th Mtn in April 2009 and wound up with some great jobs... Brigade Asst S2 for Current Operations, S2/S3 Battle Captain for the 4/25 Field Artillery Bn, and finally as the Intel advisor to an Afghan National Army Infantry Brigade.
| | | | | |
| --- | --- | --- | --- | --- |
| | | | | |
| | | | | |
| | This photo was taken during a convoy break outside of Camp Blackhorse a bit east of Kabul in November 2009. Thirty-one years after leaving the 2/11 ACR, I still found myself being associated with it again in one manner or another. | | While in Afghanistan I managed to meet up with my son, 1SG Sam Carlson, who was bringing in his unit to Afghanistan. Notice the photo of the two of us... his assigned unit patch... 11th ACR! | |
| | | | | |
I returned to Fort Drum on the last flight of the 3d IBCT, 10th Mtn and retired for a 4th time (at age 63) in March 2010. The 10th Mountain Division asked for me to return to Afghanistan on their 2011 deployment, but it was turned down by HQ DA. Had that happened, I planned to visit the Brigade Surgeon on my 65th Birthday in January 2012 to ask her if she accepted MEDICARE.

---
From: Tony Calder - February 2012

This is a short story from my Army days--not even a story at all really, so much as just an anecdote I have never forgotten to this day.

It was probably 1977, and I was 20 years old. I was in downtown Bad Kissingen, Germany one late summer day, in full uniform, black beret. I'd walked downtown to do a little shopping and was making my way back to Daley barracks, but taking my time. The air was crisp but still warm enough, the sky was clear, the sun was bright; it was a perfect Bad Kissingen day. People were milling about everywhere on the cobblestone streets. Seemed everybody was happy.

I paused at the window of a shop, looking at the wares in the display. As I stood there a figure shuffled up beside me with an odd gait. I didn't pay him much mind, but glanced over at him for a moment. He was an older gentleman, gray hair, somewhat stooped. I nodded and smiled at him, kind of tipped my beret at him and said, "Guten tag."

He settled next to me and stopped there at my right elbow. I focused my gaze back to the storeroom window display, but in my peripheral vision I could see him there. Looking at me. Smiling--like, I mean, a big smile.

I felt a bit uncomfortable for some reason. I didn't know why. He was a nice enough old guy, I told myself. Why do I feel ill-at-ease about this?

I gave him a quick grin and nodded and went back to the window again. Still the beaming smile from him. His hair was mussed, he was missing a few teeth, his clothes were modest and clean, but he looked a bit disheveled. Still, I couldn't help but see that there was a certain light in his eyes, like he was a kid again. He tugged at the sleeve of my field jacket, then tugged again. I turned and faced him.

"Danke," he said, pointing at himself, blue eyes twinkling in his crinkled old face. I must have looked puzzled, for I said nothing. "Thank you," he then said in carefully measured English, now pointing at me. "Thank you." He kept repeating. "Thank you."

I tried to to recall the German language that I knew. "Bitte shoen . . . warum?" Why? Thank me for what?

He nodded in understanding and pulled up the sleeve of his old jacket. There on his inner forearm, near the wrist, six numbers were tattooed, in now old greenish-blue-black ink. Six numbers. He pointed at them, and then at me, and then the tattoo again, then back at me. His smile was still there, but the twinkle in his eyes had become a mist from somewhere far away. He was thanking me for things that I never knew, never saw, could hardly imagine.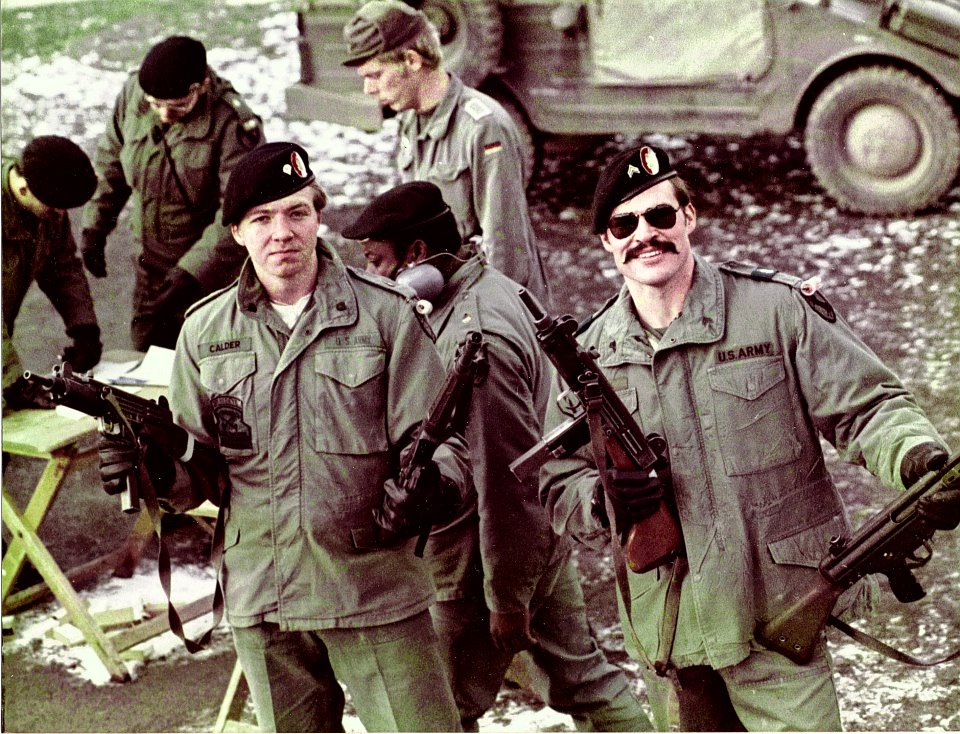 ---
From: Bob Mathis

This is an old BK picture of my hero SFC Czinege receiving the Legion of Merit [LOM] prior to medical discharge for deteriorating eyesight. The interesting bit of trivia is that he shot Top Gun in the regiment at his first and only Tank gunnery (19D scout Plt Sgt's commanded a tank in the old combined arms platoon, often their first and only time on tanks). Although he was not my platoon sergeant, I learned a lot from that guy about cavalry ops. He was Jim Greenhalge's platoon sgt in 2d Plt Fox Troop. The picture features from left to right: CPT Robert Dittmer (my 1st Troop CDR, F Troop 2/11 ACR), LTC Joseph Conrad (my 1st Sqdn CDR, CDR 2/11 ACR 2/11 1977-1979), SFC Karoly Czinege ("The Mad Hungarian") receiving the Legion of Merit, CSM Leonard "Leapin' Lenny" Cooper (my 1st CSM). The photograph was taken in May, 1979 in Bad Kissingen, FRG.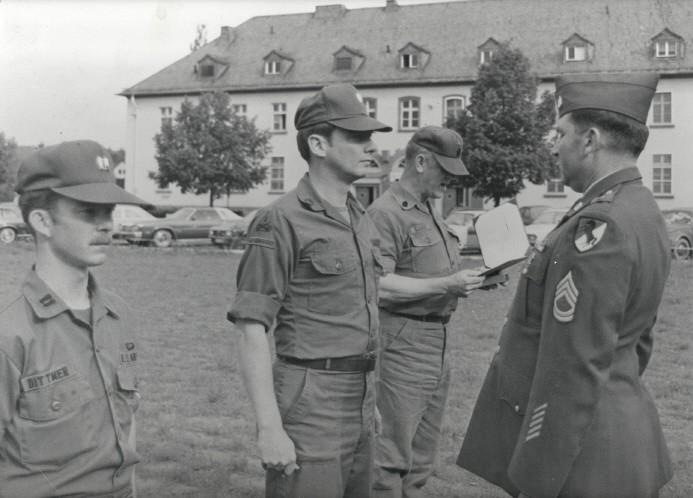 ---
From: Mike McGehee
Commando Extraordinaire: SSG Hale of the Eaglehorse
By Major M.W. McGehee, US Army (Ret.)
He was in my troop, Fox Troop, 2/11th ACR, a border Cavalry unit in Germany, but not a member of my platoon. I was about to finish eighteen months as a platoon leader and ready to be an executive officer in a troop or spend time on the squadron staff. Then came an opportunity that threw the two of us together for an unforgettable three weeks. Our troop commander and a lieutenant in the S-3 worked together to find some summer adventure training we could participate in. I got picked to lead a group of thirty through French Commando School in the Black Forest area of Breisach, Germany. Hale was a new guy and wanted to go with some of his platoon. He would be the ranking sergeant and worked for me during the school. SSG Hale was an infantry soldier and wore the Expert Infantrymen's Badge. Everyone liked him for his can do attitude and willingness to tackle hard jobs. He was a good leader too and was respected by the soldiers who knew he would look out for them.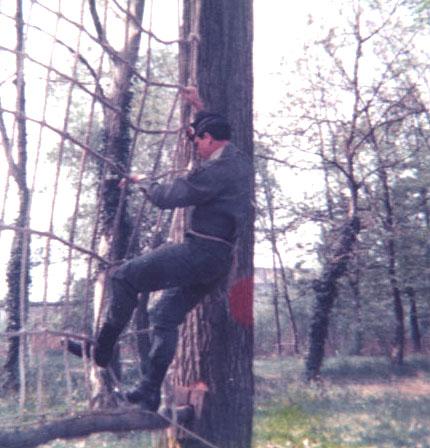 SSG Hale on rope ladder at French Commando School
Once the details were identified, Hale and I hit the road in his German Ford sedan to make a site visit at the school. We received a warm welcome from the French. One of our hosts took us home for a home cooked French dinner. After the lengthy meal we toured the local dance hall were French and Germans associated like the border between the two countries didn't exist. After seeing the obstacle course and hearing about the marches we were expected to make, we could see we had some training to do back home. We did our best to get the troopers ready physically with long road marches with M16 rifles and borrowed rucksacks from the Bundesgrenschutz, the Federal Border Guards. We suspected we were in for a hard time since our troopers were more in to riding than walking. I guess we did all right, losing only one fat boy who we should have left behind. We survived the four or five commando marches; grueling eight km group runs with pack and rifle with one-hour time limits. Our final "march commando" was part of our attack on an old walled fortress in France. Our graduation exercise was a 60 km walk through the Black Forest with the French cadre trying to get us. We got to the graduation spot at 3 a.m. and received our Commando Badges at 6 a.m. before heading home.

Back in Bad Kissingen, SSG Hale continued to be a great asset to Fox Troop. His best buddy, SSG Patton, was in my platoon. About fourteen months after our return from the commando training a .50 bullet took SSG Hales life at Grafenwoehr Training area. I had just returned to Bad Kissingen after running table 5 gunnery ranges for the Squadron. Our first son was due any day. I had been back a day or two when I got a call late one night from Grafenwoehr informing me that I was appointed SAO, survivor assistance officer, for SSG Hale. I remember going through his things and later taking his burial uniform to the mortuary in Frankfurt. The worst part was going with the Chaplain to inform his wife and two sweet little girls.

He was killed because a tank commander failed to properly clear his .50 caliber M2 machinegun. Another soldier went to remove the night scope from the M2 and hit the trigger, sending a round towards the vehicle were SSG Hale was getting a pencil. SSG Patton accompanied him and his family back to Lexington, KY and later married a widow with two sweet little girls.
---
Master Gunner: SSG "Skelly" of the Blackhorse
By Major M.W. McGehee, US Army (Ret.)
He was a charmer to young frauleins and an entertainer to subordinates, peers and superiors with his hair-raising (if not illegal) tales of service in Viet Nam. Staff Sergeant Skelly had a dark side that didn't seem to scare off those of equal or greater rank that he worked with because he was so competent and fun to be around. I remember that gold SS ring he proudly wore, a gift from a relative who was a member of that elite and sinister force. The stories that he told of his uncle Max were something out of the movies. Skelly would take leave of the squadron occasionally for an extended weekend in the Munich area to visit Uncle Max, a former Colonel in the Waffen SS, who had commanded a tank regiment on the Eastern front. This probably influenced Skelly to become an armored cavalry trooper and made it possible for me to know and serve with this fine soldier in the 11th Armored Cavalry Regiment (ACR), the Blackhorse. Skelly told us about how his uncle was a well to do gentleman now with a big black Mercedes driven by the Colonel's former tank driver. He brought Skelly back from Munich one weekend and must have scared Skelly half to death with how he drove that big car as if he was still in the seat of his Tiger tank. To make matters worse, the one time tank driver had glasses as thick as coke bottle bottoms. We heard too how the old commander still had his dress uniform, complete with SS Dagger, in his study and mounted in a glass display case.

You might say we were "a law unto ourselves". Our squadron belonged to V Corps. We were stationed "out of sector", south of the Corps living area, down amongst the VII Corps troops in Bad Kissingen. Our post, Daly Barracks, was named for a lieutenant that received the DSC in WWII. Our squadron, the 2nd Squadron of the 11th ACR, was very independent and somewhat isolated. Our primary peacetime mission was 24-7-365 surveillance of the German-German border and because of that we each spent 90-120 days annually on border duty at Camp Wollbach / Camp Lee. Skelly loved to lead the two-jeep patrol, what we called the U.S. Patrol, along the border trace. Like me, he also enjoyed the combined US-German patrols where we were invited, as German speakers, to ride along with various police, customs, and German Border Guards units.
I had recently changed jobs in the summer of 1976. I had the great luck to be a Cavalry Platoon Leader in F Troop, lead a composite group of volunteers through French Commando School Number 4 in Breisach, West Germany, and was Squadron Border Officer until shortly after the new commander arrived. Now I was Skelly's Troop Executive Officer, the second in command, in G Troop.

I can't mention Skelly without telling about how he preferred to carry an M3A1 (a.k.a. "Grease Gun") submachine gun on patrol. He was the only one that we allowed to carry loaded magazines since we privately knew he was right to do so and he probably would do it anyway. I allowed him to carry my replica MP 40 Schmeisser Machine Pistol (MP) on patrol once, just to see if we could get a reaction from the East German Border Guards. Skelly was a real character, good with his troopers and respected by all that served with him. Later in the fall of 1976, as troop Master Gunner, he fired as our "Top Gun" at annual gunnery, putting round after round of 152 mm on target. I wonder if he every moved to Munich and whatever happened to that gold SS ring?
---
"The Lip": SGM Charles R. Hazelip, DSC
By Major M.W. McGehee, US Army (Ret.)
I first laid eyes on this big fellow with the scar under one eye in about 1976 when he came to be the First Sergeant of Headquarters and Headquarters Troop, 2/11th ACR in Bad Kissingen, Germany. He had the squadron draftsman make a sign for his office door showing a Roman short sword, sandals, shield, and helmet. The caption read, "If your TA 50 doesn't look like this, don't talk to me about the Old Army". He had lied about his age and joined the army at 15 and was able to retire with 30 years service at 45! He served all over the world and lived in all sorts of conditions. Whether tours in Korea, Germany, or Viet Nam, he was a soldier's soldier and a man to be admired, respected and sometimes feared, as an NVA unit was to learn in the Viet Nam war.

As a young ROTC cadet, I gave a briefing to the General who had been his battalion commander in Vietnam. As the sub-title suggests, the SGM was a true warrior. While serving as a tank commander and platoon sergeant in LTC Paul Williams' battalion in the First Cavalry Division, "the Lip" faced an infantry assault with the NVA forces mounting the tanks of his platoon. The platoon leader became combat ineffective for one reason or another, leaving SSG Hazelip to take command. They swept each other's tanks with coax machinegun fire, knocking the enemy off like bugs. Mopping up after attacking forward, he finished off several NVA from his M48A1 tank commander's station with his M3A1 Sub-machinegun. I had to read the citation, seven years after meeting him, to find this out; like most real heroes, the SGM never talked about his bravery in action.

After returning to Fort Knox in 1978 and spending time in the Armor Officer's Advance Course and in the 194th Armored Brigade (SEP), I served a tour as an advisor to the 100th Division (TNG) in Louisville. There he was too, providing support to the Division CSM and our advisor team. I remember well the day he strolled into the headquarters wearing the first Battle Dress Uniform (BDU) that I ever saw.
I don't know for sure if he was responsible for this incident or not, but someone ordered a belly dancer for the Colonel's birthday. She danced in to the staff meeting one morning and threw her scarf around the boss's neck. It took a few minutes for the Colonel to calm down and crack a smile. It was suspicious that the SGM was laughing the hardest. The boss never did get the girl to admit who had sent her there! We shared the bad times as well. We all went to pay our respects when the SGM Hazelip's dad, a WW II Marine, passed away.

I suspect the Sergeant Major can be found most days at the local golf courses. I saw him a few years ago at the commissary. He was a bit grayer, but still looked every inch a soldier and certainly gave the impression that he'd be at home and in charge on the golf course or on the battlefield atop his tank. SGM Hazelip is a unique character in so many ways. I'm proud to say that I had the opportunity to serve with this true American hero during two tours of duty.
---
Love Almost Lost: Helicopters and Young Heartthrobs
By Major M.W. McGehee, US Army (Ret.)

It was late June 1975 and Fox Troop was on the border at Camp Wollbach for the second tour since January. We had a new troop commander who knew his business. He had actually walked our entire 100 km long sector from north to south when he was the squadron border officer. I had just returned from Bad Kissingen, and was told that if I hurried I could catch the UH1 Huey helicopter and go with the nine man element of troopers on an overnight observation post (OP). Our assignment at patrol vantage point (PVP) 103 was to observe the East German village of Melpers. I had no idea that my life was in for a drastic, but very good, change. I grabbed my bag from the prefabricated barracks and checked my Colt .45 Combat Commander that I had locked in an ammo can chained to my bunk. My Platoon Sergeant, SFC Stiggers was an old hand at this sort of drill and was doing his best to keep me out of trouble. I had witnessed other lieutenants having major problems because their Platoon Sergeants were sub-par or because they didn't pay attention to the good ones that they had. I was lucky to have SFC Stiggers and he knew it!

24 May 1977, the BK Recreation Center, my bride and Eaglehorse Commander, LTC Gilbreath. We had a great time and on the table along with the cake, you can see the formal
2/11 ACR punch bowl set.
What a ride! Wedding day and the SCO's track is our coach.
We flew northwest and landed a kilometer from the fence and minefield separating the two Germanys. The nearest village was Oberfladungen; just meters from were we landed in a meadow behind a tree line. Our chopper had dropped us in an area where three German states met, Hesse and Bavaria of the Federal Republic of West Germany and Thueringen, East Germany. We walked in to avoid detection and raised our 292 antenna near a West German Customs (Zoll) shack. This would be our home for the next 24 hours. There wasn't much activity on the other side to report but we had attracted lots of attention from the friendly local kids. They swarmed our little group wanting to meet the "Armees" as they called Americans. We took advantage of the situation to add to our supper menu by sending some of the trustworthy looking one to the local grocery with some money for cold cuts and bread. Some of the girls were flirting with my soldiers. One even took a picture next day as we flew off. I still have that photo.

I arranged to return a few days later in my 1972 Capri to see one of the girls and was introduced to her cousin Karin for the first time. Karin had almost departed for another village but was persuaded to stay and meet the 'dashing young German speaking Cavalry officer". I guess we both liked what we saw that evening and I married her about two years later. We're still speaking German. Our romance wasn't easy for her. Karin's village had seen soldiers come and go over the years with usually poor results for the local girls.

They say true love conquers all and that has held true for us. We just celebrated our 27th wedding anniversary. I'm real glad I had my bag and .45 Colt ready to go. I have wondered once or twice what would have happened if I had missed that helicopter. I might have loved, but I would have missed out on the love of my life.