Notes on This Collection of Images

In the early summer of 2004, one of the most respected dealers in German photographic images placed 35 lots into auction on E Bay Deutschland, a total of 135 images. Some auctions were for a single image, others were for groups of as many as ten photographs; all auctions had the same generic title, (in German)" Photographs related to one soldier in Eisenach and other locations".

As I viewed the scans, although they were not in time line order and grouped more or less by general topic, I recognized that these were photographs made or collected by a member of the 2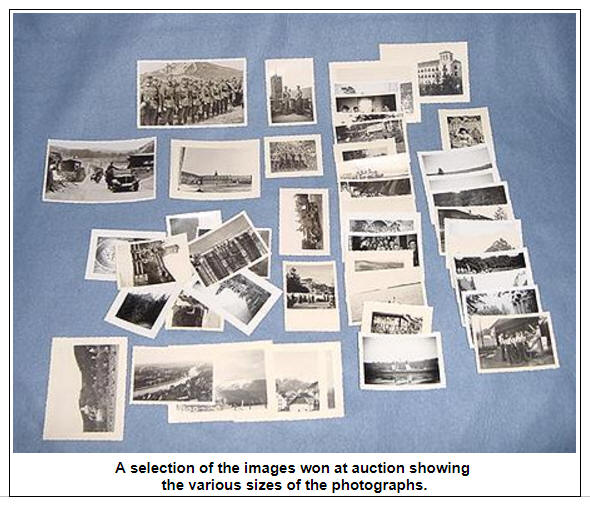 Kradschutzen Battalion in the pre war years while stationed at Eisenach, Bad Kissingen and Eisenstadt, Austria.

In exchanging e-mail with the seller, I learned that less than 1/3 of the images had captions and that they usually consisted of hand written names or locations and that even for a native speaker, were very difficult to read. He guaranteed that all the photos came for one source, a single envelope he had purchased at a flea market.

I bid on all the items and won about 60% of the total images. I saved all the scans from the auction to maintain at least a digital whole to the collection. For those auctions not won, the original images are scattered to collectors all over the world and the significance of the collection as one man's memory is lost. In our photo album, we present a selection of images, both won at auction and the lesser quality E Bay display scans, to give the viewer a sense of what one enlisted man's life was like in the 2 Kradschutzen Battalion in the pre war years

History Detective

A surprising number of the actual photographs were either developed or copied in Bad Kissingen. Often but not always, German photo finishing shops stamped their name and address on the reverse of images they printed. It appears that the man who first assembled the collection may have at least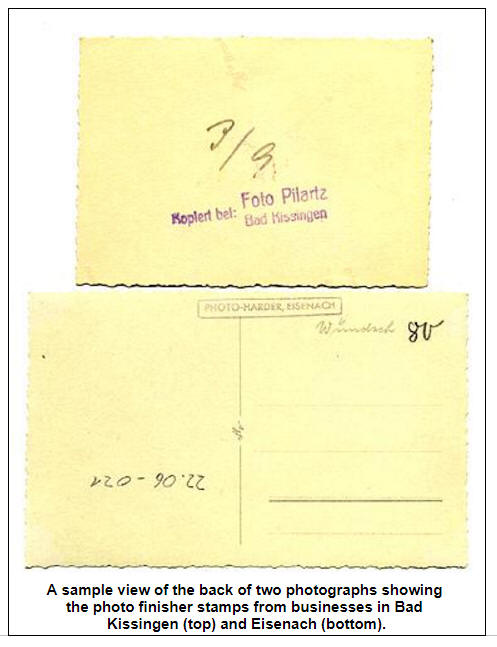 in part, been borrowing negatives or prints from his friends to have his own prints made. Also, many of the photos vary in size. From that period, this indicates that several different cameras took the photos. This is further evidence that the collection was "assembled" by someone. Finally, some of the images are printed in post card size on heavy stock, also common to the period. Almost every small town in Germany had a photo shop often run by an amateur photographer. He would capture images of note in the life of the town and then sell prints for a Mark or two. Some of the best images showing military life at Eisenach are in this format.

It is difficult to tell if the person who collected the images is in any of the photos. The common method Germans of that period used to indicate "this is me" was to put an ink X over their head in an image. This is not seen on any of the pictures, although one image has an X on the back of the photo over one of the troopers. Many faces, his squad members (?) appear in several images.

Some of the photographs were captioned only as "HW"; two images were marked as "H Wundsch", clearly a name and perhaps the name of the soldier who assembled the collection.

It is also difficult to tell exactly what this soldier's duty position was. He was an enlisted man, I think he was a dispatch motorcycle rider, not a driver of a side car set. The most detailed image of a motorcycle is of a "single" , as if to say, "this is my bike, or my bike is just like this one". Also, there are several images of German riders without sidecars, this leads us to believe that he was a message rider taking or assembling photos of his friends. There are a few photos of the 37mm anti - tank cannon, a weapon found in the combat support company of a Krad battalion. Perhaps this was his company.
Even though the photographs, when put in estimated time line order do tell a recognizable story, there are huge gaps in time or topic and it is impossible to correctly date from context some of the more generic scenes. There are two exterior views of Manteuffel Kaserne and several photos of Bad Kissingen. There is a long series of photos of the serviceman apparently on leave, it is difficult to say if this was from the Eisenach or Bad Kissingen period. There are many photos of the military march from Bad Kissingen to Austria, March 1938, as he took note of the new sights, yet only a very few images of the new home near Vienna. There is a selection of images of barriers and bunkers, probably seen in Czechoslovakia when his unit participated in the bloodless annexation of that country, October 1938, and finally a very few images of combat destruction, probably in Poland. Between many of these landmark events, months and months passed with no images in the collection. Were there other images that some how were lost and what was the fate of this soldier ... it is unknown.

What we present is a collection of photographs from a single soldier who was in the first German unit to occupy Manteuffel Kaserne in Bad Kissingen. He was an eye witness to history but in many ways, lived a life recognizable to all soldiers. We have done our best to sequence the photos in as accurate a time line as is possible. To assist the viewer in understanding the context of the images, we have added captions based on the known history of the 2 Krad and the highly detailed diary of the 38th Anti - tank Battalion, part of the 2 Panzer Division. This unit was stationed in Schweinfurt prior to the move to Austria, and it's post war veterans association reconstituted and published the complete unit diary.

Because the images of the Zeppelin are rather dramatic, with a little license, we title the album, "but what I mostly recall is the day the Zeppelin came to Bad Kissingen ..."