The Blackhorse

The Paper Chase - From Ice Cream Stands to Change of Commands

Broadsheet and Tabloid

Newspapers capture the day to day rhythms of public life, the significant and insignificant, the who - what - when and where in simple text usually accompanied by photographs with short captions. Their strength lies not in careful analysis of an issue but rather in the simple reporting of the facts. Writing styles vary greatly, evolve over time and reflect what appeals to the buying public. They are the ideal device for modern multi tasking, catching up on the news, drinking morning coffee and helping paper train the puppy. You can get a lot done with a fifty cent broad sheet.

For historians, newspapers are an wonderful tool. They capture the start of a big story before anyone realized the significance of some small event. They contain the thousand tiny pieces, the names, places, events that make up the tone and texture of what historians hope to collect and understand. Only photographs and the clear headed recollections of first hand event participants rival newspapers in research value.

There are problems, however. Newspapers are inexpensive, fragile and tend to hang around in ever growing stacks. This makes them very disposable. Anyone who has ever missed a few trips to the paper recycling center knows the volume of just one month's accumulation. Luckily, one of the first commercial micro filming applications in the early 1950s was applied to the back copies of US major daily papers and the complete New York Times collection, reduced to film, fits in a space slightly larger than a large walk - in closet. Even most small American towns have their weekly paper indexed and filmed at least back to the end of the 19th century. The modern trend for newspaper files is digital and on demand. The same volume of Times data reduced to digital format fits in a server the size of a suitcase.

Collections of specialty newspapers, religious, fraternal or trade union publications for example, have not faired as well. Often printed in limited numbers in small scale shops, the print runs never approached the sheer numbers that seemed to guarantee that at least a few copies could be finally located years after printing. Every now and then, in a closet, in an attic, in grandpa's old trunk, a few yellowed copies of the Brooklyn Jewish World Daily, The Woodsman's Gazette or the Steel Worker Forward turn up, hit E Bay and are reunited to some collection. The paper is fragile, it does not age well. It yellows, it tears and finally, it just falls apart but there is always hope that a few more survivors will be found, scanned and live forever, easily within reach of a Google search and a historian's demand.

The Blackhorse

The Blackhorse Newspaper, the monthly publication of the 11th Armored Cavalry Regiment, certainly dates back to the Vietnam period of the unit, probably to Fort Meade and perhaps as far back as the first rotation in Germany, on the Czech border in the late 1950s. Sadly, there appears to be no complete collection of all back issues.

In 1972, as the Regiment stood down, the Blackhorse ceased publication in Vietnam. The re-flag of the 14th ACR later that year marked the return of the 11th Armored Cavalry to Germany and in 1975, the unit newspaper resumed publication. The specifics of how the newspaper was revived are unclear, however the key player was Sp 5 ( SGM Ret ) Larry Whitley, Senior, a school trained Information and Publication Specialist. He was assigned to the cavalry in March 1975, to fill a newly authorized position on the R staff and soon had the mission of transforming the Fulda Community newsletter to a full scale unit newspaper. With the command support of the several Blackhorse senior officers who recalled the newspaper from Vietnam, Whitley went to work and by early summer, Volume 1, Number 1 was ready to print.

In Germany, the Blackhorse was formatted in tabloid size, 12 by 24 inches and printed in Darmstadt at the Stars and Strips facility. Initially consisting of a front page, left and right interior page and back page, through the years, the newspaper, like the Regiment, would certainly grow. By 1985, it was not uncommon for the paper to run to a full sixteen pages filled with large photographs and well written supporting articles. Color crept in, integrated into the front page header with a bold red splash recalling the red and white cavalry flash.
The early editions did not recognize writers, only articles from outside of the Regiment attributed the source and many times the focus was on activities in the Fulda Community. As the newspaper evolved, efforts were made to insure that both Hersfeld and Bad Kissingen received their share of coverage. The names of both staff writers and single time contributors almost always accompanied the later articles. Distributed free of charge, Blackhorse was one of the many 7th Army unit and community focused newspapers from that period. Troopers may also recall "Old Ironsides" - 1st Armor Division. "Scout" 8th Infantry Division and the "Crusader", 3rd Infantry Division. For a partial list of similar publications see Walter Elkin's great USAREUR web site, in left margin scroll and select Unit Newspapers.

| | | |
| --- | --- | --- |
| | | |
| | | |
| | SSG Larry Whitley in a 1978 photo that accompanied an article in the Blackhorse recalling his major contributions in re-establishing the newspaper. He departed Fulda fr a CONUS assignment in February of that year. | |
| | | |
The writing styles in Blackhorse were to the point but not without some hint of personality. Volume 1, Number 1 dated July 1975 notes that Colonel John L. Ballantyne was the RCO, the Information Officer was 1Lt Mark A. Hammer and the Editor was Spec 5 Larry Whitley, Sr. There were staff changes due to normal personnel rotations and by 1978, Lt Bruce D. Jette was the PAO with oversight responsibility and the temporary editor was staff photographer and writer Sp 4 Lee A. Reeder. Later that year, Sp 5 Lynford Burley, another Army trained journalist - information specialist was assigned as editor. The earliest regular Eaglehorse article contributor from this period was Lt Austin Bay.

Colonel (Ret) Jette Ph. D. offered this recollection.

"I had been a platoon leader with the 1st Squadron and about the time when I could expect an XO position or secondary staff job, Regiment sent out the requirement for an Lt from each squadron to join the R - staff. I was selected and watched as Lt Mike Herrederia from the Eaglehorse and an Lt from the 3/11 went to the RS - 3 shop. Much to my horror, I went to the RS - 1. Looking back, I learned a great deal in the job but it certainly took some getting used to. I had overall responsibility for the Blackhorse Newspaper, but really, Larry Whitley and Lee Reeder had it under control. They had writing skills, knew photography and apparently learned the rest on the job. I spent a lot of my time escorting and briefing VIPs visiting the border and Regimental area plus learning every aspect of a new foreign language, the V Corps - Regimental interface on military personnel management."

Lee A. Reeder, who on two separate assignments was involved with production of the Blackhorse, recalled how his involvement with the newspaper began.

"Sometimes you make your own luck and sometimes, you just get lucky. I had the very good fortune to be offered a position with the Blackhorse Newspaper shortly after arriving at Downs Barracks. It was a great thrill for a nineteen year old trooper with some writing and photography skills and it all started with my camera. Here is my story "

The newspaper maintained a careful balance between interesting information and operational security with the level of factual military reporting held at about the level that any on post German worker reporting back to the East, could have easily observed. In the early years, there was no discussion of military crime and punishment however, by the early 1980s brief articles detailing significant law and order topics were occasionally seen. As Regimental commanders arrived and departed, some choose to add Commander's Comments, others did not. Cartoons, various trooper forums and clip art segments were experimented with as the paper tried to keep current, interesting and on top of significant issues related to soldier and family life in the regiment.

Mr. Neil Morrison at the Fort Irwin Museum, believes he has much of the production run of Blackhorse from the Fulda years. The copies, first held in the historical files of the Regimental Public Affairs Officer (Germany) and then turned over to the museum, have recently been inventoried and it appears the museum has examples of over 90% of the Germany published issues.

The banner and a composite of images as the Blackhorse Newspaper resumes printing in Germany, July 1975. The task before us is to try and assemble the entire collection on line. Mike McGehee gets us off to a great start with most of the first three years.
Luckily, cavalry troopers being pack rats at heart, we have Mike McGehee's personal collection of the first three years of publication of the Blackhorse at our immediate disposal. We are missing only four issues and hopefully, they will turn up in the Fort Irwin collection. Delbert Richardson from the 2/11 and Lee Reeder agreed to help out with scans and copies of Blackhorse from their collections and Walter Elkins, with a huge archive of USAREUR newspapers starting in the mid 1980s, has agreed to search for anything still unaccounted for. http://www.usarmygermany.com/sont.htm

We have two goals for this research. At this web site, we intended to post all articles and images directly related to the Eaglehorse squadron and a brief outline of other Regimental news as covered in each edition. With each site update, we will try to add a new volume, roughly matching a twelve month publication block. The second goal is to locate and provide copies of those issues missing from the Fort Irwin Museum collection. This will allow the home of the Regiment to have a complete historical file of the unit newspaper from the long, Cold War period.
Newspapers have a habit of hanging around in the most unusual places. Geoff Walden rescued this front page set of the Soviet Red Star paper from the ruins of Barbara Kaserne in Meiningen earlier this year.
We ask that any troopers visiting the web site who saved copies of the Blackhorse, from a single issue to a significant collection, to contact us. Neither the Regimental Museum or Walter Elkins web site is staffed or funded to perform industrial volume scanning. We would prefer to reconstitute our on line collection as much as possible from individual troopers and then only ask for outside support when we exhaust all other sources.

Please note that it is difficult to produce a high quality scan from an old newsprint image.

We also are adding the image and article collection provided by Erwin Ritter of German articles related to Daley Barracks that was retained as either a clip file by the Saale Zeitung or as part of the Partnership File at the BGS Headquarters at Oerlenbach. We will post those photographs and a brief translation of the caption or articles as appropriate in each year folder. This will be an ongoing feature with updates occurring over several months. Please be patient, this project is more work than you might think.

German Images and Article Abstracts from the 1960s

Blackhorse Volume 1
Volume 1 Number 08 - March 1976 [Missing Issue]
Volume 1 Number 09 - April 1976 [Missing Issue]
Blackhorse Volume 2
Volume 2 Number 05 - Missing Issue
Volume 2 Number 06 - Missing Issue
Volume 2 Number 08 - Missing Issue
---

Vol 1 No 1

July 1975

The premier issue of the Blackhorse newspaper in Germany concentrated heavily on explaining the border observation mission in general terms and recalling the history of the Regiment in full page articles. Both articles were written from the Fulda / 1st Squadron point of view. Inside page articles included a "Commander's Call" probably written by but not attributed to RCO Col John Ballantyne, two AFN sourced articles detailing changes to AR 600-200, enlisted promotion procedures, and a review of current MILPERCEN enlisted promotion criteria.

Articles of one or two paragraph length told of the 1/11 ARC Dining Facility winning two consecutive Best Mess awards, the change of command for 3/11 ACR, LTC Dice arrives, LTC Donald S. Phil departs, a Pass in Review ceremony held at Downs Barracks conducted entirely by NCOs followed by a Zoll dog display and activities associated with 1/11 ACR Organizational Day and a single day FTX of the 1/11 in the "border area" that integrated outside air support from the 295th Aviation Company and their OH-54 (sic) "flying cranes".

Other brief articles noted that Major John F. Votaw had assumed command of the Regiment's Command and Control Squadron and that Major James B. Taylor had assumed the duties of the RXO. His predecessor, LTC Ronald W. Zeltman (former commander of the 2/11) moved on to a stateside assignment.

The photo and headline from the back page of the Blackhorse Newspaper, July 1975. There was no coverage of the Eaglehorse in this first edition.
Page 1
US trooper observes East from OP Alpha
Tower at OP alpha
Page 2
LTC Robert A. Hertz, Jr. Deputy Fulda Community Commander presents award to First Sergeant Maxie Shipp for "Building of the Month".
Sheridans and M113s lined up during 3/11 Change of Command.
Page 3
Image of LTC Dice receiving Guidon during 3/11 ACR Change of Command
Photo of Major John Votaw
Image of Zoll dogs and Zoll Officers during 1/11 ACR Organizational Day
Page 4
Image of 1/11 ACR M551 on FTX
Image of WW 1 era US Cavalry Trooper
---
Return to list
August 1975
Main Articles
The Regimental Museum reopens at Downs Barracks, Fulda. This was a project that LTC Zeltman had undertaken prior to his departure and involved having the accumulated effects of the museum shipped from Fort Knox to Germany where they had been in storage following the Vietnam years. The article detailed the hard work of several troopers working after duty hours to remodel a building at Downs Barracks to accommodate the collection.
Ceremony marks the opening of an annex to the Fulda American School at Downs Barracks.
Awards ceremony at Downs Barracks celebrating German - American Military bowling competitions.
Lengthy article detailing selection of two HOW 1/11 ACR junior enlisted troopers for attendance at the United States Military Academy Prep School at Fort Monmouth, N.J.
Article recalling two week training event of the Air Troop Aero Rifle Platoon at Bad Toelz, hosted by the Special Forces Detachment.
Brief Articles
Awards Ceremony held at 3/11 ACR Bad Hersfeld
1/11 ACR units begin gunnery training at Wildflecken
Announcement of the Annual Regimental Officer's Ball to be held on 5 September in Fulda.
Awards Ceremony held for 1/11 ACR troopers
C of C for 58th Engineer Company at Fulda
Safe Driving Awards presented to Support Platoon drivers of 1 / 11 ACR for logging 250, 000 accident free miles.
Formal Retreat Ceremony held at Downs to honor departing V Corps Commander, LTG William R. Desobry. Of note, "During the ceremonies, the Regimental award for the Best Annual Training Test results was presented to (representatives of) Troop E 2/11 ACR." .
Members of Gemini 75 sing a medley of popular songs as the 2nd Squadron troopers gaze on. The show in the field was made possible through the quick organization of CPT Erickson, S - 1. The group enjoyed a field supper prepared by the squadron mess team after their stage performance.
Page 1
Interior view of accumulated awards and memorabilia at the opening of the Blackhorse Museum
Detail of Battle Ribbon display associated with the Regiment.
Page 2
Image of US troopers and BGS men after receiving bowling completion awards.
Image of CSM Clyde L. Temple as he address troops during a retreat prior to moving to new position with the 8th ID.
Page 3
Large image of troopers and CH - 54 during FTX.
Image of RCO Ballantyne presenting Best Mess Award to troopers of 1/11 ACR.
Eaglehorse in the News
The 2/11 ACR had its first significant mention in the Blackhorse on page four; there was one lengthy article and a brief note on another topic. Here is the text:
The Show Goes On: In the Field
On the morning of July 24, the 2nd Squadron moved en masse to the field on alert. In addition, a USO show had been scheduled for the 24th at the Post Theater. Not to waste this chance for a morale - boosting performance, it was decided the show would go on in the field.
The crew of " Gemini 75 ", a musical group from Western Kentucky State University, was all for it. The six lovely and talented coeds, their drummer, guitarist, and saxophone playing manager were rushed to the " tactical band site " in the woods which was set up through quick organization by CPT Mike Erickson, Squadron S1, and the electronic expertise of Spec 5 Jerry McBride. The young ladies were then issued their " alert gear " - fatigue shirts donated by members of the Eaglehorse Squadron.
The strings, organ, amp and speakers were warmed up, and the troops of the Squadron were brought in to enjoy an extremely fine performance of popular music. Patti Stanton, Vicki Clayton, Bobbie Battle, Liz Daugherty, Karen Johnson and Susan Riherd opened the show by singing " Up - Tight. " Patti then sang " Jazz Man ", Karen sang a medley of Blue Grass tunes, Bobbie sang " Betsy", and " When will I be Loved ".
Mike Fry, another member of the group sang " Thunder and Lightening " and " Last Blues Song " and Dave Dorris, guitarist, sang " Rock Around the Clock ".
After their performance, the members of the Gemini '75 met with the men of the Eaglehorse over a first rate supper prepared in the field by the Best Mess Team in V Corps ( 1st Qrt, CY 75 ).
The singers from the Blue Grass state made a lot of friends in the Squadron during this stop on their USAREUR tour. The group then bade farewell to the Eaglehorse troopers and headed for their next performance.
The troops moved back to their units thankful for the unique contact with such a friendly group from home and secure in the knowledge that when the Cav decides to do something, it will be done, and in first class style.
In Memoriam
SSG Millard L. Kellar, F Troop, died July 27 as a result of heart failure. Having served in the 2nd Squadron for 5 years, he was admired for his dedication to his work and his men. " It is wrong to grieve that such men have died, " said his CO, CPT Clinton J. Ancker, "rather we should give thanks that such men have lived." His comments reflect the thoughts of all who knew him.
---
Return to list
Vol 1 No 3

September 1975

Main Articles
Blackhorse automotive mechanics work in close cooperation with members of the 15th Maintenance Company DS to keep equipment ready.
Blackhorse Association, based at Fort Knox maintains traditions of Regiment through extensive veteran network. Article reports on the founding and mission of the Association to include POCs at each Squadron. Eaglehorse POC is SSG Terry Sperry.
MILPERCEN sourced article details first term reenlistment policies.
Troops from 1/11, 3/11 and C & C Squadron participate in joint infantry training events with Bundeswehr 51st Panzer Grenadier Battalion at Rotenburg Kaserne.
Brief Articles
C & C mess wins July Best Mess award.
USAREUR Housing Changes and PCS Move regulations updated.
Children's Summer Camp, Camp Blackhorse, is refurbished by Fulda troopers and opens.
General George S. Blanchard named new CINCUSAREUR.
Fulda Pirates youth baseball team wins V Corps Bantam " B " championship at Frankfurt.
CPT James J. Steel H Co. commander ( left ) and SSG Terry J. Sperry, tank commander H Co were recently elected to the offices of secretary - treasurer and president, respectively, of the Eaglehorse Chapter of the Blackhorse Association.

Driving 258, 000 accident - incident free miles in Germany is quite an accomplishment. For this reason, members of the Eaglehorse Squadron's Support Platoon were presented with V Corps Certificates of Achievement by LTC Lee Allen, 2nd Squadron Commander, during a command formation. From left to right: ( front row ) Spec 4 Greg Boerke, PFC Robbin Anderson, Spec 4 Joseph Roper, and Spec 4 Barry Christopherson. ( back row ) Spec 5 John Willard, Spec 5 Edward Mills, Spec 4 Randall Peppard, Pv 2 Bobby Crawley and Spec 4 Leonard Spencer.
Page 1
Three images of mechanics at work in motorshops of Downs Barracks
Page 2
Cavalry troopers inspect BW Marder Infantry fighting Vehicle during Rotenburg visit.
Page 3
Two additional images of troopers engaged in joint infantry weapons training the Bundeswehr.
Page 4
RCO Ballantyne looks on as Camp Blackhorse is opened for Fulda MILCOM children.
Eaglehorse in the News

The Eaglehorse received full coverage in this issue of the newspaper. A great image of CPT Steel and SSG Sperry was used to illustrate the Blackhorse Association article, three other articles and a stand alone photo also focused on the 2/11 ACR.

2 - 11 Meeting Held

The Eaglehorse chapter of the Blackhorse Association held a general membership meeting on July 31 to elect new officers and select new members for the Executive council.

LTC Lee Allen, 2nd Squadron commander, was elected as the honorary head of the chapter, SSG Terry J.Sperry, a tank commander, was elected secretary treasurer.

The following members were appointed to the Executive Council: CPT Clinton J. Ancker ( F Trp ), 1Sgt Donald M. Biggens ( HHT ), SSG James Littau ( H Co ), and SP 4 Jimmy Bailey ( F Trp ).

The chapter is currently conducting a membership drive which, during August, resulted in 12 new members.

According to SSG Sperry, " We intend to portray the association as an organization made up of troopers who are interested in maintaining the camaraderie and spirit of the Blackhorse Regiment. By stepping up the professional and social activities of the chapter, we feel that we can make a contribution to the squadron and at the same time increase our membership."

Although the Chapter is largely made up of soldiers who served with the Blackhorse in Vietnam, anyone who is presently assigned to the Regiment is eligible to join.

The Blackhorse Association was formed to uphold the image and traditions of the Regiment and to provide assistance, normally in the form of scholarships, to families of deceased Blackhorse troopers.

Eaglehorse Treats Orphans

Members of the Eaglehorse Squadron treated their adopted orphanage from the border village of Willmars to an afternoon of food and games at the Daley Barracks recently.

Troopers of H Company hosted a group of 56 boys and girls ranging in age from 5 to 14 during the fun filled afternoon.

CPT Frank Koleszar, Squadron S - 3 acted as the MC and translator as the kids were treated to a feast of chicken, ribs, hamburgers and hot dogs prepared on the grill by SFCs Rocco Vitiello and Edward Colllier of the Squadron dining facility.

Afterwards, the kids played a variety of German games and joined in songs with members of the squadron. A carnival was also on post and the kids were treated to the various rids by the company troopers.

On occasions such as Thanksgiving and Christmas, 2nd Squadron, which has been involved with the orphanage about five years, visits the children's homes with gifts, presents and appropriate skits for their enjoyment.

Frequently, the troop on border duty at Camp Wollbach will sponsor a special tour for the kids.

The value of such activates involving German-American relations is immeasurable as the kids climb aboard their bus with smiling faces, clutching a Blackhorse patch or other souvenir given to them by their American friends.

Tankers turn Infantry

Lt Austin Bay

It was high time for the tankers to come down from their iron pedestals and learn to scout. So the tankers of H Co 2/11, got their feet on the ground and participated in an increased surveillance exercise.

But who really wants to walk? Walking out to the border would seem more like a work detail than a patrol.. However, this problem was quickly resolved as 2-11 helicopters airlifted the tankers - turned infantrymen to predetermined landing zones.

H Co's 11 man patrol broke into its Alpha and Bravo teams after landing and moved tactically to their respective observation points.

"We wanted to combine the surveillance mission with tactical training, " said Bravo team leader SSG Richard Waller." After establishing our vantage points, we participated in a night map reading exercise. It was good practice. Ability to read and use a map are prerequisites to operations along the border."

"The exercise gave tankers a chance to find out what an infantryman's mission is all about. Besides, a little foot slogging never hurt anybody," said SSG James Littau, Alpha team leader, " and they performed well."
---

Vol 1 No 4

October 1975

Main Articles
New V Corps Commander, LTG Fair visits Blackhorse, is accompanied to WTA to view 3/11 ACR units by RCO Ballantyne.
Blackhorse officers tour and train at 5th Panzer Grenadier Headquarters at Homberg.
Article detailing new AR 340-21 and Federal Privacy Act.
September reenlistment goals met at last minute by push from C & C Squadron; Regiment is noted as having the highest reenlistment % for that month in V Corps.
Brief Articles
M Company, 3/11 ACR receives Best Maintenance Award in V Corps, award is presented by LTG Fair during visit to Hersfeld.
Awards ceremony and formal retreat held at Herfeld during visit of LTG Fair.
Troopers from the 2/11 and 3/11 ACR receive initial training on the Dragon anti-tank weapons system at Wildflecken. Basic capabilities of weapon are outlined.
Fulda Falcons, Junior Division baseball team finish season with 19-4 record, win the V Corps championship but finally lose against team from Schwaebisch-Gemund, 8-5 in USAREUR Junior championship game.
Member of the 54th Combat Engineer Battalion drives a road grader while an H Company trooper studies road construction instructions during road - clearing exercise in the Rehfrankenweg area of the town of Herbstadt
Page 1
Three images of LTG Fair as he observes training at Wildflecken.
Page 2
Three images of German and US troopers at Homberg.
Page 3
Two images of LTG Fair at Bad Hersfeld awards ceremony and retreat.
Page 4
Image of Fulda Falcons youth baseball team.
Image of Major Votaw, CO C & C Squadron, congratulating SGT Lynn Jacobs on his reenlistment; this helped push Regiment over the specified quota.
Eaglehorse in the News

2/11 ACR Patches G/A Relations

In April 1975, H Company, 2/11 was conducting maneuvers in the Unterfranken area when the third platoon, attempting to cross thru the Rehfranken-Weg, behind the town of Haubstadt (( about 20 Ks E / NE of Bad Kissingen )), sunk a " 52 ton monster " in the mud. Three other " monsters " of the third platoon also got bogged down in the mud and slowly started to sink.

H Co commander, CPT James J. Steele, exhausted all alternatives in attempting to recover the vehicles from the mud. Tree roots entangled in the tracks of the monster caused the vehicle to remain helpless. The local farmers and town residents of Herbstadt, quickly learned of the misfortune that the GI s had encountered in their woods. The German-American relations with the population of Herbstadt seemed to be on the decline.

After an instructive session between the Germans and Americans, the local farmers volunteered to assist in recovering the " monster mudders ". Finally after five days of sawing, cutting trees and clearing obstacles, H Co and their German friends were able to recover the vehicles. The area left behind was badly plowed and could no longer be used to drive vehicles through.

Reparations were promised the townspeople and on April 27, H Co conducted a celebration for the younger generation of Herbstadt, and an exhibition of weapons and equipment for the older ones, ice cream and beverages topped off the occasion along with a promise to return with graders and equipment to repair the damaged area as soon as weather conditions would allow.

On September 17, men and equipment of the 54th Combat Engineer Battalion from Wildflecken arrived in the Rehfranken-Weg of Herbstadt along with H Co.

Tree stumps were removed and holes were filled in and a new road was constructed. The residents of Herbstadt were very pleased. The GIs had more than made up for the damages caused during the Spring.

Where before there had been two deep ridges taking random directions and somewhat directing the way, there was now a straight road allowing the farmers who work in the woods to drive in two lanes, back and forth. Where there had been deep holes caused by the tanks in the Spring while they were trying to free themselves from the mud, there was now a smooth plain.

The population of Herbstadt showed their gratitude and appreciation by hosting a celebration for the GIs and extended an open invitation to the men of H Co and the 54th Combat Engineers upon their departure from Herbstadt on September 19.
---
Vol 1 No 5

November 1975

Main Articles
2nd Finance Unit at Fulda begins conversion from a Class B operation to a Class A operation. This greatly increases their services.
Sp 4 Darrell R. Hill, a trooper originally assigned to HHT Regiment, and then detailed to the USAREUR wrestling team, has returned to Fulda and will continue to be active in training soldier-wrestlers. Hill had won several championships bouts to include V Corps championship in his weight class.
1/11 ACR has changed command, LTC Schurtz, departing commander is reassigned to a position with V Corps, arriving commander is LTC David M. Maddox.
Fulda Community AFRC Director, 1Lt Bagnell, outlined various programs and activities available to troopers.
Brief Articles
Fulda based Boy Scout Troop 168 recently traveled to the Darmstadt Community to participate in activities at Camp-O-Ree.
CPT Don Snedeker, RS 3 shop, is recognized for having an article he authored published in Armor Magazine.
Recently appointed Secretary of the Army, Honorable Mr. Hoffmann, visits Downs Barracks and tours 1/11 ACR border area.
Flag football season at Fulda has ended, basketball season opens.
PFC Kenneth W. Ward, H Co is shown entertaining the dependents of company personnel during the unit's open - house in conjunction with Family Day at the 2nd Squadron border camp, Camp Wollbach.

Members of H Company and their dependents help themselves to food from the Armored Vehicle Launched Bridge ( AVLB ) during Family Day activities hosted by H Company personnel at Camp Wollbach border camp.

Members of the Troop F Regimental Champion softball team show off Regimental Trophy for 1975 won when they defeated 1st Squadron, 1 - 0. LTG Fair, V Corps Commander at center of photo.

Page 1
Page 2
Page 3
Page 4
Single image of flag football championship game at Fulda.
Eaglehorse in the News

H Co Holds Family Day

2nd Squadron recently opened its Camp Wollbach border camp to dependent members of H Company during Family Day activities.

The day's activities included food, beverages and games for the children, along with close up inspections of the armored vehicles which H Company employs.

CPT James J. Steel, H Company commander, hosted the events and introduced to the crowd the newest members of H Company, several Armored Vehicle Launched Bridges ( AVLBs)

Aside from their primary mission of supporting the 2nd Squadron in river crossing, the bridges were also used as synchronization ramps in preparation for Tank Gunnery. However in conjunction with Family Day activities, the bridges showed another of their diverse capabilities, serving as buffet tables for the grand assortment of foods and beverages.

The day's activities were enlightening for the dependants as they were briefed first hand, concerning what their husbands and fathers do while on border duty and could readily see why such duty is required for the Eaglehorse troopers.

11th ACR Softball Champs, 1975

Troop F, 2nd Squadron overcame all opposition teams and captured the 11th ACR Regimental Softball Championship for 1975.

Despite the handicap of serving a border tour during the season, Troop F won the Eaglehorse Squadron tournament and began training for the 11th ACR Softball championship.

After defeating Third Squadron and the Command and Control Squadron, the championship pitted Troop F against the First Squadron.

The hard fought softball game resulted in a three inning overtime period before Fox scored and won the 1-0 decision over First Squadron. LTG Robert L. Fair, V Corps Commander, presented the Regimental Trophy for 1975 to Troop F during a visit to the Second Squadron area. The following individuals comprised the championship team: Clinton J. Ancker, catcher; Randal S. Hanes, pitcher; Ricky D. Henson, left field; Richard K. Olds, second base; George B. Todd, shortstop; Michael C. Hernandez, third base; Jimmy L. Darby, center field; Jeffery Deshields, right field; Ronald Miranda, utility man; Andre A. Williams, first base; and Patrick G. Potter, manager.
---
Vol 1 No 5.5 Gunnery Special Issue

December 1975

The entire issue was devoted to recalling the recently completed Level 1 Gunnery density at Graf. There was an overview article and then full pages devoted to each of the three squadrons.


M551 Sheridans of Fox Troop seem to disappear in the fog on Range 82 during Tank Crew Qualification at Grafenwoehr Training Area. The fog and other weather conditions somewhat hampered TCQC but did not prevent the Eaglehorse Squadron from qualifying 100% of their Sheridan tank crews.

The crew of Echo 34 checked out of Graf with a distinguished score of 2385 points after tackling the Tank Crew Qualification Course on Range 82. Members of the crew included ( from left ) driver PFC Pita A. Faamulo, gunner CPL Gordon L. Reynolds, tank commander CPT John B. Sylvester and loader PVT Cecil Dull. The crew was recognized as the High M551 Crew in the 2nd Squadron.
Tracer fire streaks down range at Range 80.
Blackhorse troopers at Graf hardstand.
Crew of Delta 24, 1/11 ACR, stand in front of squadron gunnery sign. These troopers scored high in USAREUR during TCQC.
Image of Range Tower at Ranger 82.
2 views of Sheridans 3/11 ACR on ranges.
View of 3/11 ACR M60 A1 on range.
Small images of M551 and M113 during swimming exercise.
2 images of Blackhorse commo platoon hard at work keeping the lines and frequencies open.
View of Camp Kasserine "tent city".
Eaglehorse in the News

Eaglehorse Claims Range 82

Eaglehorse Squadron continued the Blackhorse Regiment's fine showing during the Tank Crew Qualification Course at Grafenwoehr Training Area finishing with 100 percent crew qualification.

Fox 15 posted the best score of the 18 qualifying crews in Fox Troop with a distinguished score of 2225. The crew of F 15 included PSG Oscar M. Stiggers, the tank commander, with gunner PVT Vincent Nebbia, driver PFC Jummy Walker and loader PFC Michael Sweet.

Second Platoon, Fox Troop also earned the distinction of tying 3rd Platoon, Golf Troop for the High Cavalry Platoon Award in the 2nd Squadron. Echo Troop had one Sheridan crew qualify as distinguished , all 18 of its crews scored enough points to qualify. Scoring distinguished was Echo 23 which managed to garner 2385 points. Commanded by CPT John B. Sylvester, who is also the Troop Commander, E 34s crew included gunner CPL Gordon L. Reynolds, driver PFC Pita A. Faamuli and loader PVT Cecil Dull.

The 18 crews of Golf Troop continued 2nd Squadron's TCQC run on Range 82 as all qualified, led by Golf 33 with a score of 2135 points. SGT Edward E. Hickman was the TC of G 33 and gunner PFC Junior Harris, driver PFC Albert O. Ware and loader PVT Eugene C. McNeil, Jr. completed the crew.

Hotel Company had one distinguished qualifier out of its 17 M60A1 tank crews during their period on Range 82 while all other tank crews qualified. H 66 with tank commander CPT James J. Steel and his crew of gunner SGT William L. Lisby, loader PVT William M. Parker and driver Sp 4 Kyle W. Hutchenson, posted a score of 2650 for the course.

With the completion of the Squadron's run on the TCQC, the Blackhorse Regiment remained at the 100 percent qualified level with one squadron remaining to be tested.

2/11 Crews Earn Awards for Gunnery Scores

Tank Crew Qualification during 2nd Squadron's stay at Grafenwoehr brought various awards to individuals and crews of the squadron.

A tie in the determination of the High Cavalry Platoon occurred within the Eaglehorse Squadron between 2nd Platoon, F Troop and 3rd Platoon, G Troop.

2Lt Frank P. Shray, platoon leader of 3rd Platoon G Troop stated, " the reason for our fine showing as a platoon in Graf was because of the excellent pre Graf training program that our platoon sergeant, SFC Mitchell Skolnekovich, put the platoon through."

"Another factor in our qualification scores," added the lieutenant, " was the fact that a couple of our gunners had attended the Vilseck tank gunners course prior to our going to Graf"

2nd Platoon Fox Troop was led by 2 Lt Anthony D. Marley, assisted by PSG Falo Piumalu, Jr.

The crew of Echo 34 was designated as the High M551 Crew in 2nd Squadron with a distinguished score of 2385, while Hotel 66 was the high M60A1 Tank Crew for Eaglehorse with a 2650 score.

High Tank Platoon in Eaglehorse was determined to be 2nd Platoon led by 1Lt Daniel H. Fleming.
---
Vol 1 No 6

January 1976

Main Articles
Front page article recalled that 1976 marks the Bicentennial Anniversary of the nation and the proud history of the US Army. Article then detailed the career of CPT Harold A. Fitz, the current Regimental PAO in Fulda and winner of the Medal Of Honor for his heroism in Vietnam while a Platoon Leader with Troop A 11th ACR.
Lengthy article recalls the history and current mission of C-1-1 ADA (Hawk) stationed at Fulda.
3/11 ACR changes in processing plan at Hersfeld to streamline process.
Select 3/11 troopers enjoy Christmas holiday with German families at Hersfeld.
Brief Articles
HOW 1/11 ACR announces partnership training plan with German 3/355 artillery battalion stationed at Wildflecken Barracks.
C & C Squadron wins Dining Facility award.
11th ACR wins re-enlistment quota award, General Blanchard visits Fulda, tours border and presents award.
HOW 3/11 ACR conducts partnership training with German units at Rotenburg Kaserne featuring firing infantry weapons on ranges.
NCOs and troopers of the Eaglehorse pass in review during the awards and salute ceremony held in honor of the late SFC Kellar at Daley Barracks in Bad Kissingen.

Former V Corps Commander, LTG Fair pins the Army's Meritorious Service Medal on the late SFC Kellar's son, David, during the awards and salute ceremony conducted by the NCOs of the 2nd Squadron. Sp 4 Mordecai Baldwin ( holding citation ) and CSM Clarence McCain, Eaglehorse Squadron's top NCO look on.

Howitzer Battery, 2nd Squadron was recently awarded the Regimental Best Battery Award for 1975 upon completion of a Tactical Proficiency Inspection ( TPI ) conducted by Regimental Headquarters in December. 2nd How, commanded by CPT Fred Sherrer, won the award over 1st Squadron Howitzer Battery and 3rd How Battery in the annual test. In photo above, the 105mm ( sic ) self - propelled Howitzers and Gamma Goats of the 2nd How move out during the TPI in the 2nd Squadron maneuver area near Daley Barracks in Bad Kissingen.
Page 1
Image of General George Washington.
Image of CPT Fritz.
Page 2
Two images of HOW 1/11 ACR during reception at Wildflecken as partnership arrangement is announced.
Image of 3/11 ACR troopers firing M16 rifles with Germans at Rotenburg.
Page 3
General Blanchard re-enlisted Sp 4 Moy during visit to Op Alpha.
Two images of joint small arms training with Germans at Rotenburg Kaserne.
Page 4
3 images of C -1-1 HAWK site to include motor pool and missile battery line.
Eaglehorse in the News



The 2/11 ACR shared the front page with 2 images and an article that recalled the visit of LTG Fair to Daley Barracks during a formation held in honor of the recently deceased SFC Kellar. A third image with caption noted that HOW 2/11 ACR received the highest rating in the Regiment at its recent TPI at Grafenwoehr.


Salute Conducted at 2nd

The non-commissioned officers of the 2nd Squadron formally acknowledged the loss of an excellent NCO and good friend, the late SFC Millard L. Kellar, by conducting a salute and awards ceremony recently in his honor at Daley Barracks.

The late SFC Kellar's son, David, accepted the Army's Meritorious Service Medal for his father during the salute ceremony. The MSM was presented by LTG Robert L. Fair, former V Corps Commander.

The late F Troop motor sergeant, who performed that function for over four years and also was service with the Blackhorse Regiment in Vietnam, was also promoted to sergeant first class posthumously during the NCO salute. Nashville, Tn was called home by the late motor sergeant, who had also doubled as the platoon sergeant for headquarters platoon of Troop F.

SFC Kellar expired in late July after participating in physical training with his troop.

Mrs. Sophie Kellar, widow of the late sergeant, observed the memorial salute as the officers, NCOs and troopers of the Eaglehorse Squadron paid homage to their departed colleague.

---
Vol 1 No 7

February 1976

Main Articles
Lengthy article on Fulda MILCOM Equal Opportunity Officer and staff.
PFC Theresa L. Gunther, 15th Maintenance Co DS at Fulda named 3rd Support Command Soldier of the Quarter. Of particular note, she had OJT ' d into her current MOS of Combat Electronics Repairman.
M Company 3/11 ACR travels to Bundeswehr armor training center at Sontra for joint training. Troopers were particularly impressed with the Leopard 1 tanks they encountered.
Brief Articles
RCO visits 1/11 ACR for Awards Ceremony celebrating tank gunnery at Graf.
HHT 1/11 trooper receives near perfect score on M551 Turret Mechanic Course at Vilseck. PFC Wagley was OJT to new MOS.
HHT 3/11 ACR receives award for Best Dayroom in Regiment.
3/11 ACR conducts Awards Ceremony based on Graf.
Red Square at night. ( The original b & w image accompanying the article was too dark to produce a useable scan. This is a modern, color image of the scene that accompanied the article.)
Page 1
Five images of Fulda Equal Opportunity staff at work.
Page 2
Image of PFC Gunther receiving Soldier of Quarter Award from 3rd SUPCOM Cdr, MG Boyes.
Page 3
Two images related to HHT 3/11 day room.
Image of Awards Ceremony at Hersfeld.
Page 4
Image of Leopard 1 tank at Sontra Training Area.
Image of 1/11 ACR Awards Ceremony featuring RCO Ballantyne and SCO Maddox.
Two images of troopers of Air Cav Troop-they play hard-they work hard.
Eaglehorse in the News

Lt Austin Bay contributed two lengthy articles detailing the visit of Eaglehorse troopers to Moscow and the high score of H company tankers at recent training evaluation event.

2/11 Troopers Visit Moscow

In Leningrad the airplane broke down. But neither wind nor snow nor - 25 degree centigrade weather deterred either Aeroflot or 2nd Squadron's CPT Michael Erickson, SP 4 Stephen Parker and SP 4 Frank Miculka. The Russian state airline packed then off on a train.

No, the intrepid threesome hadn't inadvertently crossed the border. It was just part of an unusual way to take some Christmas leave. The train ride turned out to be one of those rare experiences your can't plan for, much less pay for." There were two Russian officers and an enlisted man in our compartment, " Sp 4 Miculka, a wheel mechanic in H Co said. "The private was from their hometown and he was getting out of the Army and they had all decided to throw him a party. Suddenly, we were invited."

The comradeship ( so to speak ) was quite an experience. As Sp 4 Parker, a track vehicle mechanic in H Co put it, "We were all drinking cognac and having a great time."

The trip began with the usual formalities of customs and clearances. In Leningrad, the visit included a tour of the Winter Palace, formerly a residence of the Czar, and now an art museum. " The sights of Leningrad and the warm welcome of the people and children were great, " Parker explained. "we all liked the Peter and Paul Fortress ( built by Peter the Great ), but the best of all we saw were the children having a fine time trading souvenirs for our gum and chocolate. That was great."

Everyone agreed the train trip to Moscow was more than worth it. "Red Square was one of the finest sights I saw," Parker stated. The itinerary included trips to St. Basil's Russian Orthodox Cathedral ( now a museum ), the Kremlin, the Lenin Central Sports Stadium and the Moscow city swimming pool - still in use at - 22 degrees centigrade. Some of the tourists saw the Bolshoi ballet perform Tchaikovsky's Swan Lake.

On Christmas Eve, all three Eaglehorse troopers went for a walk through Red Square and rang in Christmas by watching the changing of the guard at Lenin's tomb. It wasn't Santa Claus dropping through a chimney, but all three agreed it was impressive.

"On Christmas Day we all got to go on a sleigh ride," Parker continued. " Russians don't celebrate Christmas as we do in America, but they do have a visit from Saint Frost. Decorations were up everywhere.

All of the troopers were more than ready for a return trip. " I hope to do it again, " Parker stated, "but if you go, don't forget to bring along plenty of gum for the children. They're the best sight of all."

H Co First in Regiment

Tired, dirty but nevertheless successful, Hotel Co, 2nd Squadron's tank outfit, returned from two weeks of field exercises at Hohenfels Training Area with the highest test scores among the 11th ACR's three tank companies.

The two-phased troop tests (ARTEPs) featured a force on force confrontation pitting Delta, Hotel and Mike Co against each other in a round robin war game of attack and delay. But if Mike and Delta tankers think like H Co tankers, the real enemy was the weather and the mud.

"We stuck a lot of tanks and threw a lot of tracks, " H Co Commander, CPT James J Steele recalls. " During the last part of Phase 1, my tank threw its right track to the inside, which is bad enough by itself. However, at the time we were attacking through a small pond in the middle of a tree farm. My tank and my first platoon leader's tank, which also threw a track were stuck for three days. We got out just in time for Phase 2."

Both of the phases included an attack, delay, preparation of a defensive position, occupation and security of an assembly area and a buttoned up (except for the tank commander for safety purposes) nuclear exploitation. Said Sp 4 Jerry Fegler," driving buttoned up really wasn't so bad because the hatch keeps the mud and snow out. I really got bathed a couple of times,"

Squadron support was very visible also during the training tests. As the tanks would go down, the two M88 crews ( one attached from squadron maintenance ) went out to bring them out of the field and get them going again. And it was cold. "We were lucky we didn't have any frostbite casualties, " said Sp 5 George LeBlanc, a medic from HHT." It got cold enough to do some real damage, but everybody seemed to know how to take care of themselves. " The medics held several refresher classes on cold weather survival during the period.

An ARTEP is designed to evaluate a unit's proficiency and if you happen to be a tanker that boils down to three fundamentals: You must shoot, move and communicate. Though at times navigation proved to be a problem ( "Who can read a map when the wind and snow makes all the terrain look the same!" one unidentified and very lost tank commander was heard to say ) H Co proved to be very capable at maneuver and did well in using indirect artillery fire.

"We did a lot of maneuvering " said SSG Paul Lavergne, TC in the company's Bridge Section." Normally when we are moving around between BK and the border and while we're out on alerts, we're stuck on the roads. At Hohenfels, we really got to use our vehicles by doing what they're designed to do. We went and made our own way. Right through a large sampling of good, Bavarian mud!"
---
Vol 1 No 10

MAY 1976

Main Articles
3/4s of the issue was devoted to the Regimental Organizational Day held at Fulda. Mentioned for their significant performances were Lt Frank P. Shray, G Troop, SGT Robert B. Harder, H Company and the mortarmen for Troop E. Overall, the Eaglehorse squadron finished in third place.
Two troopers from B Troop completed a 1000 K bike ride to Zurich and back.
Brief Articles
1/11 ACR mortar crews completed a live fire event at WTA, Safe Drivers of the Quarter received recognition and the ARCOM was awarded to a C Troop mechanic.
Troopers from the Troop K, 3/11 ACR competed training at Bad Toelz.
Troopers from 3/11 completed live fire training with the Dragon at WTA.
Photos
Nine photos related to Organizational Day at Fulda.
Image of the bike trip troopers.
Two images of Dragon related training at WTA.
Eaglehorse in the News

There were no articles or images related to the squadron in this edition beyond the brief mentions of troopers in the Organizational Day article.
---
Vol 1 No 11

June 1976

Main Articles
Lengthy article details that USAREUR names the 5th Panzer Grenadier Brigade in Homberg as the official Bundeswehr partnership unit of the Blackhorse. RCO Ballantyne and SCO Maddox hosted visiting German officers and social and joint training opportunities were planned.
LTC Taylor and LTC Votaw, respectively RXO and CO of Command and Control Squadron are promoted to present grade in joint ceremony.
LTC Hertz, Fulda Community Deputy Commander retires after 26 years of active duty.
Brief Articles
3/11 ACR trooper scores target hit with Red Eye missile at GTA.
Awards Ceremony at Hersfeld honors top 3/11 performers.
Major Steven Dodge assumes command of Combat Support Troop, Command and Control Squadron.
Members of 2nd Finance unit attend local Volksmarsch and urge fellow troopers to join them in future Freundshaft trips.
Cobra crews complete training course at Vilseck.
An Eaglehorse trooper salutes during the flag - raising portion of the Memorial Day services at Camp Lee. Many members of the surrounding towns in the border area attended the 2nd Squadron memorialization services.

Mrs. Eichelberger is escorted by LTC Allen, left and COL Ballantyne, after unveiling the border camp sign at the entrance the troop - sized camp.
Two images of Bundeswehr soldiers inspecting 1/11 ACR M60 A1 tank and a Cobra helicopter.
RCO Ballantyne and LTC Hetz at retirement ceremony.
Major Dodge receives unit guidon from LTC Votaw.
LTC Votaw and LTC Taylor at their promotion ceremony.
Officers of C & C Squadron assist the mess line on Commander's Day.
Eaglehorse in the News

Border Camp Renamed for Fallen 2nd Sqdn. Lt.

On a dreary and overcast day, sprinkled with showers, troopers of the Eaglehorse Squadron gathered at their border camp to memorialize one of their fallen leaders.

The 2nd Squadron border camp, between the border towns of Wollbach and Neustreu was officially renamed "Camp Phillip L. Lee" during the Memorial Day services.

Gen. George S. Blanchard, USAREUR Commander in Chief, told the unit by letter that " … the renaming of Camp Wollbach in memory of Lt. Lee will provide recognition to this exemplary young officer's service and sacrifice. It will also serve as an inspiration to personnel of the 11th ACR who conduct daily missions along the Communist frontier in Western Europe."

Lee died June 17, 1971, of wounds received in Vietnam with Troop F, 2nd Squadron of the 11th ACR. On April 17, 1971, Troop F was conducting a reconnaissance along the southern edge of the Boi Loi Woods. Two unidentified persons were seen, and Lee's 2nd Platoon was directed to investigate. As the platoon moved to the area of the sighting, the enemy opened fire. One of the platoon's Sheridan vehicles began to burn. Lee began to maneuver his vehicle. As he did so, Lee's vehicle became the target of enemy fire, which fatally wounded him.

Mrs. Lilley Eichelberger, Lee's mother, flew to Germany from her home in Lake City, Florida, where she works in veteran's hospitals. Eichelberger is a veteran of World War II, where she served with the Woman's Auxiliary Corps as an air traffic controller. She has devoted her life to assisting in veteran's hospitals and aiding veteran's activities. She is a member of the Disabled American Veterans Association and has actively participated in many of the association's functions.

She and her present husband have adopted a Navy Lieutenant who was seriously wounded during Vietnam action. The lieutenant, Jack Oberdorf, was in the same hospital ward and room with Lee and the two Lieutenants became close friends before Lee's death. She later adopted Oberdorf, who is 100 % disabled.

Eichelberger, with the assistance of Col. John L. Ballantyne, III, 11th ACR commander and LTC Lee Allen, 2nd Squadron commander, unveiled the sign at the entrance of the camp honoring the lieutenant. A 21 gun salute was provided by a battery from the 3rd Armored Division and the 3rd Infantry Division band provided music at the ceremony.

An outdoor barbeque and a border tour of the Eaglehorse Squadron area followed the formal ceremonies.

2-11 Command to Gilbreath

Lieutenant Colonel John C. Gilbreath is the new commander of the 2nd Squadron, 11th ACR, located at Daley Barracks in Bad Kissingen.

During change of command ceremonies held at Daley Barracks on June 11, LTC Gilbreath assumed command of the Eagle Horse squadron from the outgoing commander, LTC Lee Allen.

The New Mexico native, who now calls Texas home, is not exactly new to the Blackhorse Regiment, having served a tour in Vietnam as a troop commander with the 2nd Squadron.

The Armor colonel and his wife, Yvette, have a 14 year old son, Eric, and come to the Regiment from an assignment with the faculty at the US Military Academy at West Point.

LTC Gilbreath has a Bachelor of Science degree from the University of Miami and a Master of Science degree from the University of California, and is a veteran of 14 years active military service. Among his numerous awards are the Silver Star (2 awards); Distinguished Flying Cross (3 awards); Bronze Star (3 awards); Meritorious Service Medal, Air Medal (22 awards) and the Army Commendation Medal (2 awards).
---
July 1976
Main Articles
Front page article recalled the weekend celebration starting on 2 July at Down Barracks in conjunction with the 200th Birthday of the United States. Among the activities were a joint US and Bundeswehr torch light parade, picnic - barbeque hosted by the 1/11 ACR Mess, and a musical program, "American Odyssey and Music 76" featuring the 3rd Armor Division Ceremonial Salute Battery and Band.

RCO Ballantyne presented awards to troopers at Hersfeld to include the MSM to Major Kremer, SXO, and Doctor Major Georgitis, Regimental Surgeon. On behalf of the 3rd Squadron, CSM Odenbaugh received the Regimental Award for squadron high scores during Blackhorse Organizational Day in May.

Troopers of 1/11 ACR HHT were noted for assuming the border observation mission at Op Alpha. Fast paced training requirements required the "cooks and medics" to step forward at the border and they did a superior job under Lt James Hairston, Troop XO.
Brief Articles
An article discussed the Quarterly Review of Military Compensation currently underway in the Army.

3/11 ACR rolled out a new border orientation program for newly assigned personnel that featured a tour of the squadron border area and tour of the Zoll Museum at Philippstal.

A group of sixteen individuals led by Ambassador John E. Reinhardt, Assistant Secretary of State, Bureau of Public Affairs, toured the 1/11 ACR border area and camp. RCO Ballantyne briefed the group that is NATO on a fact finding mission.
Photos
Three images of bicentennial festivities at Downs Barracks.
Image of RCO Ballantyne presenting Best Mess Award to SFC Bobby Starr, 1/11 ACR, for 2nd Quarter 1976.
Image of RCO presenting awards at Hersfeld ceremony.
Two images of HHT personnel 1 /11 ACR performing border observation mission at OP Alpha.
Eaglehorse in the News
Nijmegen International Marches: First - time participation for Blackhorse Regt.
Participation in the Nihmegen International Marches can be a very tiring, but rewarding experience as members of the two 11th ACR teams found out.
Both teams, one from Troop F, 2nd Squadron and the other from Howitzer Battery, 3rd Squadron, competed the four day Marches with any major injuries.
Approximately 200 international teams were entered in the Marches which covered about 100 miles in four days. Forty - six American teams participated in the grueling Nijmegen Marches.
Second Lieutenant Anthony D. Marley, platoon leader of the 2nd platoon, Troop F, was the OIC of the 2nd Squadron squad, while SGT Joseph Thomas of 3rd Howitzer Battery was the team leader of the 3rd Squadron entry.
The teams which participated in the Marches were lodged at Camp Heumensoord, about a 30 minute walk from downtown Nijmegen. They slept in GP medium tents on cots and sleeping bags during their stay in Nijmegen.
Over 17, 000 marchers participated in the final day activities which included marching in review before high ranking military and civilian officials from various NATO member nations and some 300, 000 spectators from all over Europe.
According to 2nd Lt Marley, "The atmosphere prevalent in Nijmegen was very much like that which is apparent in New Orleans during Mardi Gras. There's lots of dancing and singing and everyone has a good time.
"The marches provide an opportunity for American troops to interact with their European allies, gather information about different military units, and exchange mementos of the occasion. I was most favorably impressed by the organization of the Marches and the experiences gained from being an active participant."
Members of the Troop F squad who participated in the Marches besides the Lieutenant included: SSG Michael R. Santos, SGT Fredrick W. Wood, SGT William T. Gates, CPL Maurice P. Karmen, Sp 4 ' s Mark S. Sager and Robert F. Mark and PFC's Glen A. Greenwade, Estevan Garcia, Robert Barrios, James A. Hill, Larry L. Hatchel, Douglas G. Jett and Gary M. Granger. The 3rd Squadron contingent besides SGT Thomas included: SGT's Craig Lee and Richard Malden,Sp 4 Maquester Harris, PFC's Hock C. Hwan, James L. Tyson, Saw S. Shio, Carl Clemons, Joe S. Cordova, Thomas Walker and Issac Belton, and PVT's George Krause, Kelly Shain, Harry Davis and John C. Gantt.
Stated Lieutenant Marley, "I am definitely going back next year, either as a team leader or as an individual. Even if I have to use annual leave time, I'll be there because of the rewarding experiences of my first Nijmegen."
PHOTO 1
Cadets train at 2nd Squadron
By Robert Quimby
The 2nd Squadron is host to four West Point Cadets who have arrived in Germany for a month of training in one of the US Army Europe's most combat ready units.
The program under which the four cadets were assigned to the 2nd Squadron is called Cadet Troop Leader Training ( CTLT) by the Military Academy at West Point and according to 1LT Ernest Chachere, the Eaglehorse Squadron's CTCL project officer, that's exactly what the cadets are getting.
The primary objective of the program is to provide the cadets with a realistic leadership experience while assigned to units of the active Army and performing those duties normally given newly assigned second lieutenants.
West Point senior Charles Harris and juniors Gerald Pina, Jim Jogerst and William Taylor, jumped into the demanding roles of Armored Cavalry platoon leaders and are turning out superior results, according to Chachere. He explained, "They've been tasked with managing 20 to 40 men and a million dollars worth of equipment. Their performance is great. I'm impressed by their common sense and guts. They'll get out and work hard with their crews and pick the brains of their experienced NCOs."
As Cadet Taylor from Los Angles admitted, "This is our first real chance to work with enlisted men in a line combat unit. It's different from working with just my classmates and I'm making the most of the experience."
Senior Chuck Harris, from Monroe, LA., finds that experience is helpful both ways. "The men ask a lot of serious questions about the Academy, life as a cadet and officer, and about me personal interests. I know that we all profit and learn from working together. They are superior - quality troops, proud of their accomplishments and capable of first rate performance."
The 2nd Squadron is running border surveillance operations, undergoing a MET inspection, preparing for annual gunnery tests and training jointly with German and French Army units. Also, the squadron has been running a round -the - clock relief effort to bring water to six towns along the border who have been suffering the worst drought in that area in 240 years. The combination of all these things help give the visiting cadets a high sense of purpose and they've actively risen to the challenge.
The cadets gain first hand knowledge of duties, responsibilities and living conditions in a line combat unit. The CTLT objective is probably nowhere better accomplished than by giving the cadets operational border surveillance missions. Cadet Jerry Pina spent the majority of his four week tour in the squadron's border sector. He actively sought responsibilities and contributed to the unit's accomplishment of its mission, according to CPT Craig R. Lind, G Troop commander. CPT Lind explained, "They're aggressive and can handle the many complex jobs of a platoon leader."
Some of those jobs include preparing and training Sheridan crews for gunnery qualification, training mortar sections and infantry squads in their missions and instructing their men in a wide range of military topics. In performing the duty of platoon leader, the individual must stay constantly informed and abreast of all requirements and be able to adapt quickly to fast changing situations. The platoon leader must constantly direct his efforts and those of his platoon toward the accomplishment of the mission and still be responsive to the needs of his men.
A tour with the Blackhorse regiment on the East West German border provides the cadets with the ultimate in getting it all together. Myriad responsibilities keep the cadets going long hours under difficult conditions which demand high professional standards.
Leading tracked armored vehicles across the countryside provide a novel experience for the cadets. They participated in a readiness alert which involved an all night march, culminating in a simulated attack the next morning. The cadets rated this alert exercise as one of their most valuable learning experiences. "You get to see the end result of all your hard work and training. When everything clicks just right it's a great feeling of accomplishment," said Cadet Taylor, after leading his platoon through the attack.
Cadet Taylor had prior enlisted service in the US Navy before making the transition to Army Armor. Incidentally, Taylor retains his sea legs as all of his tracks have amphibious capabilities.
The cadets and the squadron both reap benefits from the CLLT program as the cadets pull their load, gaining valuable experience and presenting new ideas to the training concept at 2nd Squadron.
Scholarships: Blackhorse Association provides educational aid
( A lengthy article recalled the annual meeting of the Blackhorse Association at Fort Knox in May 1976. RCO Ballantyne attended, briefed the attendees on the current state of the Regiment and accepted scholarship funds to be dispersed in Germany. Selected excerpts from the article appear below. )
Major General John W. McEnery, US Army Armor Center and Fort Knox post commander asked COL Ballantyne to join him for the presentation of the special $1, 000 Blackhorse Scholarship. The scholarship was presented to Col Ballantyne for presentation to David Kellar, son of the late SFC Millard L. Keller, who died while serving with Troop F, 2nd Squadron in July 1975. David and his mother, Mrs. Sophie Kellar, reside in the Bad Kissingen area and were unable to attend the Reunion. The Blackhorse Scholarship will be presented to David during a command formation at Daley Barracks in Bad Kissingen on August 16.
Local chapter Activities
Staff Sergeant Terry J. Sperry, president of the Eaglehorse chapter, explained, "our chapter in Bad Kissingen has 28 new members on its rolls. However, because of our heavy training calendar, we haven't been as active in the community as in the past. A general membership meeting will be held during the month of September."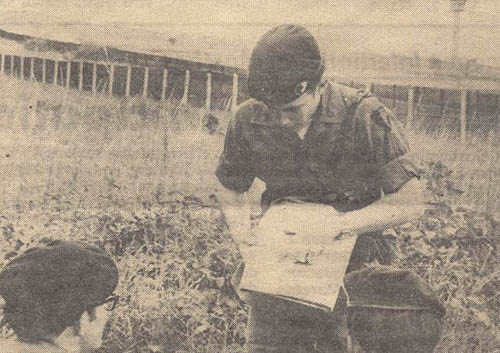 Cadet Jogerst points out East German border barrier systems while briefing his platoon on the border trace near Eussenhausen in the 2nd Squadron area.
---
Vol. 2 No. 2
August 1976
Main Articles
Command and Control Squadron in Fulda announced a partnership training program with members of the Bundeswehr Reserve units stationed in Fulda. LTC John F. Votaw and MAJ (P) Nicholas P. Vamvakias, CO and XO of the squadron, noted that the joint training would enhance readiness and camaraderie in their unit which consists of the Anti - Armor Helicopter Troop, the aviation combat Support Troop, HHT Regiment and the 58th Combat Engineer Company.

An article detailed the many varied duties of the V Corps Staff Judge Advocate office in Fulda. Skilled professional troopers are hard at work insuring fair and impartial treatment of all parties involved with Army judicial proceedings and as well as providing legal support to families.

An article detailed the Army's acknowledgement of troopers with Hispanic heritage; Hispanic Week is scheduled for early September with events planned for the Dining Facilities, Chapels and Club systems in Fulda.

A proposed major reorganization of the Army's division structure was detailed. Among the areas being studied, reducing the number of tanks per battalion to 36, increasing the number of artillery tubes in DIVARTY, increasing the number of heavy and medium lift helicopters per division and removing mortars from infantry companies.
Brief Articles
Army chief of Staff General Creighton W. Abrams has announced a major review of the Enlisted Professional Development Program.

RCO Ballantyne presented awards at a ceremony.
Photos
Four images of C and C Squadron troopers conducting joint training with Bundeswehr Reserve unit soldiers.
Three images of JAG Office personnel at work supporting the Regiment and Fulda community.
Image of RCO Ballantyne presenting Partnership Scroll to commander of the Bundeswehr 5th Panzer Grenadier Brigade.
Image of RCO Ballantyne presenting US Armor Association Mershon Award saber to LT Walter R. Bowers, Troop B.
Eaglehorse in the News
Visit brings gift at 2/11
A nine year old boy, wide eyed with wonderment, visited the headquarters of the 2nd Squadron on August 16 where he received a special educational gift from the 11th ACR's Blackhorse Association.
David Kellar was no stranger to Daley Barracks in Bad Kissingen, however. His father, the late SFC Millard L. Kellar, had served as Troop F's motor sergeant for over four years before his death in July 1975. The late SFC Kellar, who died after participating in physical training with his troop had also seen combat service with the Blackhorse in Vietnam.
Before the ceremony, which was held in the conference room of 2nd squadron, Colonel John L. Ballentyne, III, 11th ACR commander and LTC John C. Gilbreath, 2nd Squadron commander, greeted David and his mother, Mrs. Sophie Kellar, upon their arrival at Daley Barracks. Colonel Ballantyne, representing Major General John W. McEnery, commander of the US Army Armor Center at Fort Knox, KY, and President of the National Executive Council of the Blackhorse Association, presented David with the special $1, 000 Blackhorse Scholarship as members of the 2nd Squadron's Eaglehorse Chapter, both officers and men, viewed the proceedings.
The Regimental Commander had earlier accepted the scholarship award from MG McEnery during the National Association's 7th Annual Reunion held at Fort Knox last spring for presentation to David.
Upon presenting the award to the bright eyed fourth grader, COL Ballantyne explained some of the objectives of the Association which was formed in 1968 at Fort Knox. "The Association's ongoing objective is to continually strengthen and expand its ability to provide financial assistance to children of deceased members of the Regiment and foster those friendships which have begun through mutual service within the Regiment," explained the Regimental Commander.
The colonel added, "this year was the first time that the Association was able to present two $1, 000 scholarships. David Hogan, son of the late SSG Darrel Hogan, was the recipient of the regular $1, 000 Blackhorse scholarship."
Being the center of attention was nothing new for David Kellar. Last November, as NCOs of the Eaglehorse Squadron conducted a Command Salute in honor of his late father, David accepted the Army's Meritorious Service Medal bestowed upon his father posthumously. Lieutenant General ( Ret ) Robert W. Fair, former V Corps commander, presented the medal and CSM Clarence McCain, 2nd Squadron command sergeant major, stood with David as the Eaglehorse NCOs passed - in - review before them.
Following the official presentation of the scholarship award, David and Mrs. Kellar joined the Eaglehorse troopers in refreshments before spending the remaining portion of the day visiting friends in the Bad Kissingen area. They departed for their home in Neuberg the following day.

COL Ballantyne presents David with the Blackhorse Scholarship certificate as Mrs. Sophie Kellar and LTC Gillbreath look on. The Scholarship, worth $1000, was one of two given by the Blackhorse Asociation this year.
After the formal presentation of the educational gift to David, Mrs. Kellar and COL Ballantyne chat about David as the bright - eyed youngster stares fixedly as the murals adorning the 2nd Squadron Confrence Room.
---
Vol. 2 No. 3
October 1976
Main Articles
Colonel Crosbie E. Saint becomes the 47th commander of the Blackhorse at a Change of Command ceremony held in Fulda on 15 September. Colonel Saint, commissioned in 1958 at West Point has held a variety of command and staff assignments in Germany, the United States and Vietnam. He began his career as a platoon leader with the 14th ACR in Bad Hersfeld. Colonel Ballantyne, departing RCO, moves to the position of Deputy Community Commander, Frankfurt MILCOM.

General Bernard W. Rogers is confirmed as the new Chief of Staff of the U. S. Army. Among the many goals he outlined, standardization within the Army and NATO was an important priority.

An article reported the efforts of Regimental IG officer, CPT Joseph L. Trebor and the local squadron IG representatives in implementing soldier positive directives from DA to use the full power of the unit chain of command to solve soldier problems. CPT Michael E. Erickson received brief mention as the IG officer in the Eaglehorse squadron.

An article described some of the initiatives of the Enlisted Personnel Management System.
Brief Articles
Colonel Ballantyne presents awards at a ceremony honoring troopers at Fulda during final week as RCO.

Combined Federal Campaign begins fund raising efforts in USAREUR.

8% increase in veteran's educational benefits announced in Washington DC.

Command Sergeants Major Conference submits numerous recommendations to DA to improve readiness and quality of life areas.
Photos
Three images related to the Regimental Change of Command ceremony in Fulda.
Image of Fulda dining facility during Hispanic week celebration.
Image of Colonel Ballantyne during his final awards ceremony at Fulda.
Image of 94th Engineer construction equipment at Hersfeld building a new, paved hardstand.
Image of 15th Maintenance Company mechanics hoisting an M577 pac during REFORGER 1976.
Image of General Bernard W. Rogers.
Image of American Red Cross representative providing service and support to US Army soldiers in the field.
Eaglehorse in the News
There were no images or text related to Bad Kissingen and the Eaglehorse in this edition of the Blackhorse. Fully 50 % of the articles appear to have been sourced from DA.
---
Vol. 2 No. 4
November 1976
Main Articles
A lengthy front page feature described the educational efforts of the Fulda MILCOM in graduating a class of 37 individuals in their High School Prep program. The majority of graduates were from the Frankfurt American high school although family members completing secondary education begun in the United Sates were also present.

Enlisted Personnel Management System examined in a collection of Issues Answer paragraphs.
Brief Articles
3/11 ACR participates in partnership weapons firing competition with soldiers of Panzergrenadier Battalion 51 at Rotenburg Kaserne. Several troopers win German marksmanship awards.

3/11 ACR has awards ceremony at Hersfeld. SCO Dice presents several awards.

1/11 ACR has awards ceremony honoring several outstanding troopers.

11th ACR has awards ceremony noting significant contributions of troopers ranging from safe driving awards to honoring Troop B with the presentation of the Draper Award. Article reported that this award, which recognizes the highest performing cavalry troop company battery in the Regiment as measure by a variety of standards, has been won for three consecutive years by first squadron units.

First Squadron mess wins V Corp Best Mess award for past quarter.

Brief article reminds troopers that cars purchased in Germany must pass all appropriate US safety and emission standards or they may not be shipped during a PCS move.

Article outlined changes to Army physical training program to include tailoring the tests to specific physical demands of each MOS.
Photos
Two images of high school graduation ceremony at Fulda.
Image of MG Wolff presenting Corp Mess award to SFC Starr, DF senior supervisor.
Image of RCO Saint presenting Draper Award plaque to B Troop commander, CPT James A. Ward, Jr.
Image of MAJ Kenneth E. Hamburger as he accepts unit guidon as new commander of Anti Armor Helicopter Troop.
Image of 3rd AD band playing a benefit concert in Fulda as part of community fund raising efforts to support local German charities organized for children's welfare.
Eaglehorse in the News
New 2nd Squadron trooper enjoys field cooking
Field duty for most individuals brings up thoughts of mud and dirt and generally turns them off. However, SSG Donald T. Toon, HHT 2nd Squadron, looks forward to each and every field training exercise.
In fact, since being assigned to the 11th Cav, SSG Toon has spent 60 of his first 90 days in a field environment with his "Spoon Platoon".
A 14 year veteran of Army service as an infantryman and now, cook, SSG Toon stated, "I'd rather be in the field. I've been a foot soldier the majority of my career and I feel more at home in a field environment."
The Newport News, VA native, along with SSG Bernard Dunavant of G Troop, are presently charged with running the mess facility at Range 45, Grafenwoehr Training Area for 2nd Squadron troops who are engaged in the annual Tank Crew Qualification Course there.
"This is my first assignment with the 11th ACR," explained Toon, "and because Cav trains in a field environment so often, the opportunities for perfecting field messing procedures are greatly increased."
The mess facility, which is manned by Toon and Dunavant along with three other enlisted cooks, prepares three hot meals daily. SSG Dunavant from Clarksville, TN has been with the 2nd Squadron since September 1975 and sees some improvement in the messing situation in his second Graf with the Regiment.
"One good thing about the equipment supplied by the 7th Army Training Center at Graf in the mess facility area is the raised wooden floor that comes with the mess tent, "commented Dunavant. "We don't have to constantly tramp in the mud and dirt while we're preparing a meal and the wooden floor makes it a little easier to maintain a sanitary environment."
In regard to SSG Toon spending his first 60 days out of 90 in the field, his baking talents have helped immeasurably in enhancing the morale of the troops during this Graf period.
"As a matter of fact," added Dunavant, "The other day, the pastries he had prepared almost didn't make it out of the mess tent."
And what about the other three enlisted members of the field "Spoon Platoon "?
"I enjoy cooking in a field environment," stated PFC John Berg of H Company. Berg, who has been tagged by Toon as one of the "original field rats," is a native of Evert, WA.
Bryan Rosenwirth, a PFC with H Co says, "I really enjoy field cooking." A Milwaukee, Wisconsin native, Rosenworth has been with the 2nd Squadron and the Regiment since 1975.
The other member of the "Spoon Platoon" is Sp 4 Scot Williams from Orlando FL. Williams is assigned to Troop E and is a four year veteran of Army service.
Williams explained, "the one thing I like most about cooking in the field is that you don't have a lot of people running in and out of the mess area."
"Preparing meals in the field is a real challenge," stated SSG Toon. "As cooks, we try to insure that the meals in the field are of the same quality as in garrison and they are consumed in a healthy and sanitary environment. We of the ' Spoon Platoon' are doing just that."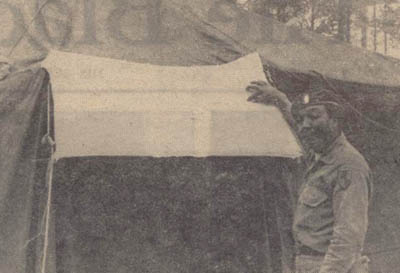 SSG Toon, a former infantryman and now cook, enjoys cooking in the field with the "Spoon Platoon". The sign reads,"2/11 Spoon Platoon - Best by Taste Test", and adds a little flair to the operation of the 2nd Squadron Mess facility at Range 45 GTA.
---
Issue missing
---
Issue missing
---
Vol. 2 No. 7
March 1977
Main Articles
A feature article described the activities of the Blackhorse Financial Management Office led by CPT Robert U. Schultz, Jr. Everything in the unit comes down to dollars and cents accounted for against an operating budget. Schultz and a small cadre of financial specialists keep track of what gets spent to keep the Regiment going.

RXO James B. Taylor provided a detailed briefing for newly arrived troopers at Downs Barracks.

CPT Matt McKnight of RS 3 shop and Downs Community presented three original oil paintings of Vietnam era helicopters used by the Regiment. During the war, McKnight had two tours with the Blackhorse and in Germany, after moving to Community, had time to pursue his oil painting hobby. RCO Saint accepted the paintings in behalf of the Blackhorse Museum.

A major awards ceremony was held at Hersfeld with music provided by the 3rd Infantry Division band.
Brief Articles
JCS Chairman Air Force General George S. Brown responded to criticism that the military is slow to address quality of life issues.

31 military students completed their high school education through a program run by Big Bend Community College at Down Barracks.

Mr. Clifford Alexander is introduced as the new Secretary of the Army.

Ten troopers from the Blackhorse graduated from the 3rd Armor Division PNCOC course run by the division NCO Academy. Squadron affiliations were not mentioned.

Forty couples attended a Sweetheart Dinner at Downs Barracks and renewed their wedding vows. Chaplain ( Major ) Donald Gorham, Regt Protestant Chaplain had organized the Valentine's Day affair.
Photos
Three images of troopers from the Regimental FMO office at work balancing the books.
RCO Cosbie Saint in front of a Blackhorse Fasching Float themed "Defense of Downs Barracks' featuring troopers in period dress of the old US West.
SCO David Maddox, 1/11 ACR, presents a $25.00 US Savings Bond to Kirsten Redman, winner of the Black History Month Children's Poster project. She is a third grader.
Image of MG Wolff at Hersfeld Awards Ceremony.
Image of trooper receiving High school diploma at Downs Barracks ceremony.
Three images of CPT McKnight, RCO Saint and Vietnam era helicopter paintings.
Eaglehorse in the News
There were no images or articles related to the 2/11 ACR in this edition of the Blackhorse.
---
Missing issue
---
Vol. 2 No. 9
June 1977
Main Articles
Front page article described change of command ceremonies at Fulda and Hersfeld as C & C, 1st and 3rd Squadron recognized new commanders. The departing and arriving SCOs respectively were: C & C Squadron LTC Votaw, LTC Phillip C. Medenbach, 1st Squadron LTC Maddox, LTC James B. Taylor and at Hersfeld LTC Dice, LTC Thomas J. Haycraft. The article provide brief biographical sketches of each officer.
The Berlin Orientation Tour ( BOT ) program run by V Corps to provided selected newly arrived soldiers with a three day travel and sightseeing experience in Berlin was detailed including first person accounts provided by Blackhorse troopers. After taking the Duty Train from Frankfort, the tour members are escorted by soldiers of the Berlin Brigade for three days of sightseeing on both sides of the German border in the divided German city.
PFC Daniel S. Indendi, HOW 2/11 ACR, was one lucky tour member and said, "There were many interesting and historical sites to see in Berlin. The Russian War Memorial is located in West Berlin, Two Russian guards stand at the Memorial where two Russian WW II tanks sit on either side of the site. The tanks, according to our tour guide, were supposedly the first two tanks to enter Berlin during WWII."
Troopers from K Troop, 3/11 ACR participated in the Boeselager Cup Reconnaissance competition sponsored by NATO held at a major Bundeswehr training facility located in the north German town of Eutin. The Blackhorse team finished in 12th place out of 24 teams, but saw the experience as a great team building exercise and thoroughly enjoyed meeting scouts from the France, Holland, Canada as well as various US Army units.
Brief Articles
The United States Air Force introduced the new A10 " Warthog " tank buster to the members of the Blackhorse with a "fly by" of the new aircraft at Fulda. Currently, no squadrons are assigned to Germany but as more pilots are trained, the Air Force plans to deploy several squadrons to NATO bases.
Discothèque Tipsy in Fulda, is now off limits to US troops.
Down Barracks library offers expanded service to the troops with something for all to include best sellers to current periodicals and popular music.
1/11 ACR is officially designated as the Blackhorse Regiment Organizational Day winner.
3/11 ACR completes intense week of scout training focusing on individual, section and squad level skills.
Photos
An image showing the squadron level change of command ceremony at Hersfeld featured "Old Bill" in period costume.
Two images respectively of new SCOs Haycraft and Taylor as they addressed their troops.
An image showing MAJ Hamburger and SP 4 Mike Malnerich, both of Fulda, and their award winning oil paintings. Both paintings will now progress to the V Corp round of community arts competition.
An image of the Fulda community library displaying various media available for the troops.
Two images of troopers from 3/11 ACR during intense scout training that was recently conducted.
Three images of Berlin scenes as encountered by troops during a BOT visit.
Eaglehorse in the News
2nd Squadron Trooper in Sergeant Morales Club
Staff Sergeant Donald A. Forrer recently became the first member of the Blackhorse Regiment to be selected for induction into the V Corps Sergeant Morales Club.
The Howitzer section chief assigned to the Howitzer Battery, 2nd Squadron, is a five year Army veteran and has been with the Eaglehorse Squadron for 15 months.
The Sergeant Morales Club is a USAREUR sponsored program designed to enhance noncommissioned officer professionalism. Intended as a unique award for distinguished noncommissioned officers whose extraordinary individual achievements merit special recognition membership in the elite club is open to all Corporals E 4 through Sergeants First Class, E 7.
The Sergeant Morales Club is named in recognition of an outstanding NCO who performed duty as a squad leader for three years with the 82nd Airborne Division. His squad consistently placed first in the squad Army Training Tests. As knowledge of Sergeant Morales's leadership and management skills spread throughout the command, many "misfits" and rehabilitative transfers were sent to his squad to benefit from his leadership.
Sergeant Morales made soldiers of all of them and continued winning ATTs. Of particular note is that he had no AWOLs from his squads during his three years.
Of Puerto Rican descent, Sergeant Morales had to overcome many obstacles to achieve success including a limited knowledge of the English language and no high school diploma. (He late earned a HS diploma through the Army's GED Program.)
For the 11th ACR, the chain of selection runs from nomination by the troop commander to appearance before a board of NCOs and sergeants major at the squadron sub community level and then if selected, examination by a board of command sergeants major and sergeants major at the Regimental community level.
The Regimental nominee then appears before a board of command sergeants major from units of the V Corps along with nominees from each of the major units military communities in the V Corps area.
"I think my selection for induction into the Sergeant Morales Club places me a little higher, in relation to my fellow E 6s, in the areas associated with leadership qualities," explained Forrer.
"I feel greatly honored to be considered on the same level with one of the truly outstanding NCOs to have served in the United States Army," continued the Gratis, Ohio resident.
The most elite NCO whose leadership qualities find expression in the ability to train, manage and provide for the welfare of the individual is the type of professional the Sergeant Morales Club is looking for
Forrer has under his supervision a M109A1 155mm self propelled howitzer, a M548 tracked ammunition carrier and eight personnel.
During the 1976 Battery ARTEPs, SSG Forrer's section received an overall score of 98 percent, the best of 24 competing batteries. He had been selected for the section chief job only two weeks prior to the ARTEP start.
"Before I came to Bad Kissingen, I had never seen nor been on a self propelled howitzer," states Forrer. "At Fort Campbell, KY, I worked with the M 102 105 mm towed howitzer.
"I'd have to say that the squadron and battery training program has helped tremendously in my gaining proficiency in my MOS regarding the self propelled howitzer and its accompanying equipment.
"As for my appearance before the V Corps Sergeant Morales Club board, I reviewed manuals on the Skill Qualification Tests, Enlisted Personnel Management System, Army agencies and other manuals on leadership and military bearing," continued the staff sergeant.
Forrer, who has completed the NCO academy and Basic leadership courses at Fort Campbell, the Basic Noncommissioned Officers education System ( NCOES ) course for artillery MOSs is now working toward his college degree He already has a half year of college credits from the University of Maryland European Division.
Forrer and his wife, the former Janet E. Wood, have two sons and have been prominent in community activities in the Bad Kissingen Military Sub community.
Forrer's advice to other NCOs? "Just that the NCO should pay attention to the basics of leadership, and taking care of the troops is a major portion of demonstrating leadership ability. Always remember, mission first, people always!"
NCO Academy Honors 2/11 Cav Trooper
Spec 4 David W. Brown, G Troop 2/11 was voted the distinguished graduate of Class # 77 11 at the 7th Army NCO Academy at Bad Toelz recently.
Brown was awarded the "Commander in Chief, USAREUR and 7th Army Award" and the "General George S. Patton, Jr. award for Excellence" for his achievement.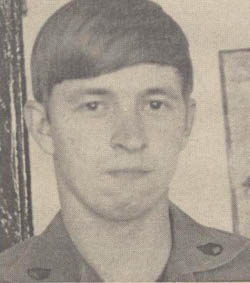 SSG Forrer, Sergeant Morales Club member.
---
Vol. 2 No. 10
July 1977
Main Articles
The feature article detailed the mission and training of C-1/1, C Battery, 1st Battalion, 1st Air Defense Battalion, Hawk missile, located at their TAC site near Downs Barracks in Fulda. The unit was part of the Fulda Military Community. The article pointed out that the unit has dual daily responsibilities, field deployment "go to war" training as well as the TAC site local air defense of the Fulda area. Mission maintenance and missiles are the watchwords of the unit. Brief mention was given to sister battery, A/1-1, located at Bad Kissingen.
B Troop conducted intensive scout and mortar training over a three day period in the Alsfeld area, north of Fulda. Sheridan crewmen were integrated into the training, that focused on dismounted common and scout specific skills. CPT Don Snedeker, troop commander, reported that the training integrated land navigation and dismounted movement into all phases of the training, part of the " Rock Steady " training initiative.
Brief Articles
Two articles recalled a major awards ceremony and formal retreat at Hersfeld that recognized outstanding troopers of all grades and, two new troop commanders received their guidons. Green tabs were pinned to: CPT Michael Kobbe, HHT and CPT Michael L. McNulty, I Troop. At Fulda, 1Lt James H, Hairston took command of HHT Regiment.
C & C Squadron conducted an awards and promotion ceremony.
RCSM Charles E. Cowan briefly reported on the many varied duties and responsibilities that young NCOs need to master.
Photos
Two images of Hawk missile crewmen performing maintenance on their weapons system.
An image of the Blackhorse Honor Guard in parade to honor the departing Soviet Army General E. F. Ivonovsky as he crossed to the DDR at the Herleshausen Crossing Point following a visit with General George Blanchard, CINCUSAREUR & 7th Army.
An image of an A10 in low fly by at Fulda Army Field.
An image of LTG Sidney Berry in conversation with 1/11 SCO LTC James Taylor during a recent visit to Downs Barracks.
An image of M113 maintenance at Downs Barracks.
An image of SCO Taylor at the re enlistment ceremony of MSG Judge Kemp conducted at Wildflecken.
An image of an Air Troop Cobra helicopter firing 2.75 inch rockets at WTA.
Four images of Troop B soldiers during "Rock Steady" training.
Eaglehorse in the News
Ice Cream Van doing Business at Daley Barracks
Ice cream! Popsicles! Fudgesicles! Get' em right he'ah!!
Those are the cries echoing in and around Daley Barracks in Bad Kissingen from the dependent Youth Association's ( DYA ) "new" ice cream van.
Actually, the ice cream van is not very "new" at all but the idea of having a van running a daily ice cream schedule is.
The van, donated to the DYA by the troopers of the 2nd Squadron was "bought from the Daley Barracks NCO Club" during an auction they conducted according to CSM John M. Stephens, 2/11 CSM.
"We pooled our personal resources, bought the van for $20, fixed it up and cleaned it out," added the sergeant major. "We then installed the coolers on the inside for the frozen treats." SGT Paul Dame, a member of the Squadron S 4 section, painted pictures of well known cartoon characters around the body of the van during his off duty time.
"Some of the personnel assigned to the squadron maintenance section got the vehicle in good running condition," explained Stephens.
The initial stock of ice cream supplies was donated to the DYA by the Eaglehorse Squadron Troopers.
The van was officially presented to the youth activity by LTC John C. Gilbreath, Eaglehorse Squadron commander.
LTC Gilbreath cut the ceremonial tape before presenting the keys to the van to CPT Danny J. Beasley, custodian of the Bad Kissingen Military Sub Community DYA.
Stated Beasley, "The Daley Barracks ice cream van will be operated by DYA personnel. Right now, we'll only use it for special occasions until we work out a regular run schedule."
CPT John P. Carter, commander of H Co. and director of the DYA council, was on hand to give out the first ice cream sold from the van to some 30 little children and 10 not so little adults.
"This is the first time, in my recollection, that an activity of this sort has been undertaken at Daley Barracks," stated Stephens. "I think it will be self supporting."
When asked what he thought of the DYA ice cream van, little Shaune Griffin, 10, replied, "I think it's great, 'Cause when it's hot outside, people want ice cream. Now we've got it."
Just like the "Good Humor Man."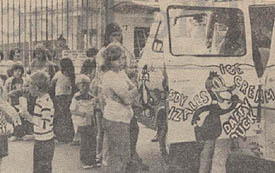 Some of the children of the Bad Kissingen community slurp on popsicles while others wait in line for their cold treats.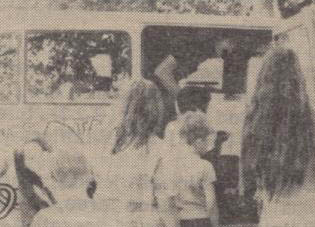 CPT John Carter gives out the first ice cream from the Daley Barracks ice cream van.
---
Vol. 2 No. 11
August 1977
Main Articles
The front page article recalled the joint rifle and pistol shoot held at Hersfeld's Combat Training Theater. Participating were members of the Command and Control Squadron and members of the Bundeswehr military reserve from Fulda and nearby towns. In a very close competition, the German reservists won the team marksmanship title; an informal dinner and beer break occurred that evening.

Two K Troop NCOs, SGTs Harry Griffith and Bruce Oakes had the idea to create and locally fabricate a significant improvement to the Stout Device, used in laser based mini tank range training for M551 Sheridan. Troop commander, CPT William Marshall, provided the money and for about forty dollars and a few hours of shop time, home station gunnery training improved significantly. The device compensates for some of the Stout deficiencies and provides the gunner with a more realistic range fan and display.
Brief Articles
A selection of brief trooper quotations was printed as members of the Blackhorse responded to the question, "What are your feelings on having an Annual Tank Gunnery exercise at Grafenwoehr?".
Sp 4 Robin Rhodes, Troop E, responded, "I'd like to see them upgrade the local training facilities to make them equivalent to Graf, thus ending the necessity of a trip to Graf.".
During a thirty day period spanning July to mid August, five Special Courts Martial were held at Downs Barracks. Unnamed troopers were punished for various offenses ranging from AWOL to Communicating a Threat and Assault to Possession of a Controlled Substance.
Downs Barracks Class VI Store wins "Best in USAREUR" award.
Major Allen S. Rossow, RS 2, reenlisted SGT Robert R. McCord, a member of the Regimental Border Operations staff, in a border side ceremony.
MSG Franklin Morris, Regimental Food Service Advisor, won several awards at a USAREUR competition held at Giessen, sponsored by the Association of Military Chefs. Morris won a gold medal award for his Mickey Mouse cake.
Monthly regimental reenlistment quotas were met for both first term and career category troopers.
Fulda Military Community DYA boy's baseball and girl's softball teams were honored with a banquet in recognition of their respective outstanding seasons.
RCO Saint was on hand as fifteen troopers and five civilians received high school diplomas in a ceremony at Downs Barracks.
Photos
Three images of troopers and members of the Bundeswehr firing at indoor range at Hersfeld supported the feature article.
An image of 3/11 ACR troopers as they inspect their "new" club, the former Rod and Gun Club at Hersfeld.
An image of MSG Morris' winning Mickey Mouse cake, an image of RCO Saint at a Best Mess award ceremony at Hersfeld and an image of MAJ Rossow and SGT McCord on the border supported brief articles.
Two images of the locally fabricated "GO" device that improves training with the M551 Stout Device gunnery training system. The "GO" was designed by troopers from Troop K.
Eaglehorse in the News
There were no images of articles recalling squadron or community events related to the Eaglehorse and Daley Barracks in this issue.
---
Vol. 2 No. 12
September 1977
Main Articles
This issue was devoted to the 1977 annual tank gunnery exercise at GTA conducted 6 Sept. thru 8 October, 1977. There were no significant articles, the topic was primarily covered by photographs, only one image was attributed as showing Eaglehorse troopers.
Brief Articles
The Yard Focus segment asked the question, "What are your thoughts on the new battle drill exercise on Range 79?". The responses of eleven troopers were printed, including four comments by 2/11 ACR soldiers.
"They should have given us some kind of training prior to going down Range 79 to ready us for it. Also they gave us too much machine gun ammo and not enough main gun ammo."
Sp 4 Richard E. Elkins
M551 Sheridan
E Troop
"For tankers and scouts, it was good, I fired mortar illumination. I think they could have given us more rounds to work with."
Sp 4 Paul DeShon
Mortarman
E Troop
"It seems that there was very little planning involved, If people's commo went out, they would go ahead and run them through the course anyway. The illumination wasn't any good at all. If you didn't have illumination that was just too bad, you went ahead and fired."
Sp 4 Paul Goodfellow
M551 Sheridan
E Troop
"I think there could have been more pop up and hard targets. There weren't enough targets to hit in the short amount of time we had to fire. Some of the ammo had to be off - loaded and we should be able to fire it all up."
PFC Charles V. Kallal
M551 Sheridan
E Troop
A German construction firm has completed work on the new Quick Reaction Site - ammunition point supporting the 1st Squadron at Downs Barracks.
During Sept., two Special Courts Martial were convened at Fulda, troopers received sentences including Bad Conduct Discharge for various drug and discipline related offenses.
Photos
Images related to tank gunnery at GTA included: an image of M Company rail loading at Hersfeld, bore sight briefing for Troop B tankers, 1/11 ACR GTA ammo point, M Company M60A1 on range, Cobra gunship engages targets, Friends and Company USO Show singers entertain troopers with musical revue, Sheridan from Troop B on GTA hardstand, Cobra gunship pops up on Range 79, B Troop soldiers enjoy a pick - up basketball game during off moments, mortarmen ready their equipment in support of range firing, Troop L soldiers board German rail cars at end of training and D Company conducts 100 equipment inventory at Downs Barracks after return.
Eaglehorse in the News
Re - Up Award to 2nd Squadron
The Regimental Commander's Quarterly Reenlistment Trophy was awarded to the Eaglehorse Squadron recently for their efforts during the 3rd Quarter, FY 77.
Second Squadron exceeded its objectives for both careerists and first termers during the period.
Seventeen first termers reenlisted during the period against an objective of 15 (113%), while ten careerists took the oath again against an objective of 6 (167%). The Eaglehorse Squadron finished the quarter with an reenlistment attainment percentage of 128% for the two categories combined.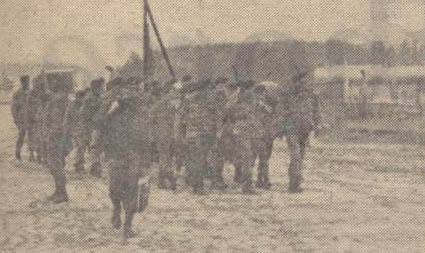 E Troop arrives at GTA railhead.