Suivez Moi !
The distinctive unit crest of the 14th Armored Cavalry Regiment recalls the notable early history of the unit. The gold background is symbolic of the Cavalry and its branch color. The blue band recalls the color of the blue uniform worn by the troops when the Regiment was activated in 1901. The black Moro "kris" represents the more than forty engagements, expeditions and skirmishes in which the Regiment participated during the Philippine Insurrection. The coiled rattle snake in the lower left of the Regimental shield is symbolic of the Regiment's service in the west and along the Mexican Border during the period 1902 - 1918. The motto of the Regiment is "SUIVEZ MOI" meaning ... Follow Me.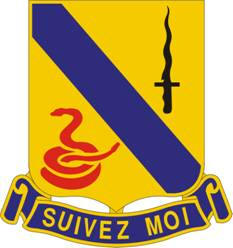 Click on the crest to view the album
From combat in France and Germany, to the Constabulary period and then service along the inner German border starting with the first days of the Cold War until 1972, the Regiment has a long and distinguished history. New pages in that history are being written today in Iraq. The First Squadron was re-activated in 2000 at Fort Lewis as part of the new, high tech unit development program and is now deployed in Northern Iraq. These links take you to the 14th ACR web site and the sub page devoted to the Warhorse Squadron and actions in Iraq.
14th ACR Website | Warhorse Website
To tell the story of the Eaglehorse squadron in Germany, many troopers from the 2/14 ACR have generously provided recollections and images that recall their service in Bad Kissingen. The first days on the border and subsequent evolution of the surveillance mission, the beginning of the forward border camp, Daley Barracks through the years and the changes of armored cavalry equipment and the US Army come alive through their words and photos. In time line order, scenes captured by the troopers of the 2nd Squadron ... Suivez Moi!