Colonel Keith L. Skidmore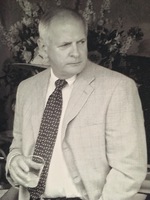 Keith Skidmore arrived at 2/11 as a promotable Captain and was the S-4 for a time before pinning on his Majors leaf and becoming the Squadron XO. He was a notable character in the Squadron and seemed to have a knack of showing up in places at the least opportune time.
Some comments from John Wright:
These are some of my pictures of Major and Mrs. Skidmore.....one is just before I drove them to the airport for leave on Malta and the other is the gag gifts party from Xmas 1981
He wore a Blackhorse on both shoulders......his word was law and we all tried to live up to his standards ......bottom line....he took care of his soldiers and they took care of him.

He told me once that he smoked "Kents"... because in Vietnam Nam.....the platoon resupply packs came in and he let the troops take what they wanted....no one wanted the "Kents".... so that is what he smoked......he could have pulled rank and got the good stuff.....but he let his men take what they wanted.....just a small example of the leader he was.