Staff Sergeant Randy Mitchell
H Company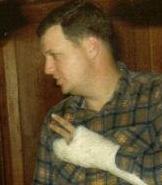 Randy left us in the prime of his life on Monday, July 30, 2012 surrounded by his loving family. Randy was honored to serve on the Santa Rosa County Sheriff's Department for 23 ½ years; he also served 7 years in the U.S. Army.
Randy is survived by his adoring wife, Virginia Mitchell; his beautiful daughter, Misty Stabler; his precious grandson, Connor; brother, Jerry Mitchell; niece, Julie Estis and best friend, DeVanne Cooke.
The many dear friends and family with heavy hearts can say goodbye from 11:00 AM-1:00 PM Saturday, August 4, 2012 at Lewis Funeral Home, Milton Chapel; Funeral Service will begin at 1:00 PM with Rev. Mike Wiggins officiating. Burial will follow at Memory Park Cemetery.