1st Sergeant Kenneth Dean Cook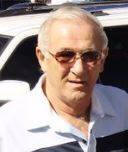 Kenneth Dean Cook, 68, of Radcliff, KY passed away Tuesday, June 3, 2014 at Hardin Memorial Hospital, Elizabethtown, KY.

Mr. Cook was retired from the United States Army and a veteran of the Vietnam War. He was also retired from Civil Service, Fort Knox, KY and a member of D.A.V. Chapter 156, Radcliff, KY.

He was preceded in death by a daughter, Janet Lee Ernest; his parents, Elmer & Vera Cook; several brothers; and 1 sister.

Survivors include: his loving wife of 48 years, Maria Cook of Radcliff, KY; 2 daughters, Glenda Raymond & her husband, Juergen of Radcliff, KY, Amanda Jeffries & her husband, Daniel of Vine Grove, KY; 5 grandchildren, Robert Wells, Dylan Patry, Shamis Patry, Eian Patry, Gabriel Jeffries; 1 great granddaughter, Haylee Wells; 1 brother, Hugh Allen Cook; and a niece, Louise Wyekof.